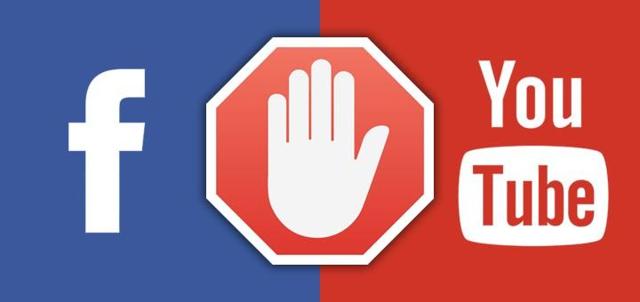 The recent PageFair report on the rapid increase in the number of ad blockers has found strong resonance in the specialized media. In particular, Seeking Alpha has published an article by Mark Hibben on the potential risk of expansion of the ad-blocking apps for companies like Facebook (NYSE:F) and Google (GOOG, GOOGL). I follow Mark Hibben and respect his opinion, but I would venture to express an alternative view on this issue.
First of all, I would like to note that PageFair is a company which offers counter-measures against ad-blocking software. Here's how the company describes its key activities:
PageFair Ads serves advertising in a manner that ad blockers are unable to circumvent, and solves the speed, privacy, and UX issues that cause adblocking in the first place.
This suggests two conclusions. Firstly, PageFair is interested, even "subconsciously", in describing the problem from a more dramatic point of view. And secondly, the ad-blocking problem has a solution and is not a "deadly verdict" for companies earning on Internet advertising.
In my opinion, the most interesting part of the PageFair study is the classification of the existing ad-blocking applications. Also, the company has classified the advertising formats that can be blocked by one or another blocker.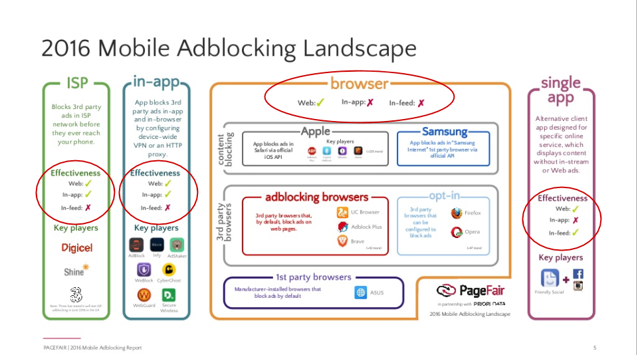 As you can see, the standard advertising banners (PageFair has classified them as "web") are the most accessible for blocking. For example, after installing an Adblock Plus extension for the FireFox or Opera browser, you will completely get rid of Google ad units on any websites, including YouTube. If the ad blockers expansion occurs at a pace predicted by PageFair, I'll have some serious long-term concerns about the future of the Google AdSense affiliate program. However, there is no direct threat to Facebook here.
The most common format of advertising on Facebook is In-feed ads (Suggested Post or Sponsored). Among all ad-blocking programs, PageFair names only one capable of hiding In-feed ads - Friendly Social. But this program is available only on iOS. And according to the PageFair's survey, advertising blockers are the least spread on iOS. This suggests the 90% increase in the number of active blockers in 2015, claimed by PageFair, is relevant to Facebook only partially, and, with the growth of Mobile-Only Monthly Active Facebook Users, these risks will be reduced, because hiding ads directly inside Facebook App is a more difficult task for ad blockers.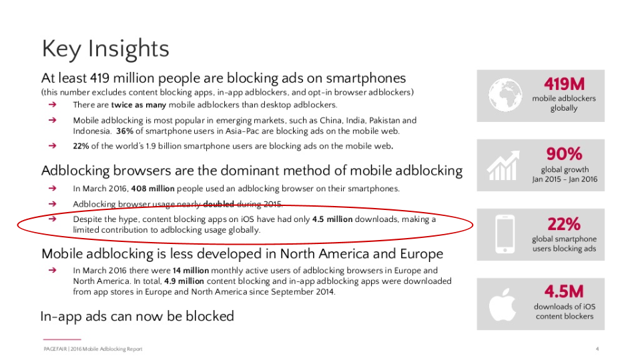 The security issue is also against the ad blockers expansion. The most effective ways of blocking ads usually work only with root access. However, granting the root access to an application will make a smartphone more vulnerable to hacker attacks. Personally, I will hardly take this risk merely to block Facebook ads.
And if we are talking about the long-term prospects for online advertising, we need to mention WhatsApp. In the world full of advertising, this company has set a goal to create a revolutionary monetization model which absolutely does not depend on advertising. Here is what is said about this on the WhatsApp blog:
Naturally, people might wonder how we plan to keep WhatsApp running without subscription fees and if today's announcement means we're introducing third-party ads. The answer is no. Starting this year, we will test tools that allow you to use WhatsApp to communicate with businesses and organizations that you want to hear from.
Facebook has some fears, and I wrote about one of them before. However, ad blockers are hardly among the major risks for the company, especially with WhatsApp in reserve.
Disclosure: I/we have no positions in any stocks mentioned, and no plans to initiate any positions within the next 72 hours.
I wrote this article myself, and it expresses my own opinions. I am not receiving compensation for it (other than from Seeking Alpha). I have no business relationship with any company whose stock is mentioned in this article.