Income investors don't always have to buy master limited partnerships, business development companies or real estate investment trusts to satisfy their hunger for regular dividend income. Companies outside the traditional high-yield market also offer compelling income potential, and most importantly, a growing yield on cost over time. Many income investors gravitate towards REITs, utilities and telecoms for safe dividend income, but one sector doesn't always get the appreciation it deserves: Tobacco.
Tobacco companies have developed into real dividend growth vehicles that pay investors a nice dividend, and some also put excess cash to use to buy back stock. Altria Group, Inc. (NYSE:MO), for instance, has raised its dividend ~9 percent last year, which was about 'in-line' with its dividend growth in previous years.
In my last piece on the tobacco company, published in August last year, I said that Altria Group's dividend growth was underpinned by strong earnings growth, and it has indeed been that way for a while. Robust earnings growth has allowed the tobacco company to increase its shareholder dividend 9.1 percent in 2013, 8.3 percent in 2014 and 8.7 percent in 2015. And more dividend growth is waiting for shareholders just around the corner.
Positive Earnings Outlook Supports Dividend Hike
Past returns are no guarantee of future returns, we all know that, but the odds are without a doubt tilted in favor of income investors when a company has proven that it produced solid shareholder returns in the past.
Fortunately, Altria Group did just that AND is upbeat about 2016 too, implying that strong adjusted earnings growth will once again translate into a significant dividend raise later this year.
Altria Group said that it expects 2016 adjusted earnings to clock in somewhere between $3.00 and $3.05/share, which would represent 7-9 percent Y/Y growth. Therefore, chances are that the tobacco company will again announce a higher dividend in August too, and I expect its dividend growth rate to reflect the adjusted earnings growth rate. As a result, the company may declare a new dividend of ~$0.61/share, reflecting about 8-9 percent Y/Y dividend growth, which would be in line with its dividend growth over the last three years.
The potential for above-average dividend growth also implies the potential for a growing yield on cost for income investors. Assuming that Altria Group is indeed raising its new quarterly dividend in August to ~$0.61/share, income investors buying today are looking at a ~3.71 percent dividend yield. Today's yield: 3.43 percent.
Income Investor Magnet
The tobacco company's reputation for growing its dividend has had a magnetic effect on income investors who continued to chase the stock. Total price return over one year: 36.27 percent.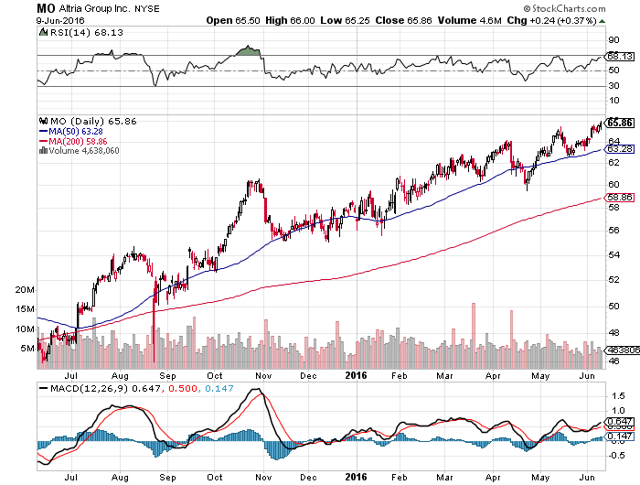 Your Takeaway
Tobacco companies need not be dismissed as income vehicles. Altria Group can look back on strong earnings and dividend growth, and a solid adjusted earnings guidance for 2016 sort of suggests that the tobacco company will be capable of extending its impressive dividend growth record this year. Given the estimated 7-9 percent Y/Y adjusted earnings growth, I expect the company to announce a dividend of ~$0.61/share in August. Buy for income.
Disclosure: I/we have no positions in any stocks mentioned, and no plans to initiate any positions within the next 72 hours.
I wrote this article myself, and it expresses my own opinions. I am not receiving compensation for it (other than from Seeking Alpha). I have no business relationship with any company whose stock is mentioned in this article.