The last time I wrote about Approach Resources (NASDAQ:AREX) was on May 9th of this year. Since publication, a lot has happened not only with the company's shares but with the oil market as a whole. Given this fact and the fact that shares of the business rely very heavily on energy price fluctuations, I figured that now would be a wise idea to revisit the firm and see to what extent my thesis on the business has changed (if at all). In what follows, I will do precisely that.
A look back in time
In my latest article on Approach, I provided the following table below. Based on the then-current energy prices, 2016 was slated to look pretty good for the company. According to my analysis, the firm this year should have generated excess cash flow (cash flow net of all expenses and maintenance capex) of $14.61 million. Starting in 2017, however, the business would experience some pain, with cash flow coming in at just $7.11 million for the year. Both 2018 and 2019, time periods during which production of oil and natural gas is not hedged, would be $6.12 million or the full year.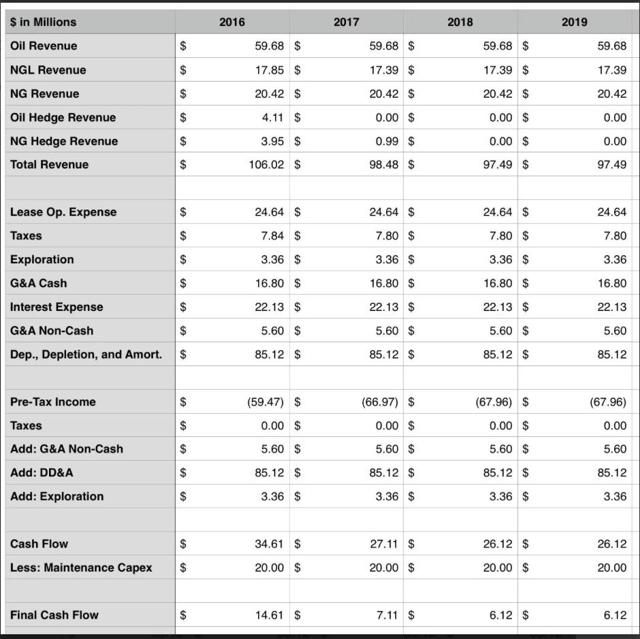 All of this was based on holding the most recent guidance by management unchanged in perpetuity. In addition to this, it incorporated the assumption that oil prices would average, throughout each period, $44.21 per barrel while natural gas would average $2.075 per Mcf. Under that existing cash flow projection, the picture for Approach this year looks fine and the firm could certainly survive through 2019 under current circumstances, but this is based on the assumption that credit facility lenders don't kill the business like they did unjustifiably (or, at the very least, too early) with Linn Energy (LINEQ) / LinnCo (LNCO) and Breitburn Energy Partners (BBEP). Given the weaker cash flow starting next year, the chance of trouble arising then does seem to increase under this outlook.
The picture has gotten much better
The beautiful thing about energy companies is that, once they hit breakeven, each additional dollar per boe (barrel of oil equivalent) brought in as revenue should be an extra dollar in profit before factoring in any necessary taxes and if your cost structure doesn't change as prices increase. This has allowed Approach's cash flow picture to look meaningfully better moving forward than it did previously.
In the table below, for instance, you can see what the picture for the firm looks like from a cash flow perspective if we assume that oil prices average $50.11 per barrel in perpetuity and if we assume that natural gas prices average $2.459 per Mcf. For oil, this represents an increase of 13.3% compared to where prices stood when I last wrote about the enterprise and for natural gas, this represents an increase of 18.5%. It is impossible to know what the price of these commodities will be in the future but if the market doesn't change, the numbers below should more or less reflect reality.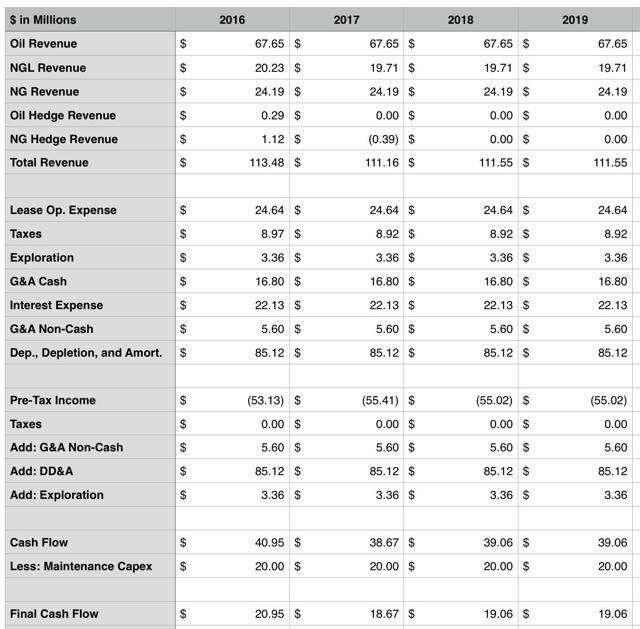 In the table, you can see that 2016's cash flow should average $20.95 million. This is a nice increase over my last forecast and values Approach at 5.9 times free cash flow. 2017 continues to be upbeat, with cash flow projected to stand at $18.67 million, an increase of 2.6 times from last month's number, and cash flow in both 2018 and 2019 should be roughly $19.06 million. The reason for the increase in those years compared to 2017 is that Approach has swap contracts in place that have a fairly low price point that will depress that year's performance compared to not having any hedges in place.
Takeaway
At this moment, the financial situation for Approach is improving nicely and shareholders have benefited immensely. As of the time that I conducted my research, shares of the business were going for $2.99 apiece, representing an increase over what they were when I last published my article of 25.6%. I do worry to some degree about the fact that the company's stock price has risen so rapidly and its price/free cash flow for the future is higher than some other players in the space (likely due to its relatively low debt levels) so I did sell a piece of my stake (nearly 1/5th) in exchange for buying preferred units of Legacy Reserves (NASDAQ:LGCY) but the business is still my firm's fifth largest and I believe that, in the long run, shareholders could benefit nicely if oil prices don't fall lower again.
Disclosure: I am/we are long AREX.
I wrote this article myself, and it expresses my own opinions. I am not receiving compensation for it (other than from Seeking Alpha). I have no business relationship with any company whose stock is mentioned in this article.