Good morning, and welcome to the June 10 edition of Seeking Alpha's Eye on Tech newsletter.
CNBC: Yahoo receives bids above $5B for core business - CNBC added Verizon (NYSE:VZ), recently reported by the WSJ to be prepping a ~$3B second-round bid for "core" Yahoo (YHOO), has bid over $3.5B. Reuters followed up by reporting AT&T (NYSE:T) and P/E firms are also among the second-round bidders, and that Yahoo will soon "put together a new shortlist of bidders."
SunTrust's Bob Peck points out some of the bids (including Verizon's?) might not cover certain Yahoo's assets, such as real estate, Yahoo Japan royalties, and Tumblr, and is still optimistic a ~$6B sale price can be achieved. With the Alibaba (NYSE:BABA) and Yahoo Japan (OTCPK:YAHOY) stakes accounting for the lion's share of Yahoo's value, Yahoo rose a modest 1% in response to CNBC's report.
MacDailyNews: Apple plans to bring iMessage to Android - Apple (NASDAQ:AAPL) will reportedly announce its plans at next week's WWDC conference. With the company having launched an Apple Music Android app last year - it has seen 5-10M downloads, according to Google - creating an iMessage Android app sounds plausible. It could certainly make iMessage more useful for those users who have a lot of friends/family members using Android, and put it on better competitive footing against the likes of WhatsApp, Facebook Messenger, WeChat, Line, and Google's Hangouts and Allo apps.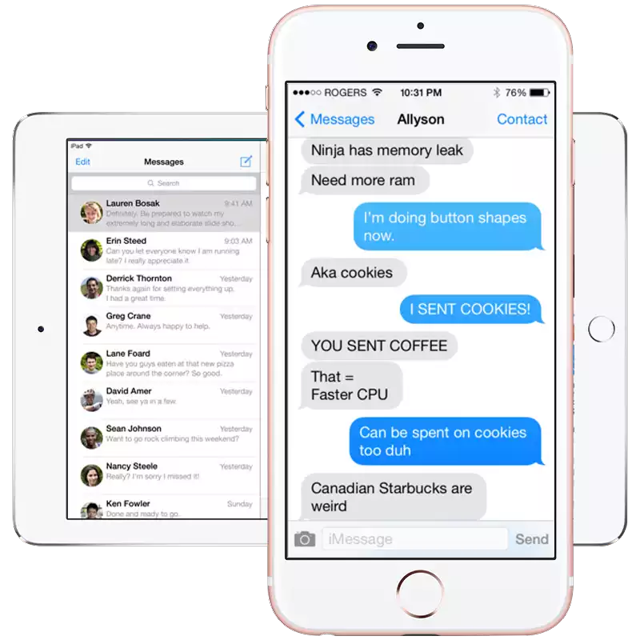 Apple's iMessage. Coming soon to Android?
SVP Eddy Cue recently said iMessage handles 200K messages/second (a rate equal to 17.3B/day) during peak times. Facebook has reported handling 60B messages/day (3x global SMS traffic) between WhatsApp and Messenger.
Facebook adds support for 360° photo uploads, lets users comment on posts with videos - Having added support for VR-friendly 360° videos last year, Facebook (NASDAQ:FB) is now adding support for 360° photos. As with videos, users can pan around a 360° photo by clicking/tapping and dragging. When it comes to personal content sharing (recently under pressure), photos are still very much Facebook's lifeblood: The company reported seeing 350M daily photo uploads in 2013, easily surpassing any rival platform.
Separately, Facebook is now allowing users to upload videos within comments and replies. Facebook has seen tremendous video view growth, thanks to the popularity of its autoplay videos... but so has Snapchat (CHAT).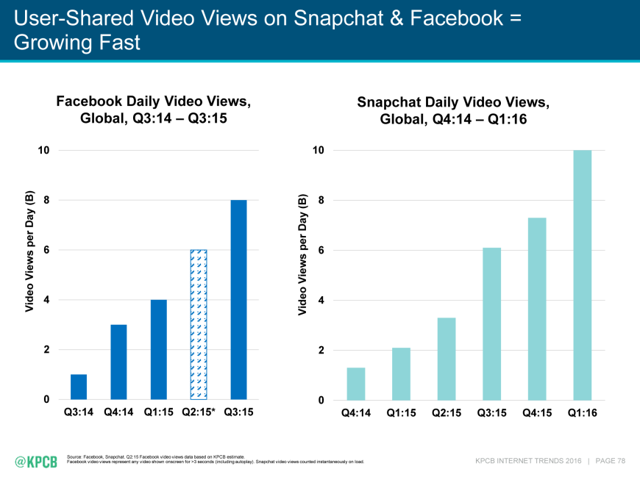 Google launches a feature that notifies users of local services available via Android apps - Google's (GOOG, GOOGL) Nearby feature uses Bluetooth beacons to alert users who have opted into it about local mobile services - if the app needed to access a service isn't already installed, users are asked if they want to download it. Examples given include printing photos from one's phone at a CVS store, and skipping customs lines at certain airports. The service doesn't appear to be monetized for now, but it presents some clear opportunities for driving local commerce. It also gives Google another tool to drive downloads for developers.
Tech Insider: Alphabet's Nest Labs plans to launch an outdoor home camera - Less than a week after lightning-rod Nest founder/CEO Tony Fadell announced he's stepping down, Tech Insider reports Nest's home camera unit (previously Dropcam) plans to launch an outdoor home monitoring camera, and (for those whom this is actually a selling point) Nest thermostats will be available in additional colors.
Separately, new Nest chief Marwan Fawaz insists in an employee memo the Alphabet unit isn't for sale, and that his "only agenda for Nest is to scale and grow with innovative products." The Information reported in March Nest is working on three security-related products: A Wi-Fi router that acts as a smart home hub, a sensor-based solution for alerting users to when doors and windows are opened, and a Bluetooth sensor that can attach to a keychain.
Lenovo launches Moto Z and Z Force phones supporting modular add-ons, 6.4" phone supporting Google's Tango technology - Lenovo (OTCPK:LNVGY) is showing a willingness to think outside the box (or outside the rectangle, one could say) as it tries to rebound from a Q1 in which mobile revenue fell 39% Y/Y. In addition to containing a lot of fairly standard specs for a high-end Android phone - a 5.5" 2K OLED display, a high-quality camera (13MP for the Moto Z, 21MP for the Z Force), a metal body, and Qualcomm (NASDAQ:QCOM) flagship Snapdragon 820 processor - the Moto Z and Z Force support Moto Mods, a set of snap-on accessories such as a pico projector, a JBL speaker with a kickstand and battery, an external battery, and a camera module with an optical zoom lens.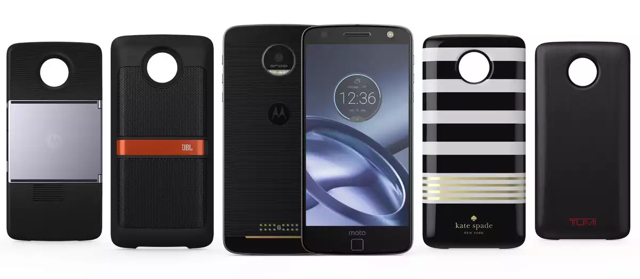 Lenovo's Moto Z smartphone and optional Moto Mods
The concept has quite a lot in common with Google's Ara modular phone project. In each case, the goal is to create optional features that wouldn't find their way into a standard high-volume smartphone, but which appeals to one niche or another, as well as features a user might only want on a phone some of the time.
Also launched by Lenovo: The Phab 2 Pro, a 6.4" $499 "phone" that - with the help of a wide-angle camera and depth-sensing unit - supports Google's Tango technology, which can track objects, map a user's surroundings, and project virtual effects onto real-world environments. Demo apps for the Phab 2/Tango include a Lowe's app that lets users visualize what a Tango-mapped room would look like with new appliances, and a first-person shooter in which a user shoots down drones flying around a mapped room. Between its size and the fact Tango apps are quite limited for now, the Phab 2 Pro will probably be a niche product.
The Lenovo launches point to a growing understanding among mobile OEMs that genuine hardware innovations are needed to boost slumping high-end phone sales - IDC forecasts global smartphone shipments will rise just 3.1% this year, with the industry's sales mix continuing to shift towards low-end and mid-range devices. Samsung (OTC:SSNLF) was recently reported to be thinking of launching bendable phones, including one with a 5" display that can unfurl into an 8" display. Apple, for its part, is expected to put a dual-camera array into the iPhone 7+, and reportedly plans to have 2017 iPhones support over-the-air wireless charging.
Nokia is buying next-gen cable infrastructure firm Gainspeed - Gainspeed's virtual CCAP architecture moves a cable network's management and control functions from dedicated hardware within a cable network to a software-based controller running on commodity servers within a data center. It also moves signal processing closer to homes/apartments. The company argues this lowers infrastructure and management costs, while significantly increasing the amount of network capacity available to consumers.
Nokia's (NYSE:NOK) purchase price for Gainspeed is unknown. The purchase signals a willingness by Nokia to use targeted M&A to expand its wireline infrastructure lineup following the Alcatel-Lucent merger. It also puts the company into further competition with cable infrastructure giants Cisco (NASDAQ:CSCO) and Arris (NASDAQ:ARRS).
Bloomberg: Alphabet CEO Larry Page has invested over $100M in a flying car company - Page is said to have personally invested over $100M in Zee.Aero, a startup trying to commercialize a flying car that can take off and land vertically. He's also reportedly backed a second flying car startup called Kitty Hawk. The report shines a light on Page's go-for-broke mindset as Alphabet invests hundreds of millions in self-driving cars, anti-aging drugs, large-scale gigabit fiber access, and other technologies for which the payoff could be many years down the line.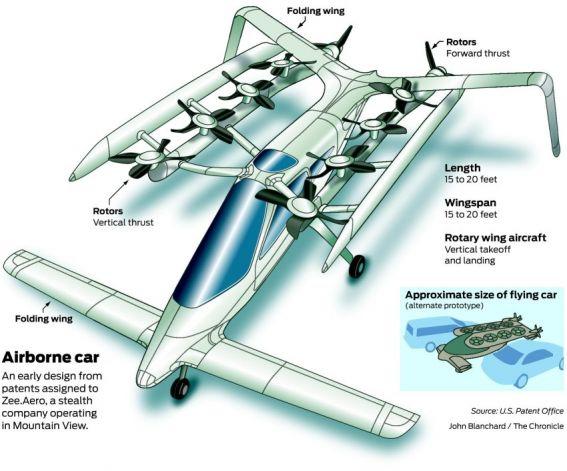 Source: Revolution-Green.com
As for whether a viable flying car will arrive soon, it's best not to hold your breath. But as Bloomberg observes, autonomous navigation could eventually address many of the safety and traffic-control questions surrounding the technology. Former NASA aircraft engineer Mark Moore notes: "Self-flying aircraft is so much easier than what the auto companies are trying to do with self-driving cars."
LinkedIn, Qorvo, and Pandora get upgraded; Qualcomm, Skyworks, and Skullcandy get downgraded - Thursday was a busy day for tech upgrades/downgrades, and the notes brought with them some interesting commentary. Among the highlights:
IDC now expects PC shipments to drop 7.3% Y/Y in 2016 to 255.6M - IDC's revised 2016 forecast is about 200 bps worse than its prior forecast, and follows an estimated 10.4% 2015 shipment drop. Also: IDC now thinks PC shipments fell 12.5% Y/Y in Q1, worse than an April estimate of an 11.5% Q1 drop.
With smartphone sales expected to rise modestly this year and tablet sales expected to fall again, it wouldn't be correct to say the PC industry's woes are due to spending shifting to mobile devices. Rather, it's more a case of consumers and businesses deciding their existing PCs are good enough for mainstream needs... particularly with Windows 10 available as a free upgrade. Also contributing: Windows 10 continues a recent Microsoft (NASDAQ:MSFT) trend of having a new Windows release match or improve upon the resource-efficiency of its predecessor, after many years of doing otherwise.
Disclosure: I/we have no positions in any stocks mentioned, and no plans to initiate any positions within the next 72 hours.
I wrote this article myself, and it expresses my own opinions. I am not receiving compensation for it. I have no business relationship with any company whose stock is mentioned in this article.
Editor's Note: This article discusses one or more securities that do not trade on a major U.S. exchange. Please be aware of the risks associated with these stocks.