I explained why Advanced Micro Devices (NASDAQ:AMD) is not in a hurry to roll-out its first-ever 14-nanometer Zen processors. Intel's (NASDAQ:INTC) unsold inventories of Core and Atom processors is one of the reasons why it would be unhealthy for AMD to release Zen processors this year. Well, I'm also using the same unsold inventory justification to propose that Intel needs to delay or even cancel Kaby Lake.
Digitimes shares my view that Intel and AMD will not launch new processors this year due to weak PC demand. Digitimes explained that this alleged postponement is due to the upstream supply chain having a "serious inventory issues." In other words, Intel's PC partners has significant stockpile of unsold 5th and 6th generation x86 processors. If I'm Krzanich, I will avoid dumping Apollo Lake and Kaby Lake on already hard-up PC manufacturers. Give these PC vendors some time to unload all their dust-gathering Broadwell and Skylake-equipped computers.
If I'm Acer or Lenovo (OTCPK:LNVGY), I will be frustrated that Intel is releasing new processors while I am still losing money housing unsold inventories of Broadwell-based laptops and desktop PCs. IDC has issued another warning that the PC market is going to decline 7.3% this year.
If Intel truly respects its PC vendor partners, it will withhold new processors to persuade people to buy whatever is available. I will cancel the 14-nm Kaby Lake and Apollo Lake and wait 1-2 years before releasing the 10-nm Cannonlake processors. This grace period will give PC makers enough time to dispose all of their existing PC inventories.
Common sense tells me that releasing a new processor (that has no significant improvements over Skylake) is inappropriate during these trying PC industry conditions.
If you look at the chart below, Skylake and Kaby Lake are essentially the same in all core features.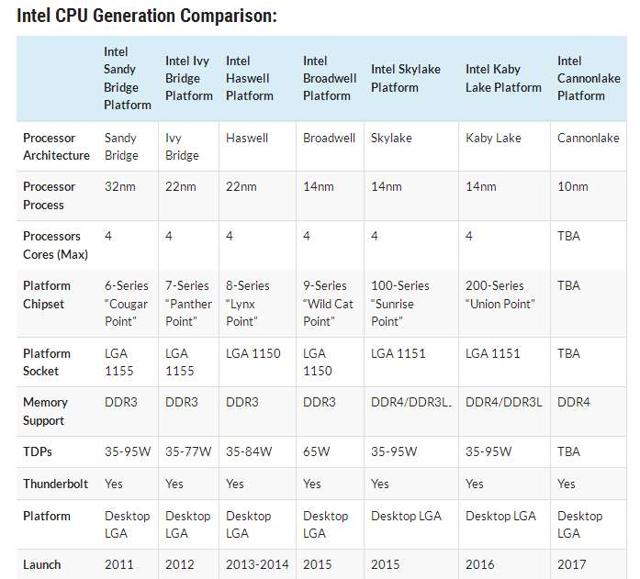 (Source: wccftech.com)
The current set of Skylake (which Kaby Lake is supposed to succeed) processors are therefore already good enough to last until Intel comes up with 10nm processors. I'm also confident that even if AMD releases its 14-nm Zen-based CPUs, the high-end Skylake Core i7 models will still outperform them.
Skylake Is Good Enough To Make Kaby Lake Redundant
Learned PC buyers already know that Kaby Lake is likely Intel trying to squeeze more money out of its 14nm process. Smart PC gamers and Adobe (NASDAQ:ADBE) Premiere users like me can confidently say that Intel has not made any significant improvement on CPU performance since Ivy Ridge. We know that an Ivy Bridge Core i5 or Core i7 CPUs, paired with decent GPU cards, are good enough to even ignore Skylake.
Hardware Unboxed tested all the past and current generations of Core i5 and Core i7. I'm long Intel so I will just let the charts below illustrate how Intel has been content on making token improvements over the last four years.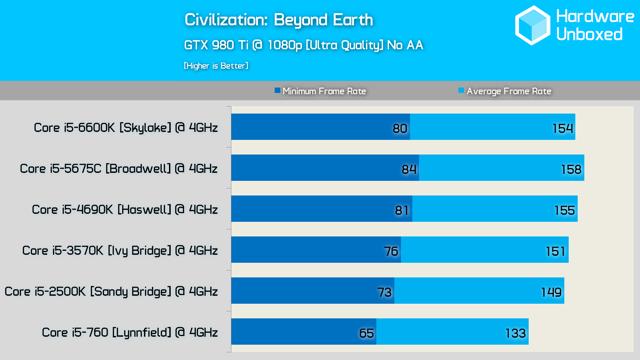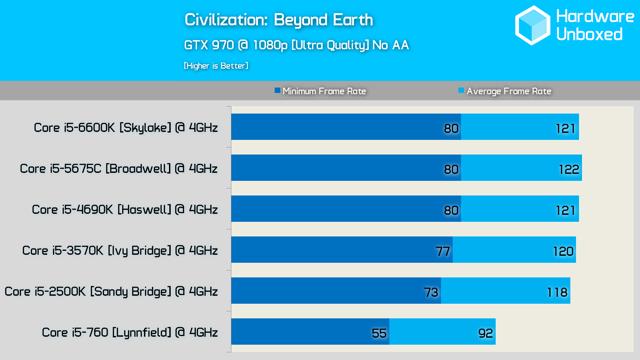 (Source: Both charts from hardwareunboxed.com)
I selected the CPU-intensive Civilization: Beyond Earth game because it can reflect the CPU/GPU-punishing job of editing/rendering full HD 1080p videos on Adobe Premiere. Based on CPU/GPU games-performance metrics, the Skylake Core i5-6600K only delivers a +1 average fps boost than my three-generation older Core i5 Ivy Bridge. Even if Kaby Lake delivers 10 more fps, the performance boost is still not enough incentive to replace our Ivy Bridge-era computers.
I also do not like that Microsoft (NASDAQ:MSFT) will not support Windows 7 on Kaby Lake. Most forty-something graphic artists like me still need Windows 7 to use our old software like the 2004-era Freehand MX. My Freehand MX cannot install/run properly on Windows 10.
Conclusion
I Know Intel confirmed Kaby Lake for 2016 during the Computex Event. However, making struggling PC manufacturers buy Kaby Lake during this troubled PC market period is unfair and unnecessary.
Kaby Lake is an anomaly that doesn't follow the proven tick-tock strategy of Intel. It deserves to be cancelled. There is no economic value in Kaby Lake other than it being a minor update to Skylake. The promise of faster integrated GPU performance in Kaby Lake is not a strong incentive for PC gamers and multimedia editors like me. We use discreet Radeon or Nvidia (NASDAQ:NVDA) GPUs to boost our Intel CPUs.
Kaby Lake's Intel GT2 HD 530 integrated GPU is not going to make any major improvement over the Intel Iris Pro 6200 iGPU's poor performance when used under demanding games/video editing tasks.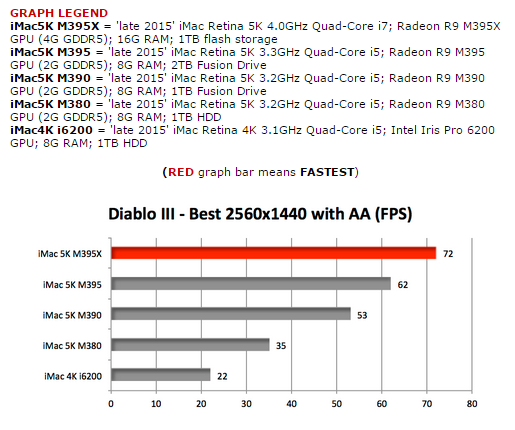 (Source: bestfeats.com)
The only reason to buy Kaby Lake is its support of Optane or 3-D Xpoint non-volatile RAM. Other than that, it has no other reason to exist with Skylake already available. However, I will only accept Optane compatibility as compelling feature for Kaby Lake if Intel is actually ready to sell me 3-D Xpoint memory at reasonable prices.
Intel is not yet selling any Optane SSD or Optane DIMM products. I know Intel has set aside $5.5 billion last year to convert its China factory into a memory plant. However, I understood it's for 3-D NAND memory, not 3-D Xpoint.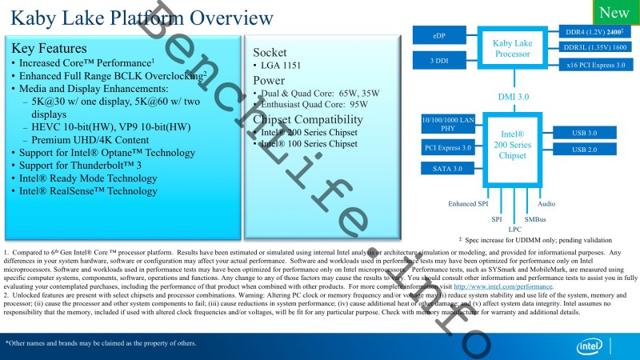 I'm still long Intel but I'm reducing my exposure to diversify my portfolio. I really do not see any compelling purpose in releasing Kaby Lake. I pray it gets cancelled this year so that Intel will have something really new when it comes out with Cannonlake.
Disclosure: I am/we are long INTC, MSFT, ADBE, NVDA.
I wrote this article myself, and it expresses my own opinions. I am not receiving compensation for it (other than from Seeking Alpha). I have no business relationship with any company whose stock is mentioned in this article.