As discussed in "BDC Leverage & baby bonds: Part 1", I am expanding my coverage of business development companies ("BDCs") to include baby bonds (also known as exchange-traded debt) for investors that would like to limit the amount of pricing volatility and overall risk in exchange for lower yields.
This will likely be a long series of articles that will cover general baby bond topics as well as introducing investors to individual bonds offered by BDCs. This article discusses (mostly charts) the recent price performance of BDC baby bonds and the current yields. I will have a follow up article that discusses a more appropriate approach to assessing yields from these investments.
Previous articles in this series:
Updated Baby Bond Performance
The following chart shows the performance of the average BDC baby bond since my first article in this series.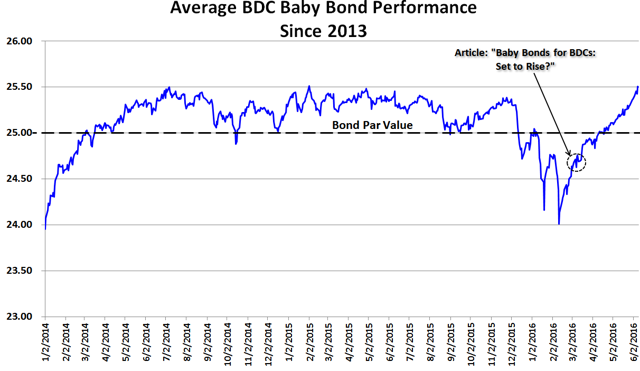 The following charts show the recent price performance for baby bonds from Apollo Investment (NASDAQ:AINV), PennantPark Investment (NASDAQ:PNNT), and Main Street Capital (NYSE:MAIN).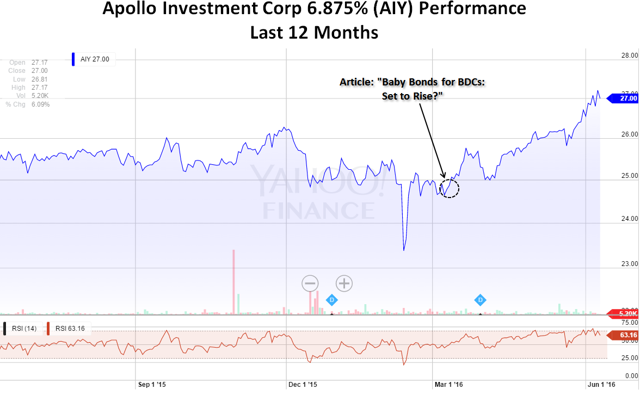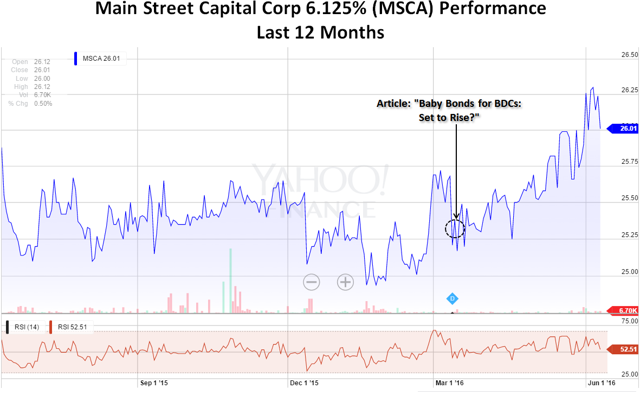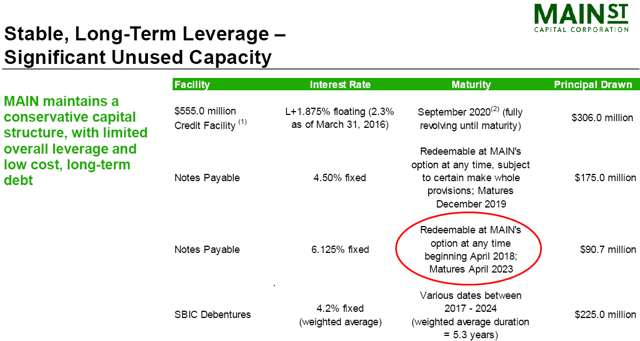 It is important for investors to note that the prices for baby bonds over the last 12 months has not been as volatile as common stock. For example, MSCA has mostly traded between $25 and $26 compared to its common stock between $26 and $33. The following chart shows the average performance of BDC common stock over the last 12 months.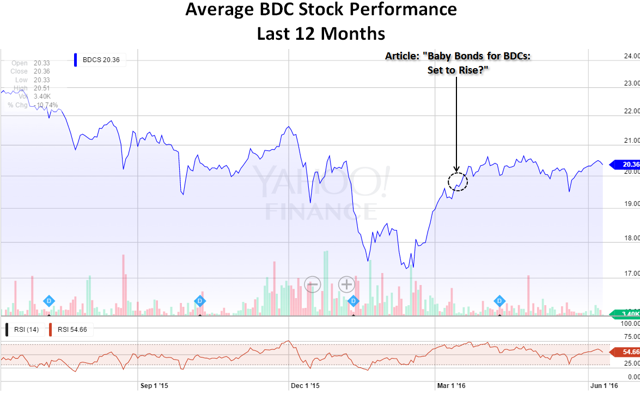 BDCs with baby bonds:
The following BDCs have baby bonds and will be include in my upcoming coverage: AINV, PNNT, MAIN, Ares Capital (NASDAQ:ARCC), Fifth Street Finance (NYSE:FSC), Full Circle Capital (FULL), Harvest Capital Credit (NASDAQ:HCAP), Hercules Technology Growth Capital (NASDAQ:HTGC), Horizon Technology Finance (NASDAQ:HRZN), KCAP Financial (NASDAQ:KCAP), Medley Capital (NYSE:MCC), MVC Capital (NYSE:MVC), Newtek Business Services (NASDAQ:NEWT), Prospect Capital (NASDAQ:PSEC), Saratoga Investment (NYSE:SAR), Stellus Capital Investment (NYSE:SCM), THL Credit (NASDAQ:TCRD), Triangle Capital (NYSE:TCAP), TriplePoint Venture Growth (NYSE:TPVG) and WhiteHorse Finance (NASDAQ:WHF).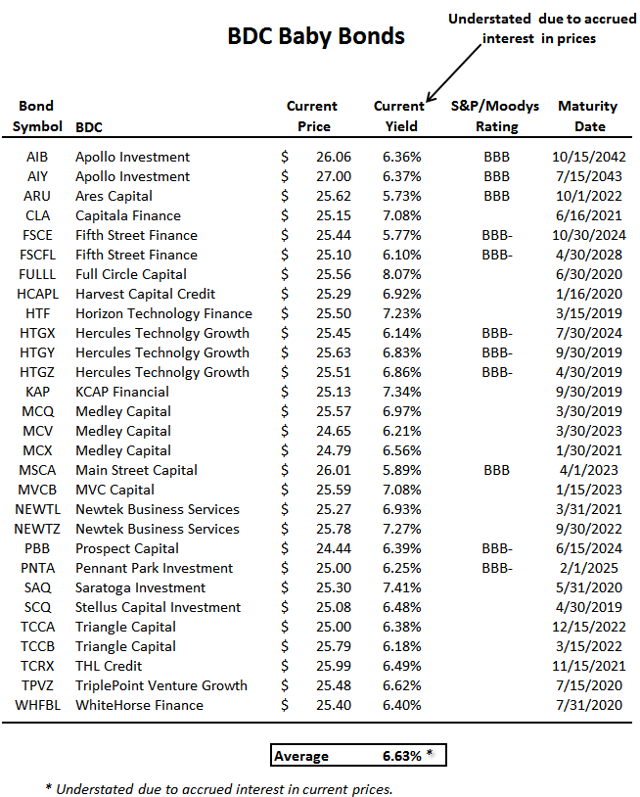 Ratings note: As mentioned in the previous article, not all BDC bonds are rated by S&P/Fitch/Moody's and the ones that are do not have much variance between with either BBB or BBB-. I will be coming up with my own ratings for each bond that will include the typical measures used by the rating agencies but I will be including many other indicators related to portfolio/asset credit quality, leverage and asset coverage ratios, interest expense coverage ratios, etc. I will also be taking into account qualitative measures of management especially related to managing the capital structure as mentioned in many of my previous articles.
Upcoming Articles:
I will discuss some of the typical measures for baby bonds along with my view of risk assessment when choosing these investments in the following articles in this series. For a list of all my articles including interest rate discussion, BDC rankings (risk, return, pricing, dividend potential), target pricing charts and valuations, individual dividend coverage potential, my historical purchases and current positions, and suggested BDC portfolios, please see my "BDC Research Page" and for my free monthly newsletter, please visit "BDC Buzz.com".
Personal note: I have updated my positions to reflect changes in my holdings, but please keep in mind that some of the positions are very small and mostly for research purposes.
Disclosure: I am/we are long ABDC, AINV, ARCC, BKCC, FDUS, FSC, FSFR, FSIC, GAIN, GARS, GBDC, GLAD, GSBD, HTGC, MAIN, MCC, MRCC, NMFC, PFLT, PNNT, PSEC, TCAP, TCPC, TICC, TPVG, TSLX.
I wrote this article myself, and it expresses my own opinions. I am not receiving compensation for it (other than from Seeking Alpha). I have no business relationship with any company whose stock is mentioned in this article.