In my previous article, I mentioned how Warren Buffett is a very sophisticated investor with certain quantitative and qualitative criterion for the companies that he invests in. From his daughter's book "Warren Buffett and the Interpretation of Financial Statements," Warren Buffett is described as an investor with several accounting requirements that he looks for in companies. For your convenience, the testing characteristics that are used by Buffett are shown below. I was able to back-test five of his most recent purchases and concluded that Visa (NYSE:V) and Liberty Media (LMCA) were the best contenders that continue to meet his requirements. Apple (NASDAQ:AAPL) and IBM (NYSE:IBM) were close with only one area where they did not meet the standard.
| | | |
| --- | --- | --- |
| Criterion | Buffett's Test | Exhibit Test |
| Gross Profit Margin | 40%+ | AVG ≥ 40% |
| SG&A % of Sales | <30% | AVG < 30% |
| Profit Margin | 10-20% | AVG > 10% |
| Inventory-to-Earnings % | Should be stable | TTM ≤ AVG+10% |
| Receivables/Revenues % | Should be stable | TTM ≤ AVG+10% |
| Capex-to-Earnings % | Should be stable | TTM ≤ AVG+10% |
| Return on Assets | Double digits | AVG ≥ 10% |
| Debt-to-Equity | Little to none | AVG < 1 |
| Preferred Stock | None | TTM = 0 |
| Return on Equity | Double digits | AVG ≥ 10% |
| P/E Ratio | Sells if above 40x | TTM < 40x |
In this article, I was able to perform the same test but on all 15 of Warren Buffett's top holdings. What is surprising this time is that no company on his top holdings list confidently passes all his fundamental requirements. Most companies tend to have issues related to managing their SG&A, return on assets, and capital expenditure. In contrast, many of the companies tend to do exceedingly well in terms of gross margin, trade receivables, return on equity, P/E valuation and preferred shares. I added the additional test of a company having any dividends, which is what Buffett tends to be attracted towards. Below includes the summary of the test:
Chart is independently generated

For the financial companies such as Goldman Sachs and Wells Fargo, I had to specifically exclude the tests for Gross Margin, Inventory, Debt-to-Equity, and Return on Assets. Financial companies do not report gross margins nor inventory, so they are both not relevant. Since financial companies use high levels of debt as their core business, the debt-to-equity measure is not so relevant for this test. Similarly, financial companies carry on significantly large loans by their customers as assets on the balance sheet, thus skewing the return on assets to low levels.
What is interesting to point out from the summary is Buffett's investment in Chartered Communications (NASDAQ:CHTR). The company generates negative earnings, which in this test, easily fails the company in four categories: Profit Margin, ROA, ROE and P/E. Despite the company having positive cash flows, Buffett has always been an advocate of non-cash charges such as depreciation being real costs to the company. As a result, it is interesting why Buffett would be involved with an investment that has negative earnings.
Another interesting point worth mentioning is the investment in Deere & Company (NYSE:DE). Based on the failed criterion for the company, it appears that there is an emphasis for low returns given failure with the profit margin and ROA tests. The company also has problems with inventory and their receivables, which is an early sign of poor liquidity issues. Lastly, the company is debt-heavy and invests excessive amounts of capex. However, the company produces very strong ROE in the double digits, has a relatively low P/E valuation and dividend yield, and has a strong competitive advantage via its Gross Margin. It is possible that these four criterion are sufficient enough for Buffett to make an investment in a company. In contrast , the basic arguments to these measures is such that the high debt levels brings the ROE significantly higher, the general dynamics of what's going on in the industry and company already reflects its gross margin and lower P/E valuation, and simply any company with positive earnings could pay a dividend.
In conclusion, Warren Buffett is a reputable investor with a strong understanding of his investments and why he invests into them. Although he promotes several quantitative and qualitative aspects that investors should look for when investing in companies, he does not need to necessarily follow all of his own guidelines. It is possible that the reason behind such flexibility is due to the fact that he is able to seeing the underlying value that a company can bring to shareholders despite not meeting certain standards. Ultimately, a company doesn't need to fit all criteria to make money for their shareholders. In fact, his criterion should be used as guiding principles to investors when determining whether a company can hold their competitive position.
Below includes the reference data for the summary shown before:
Data is sourced from Morningstar

Data is sourced from Morningstar

Data is sourced from Morningstar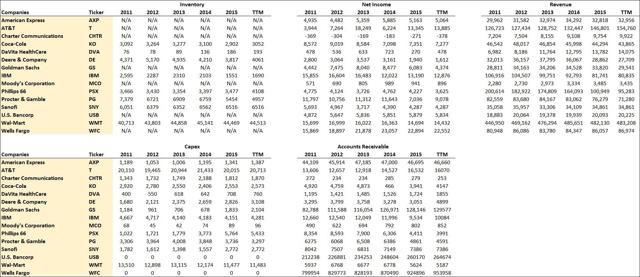 Disclosure: I am/we are long AAPL, WFC.
I wrote this article myself, and it expresses my own opinions. I am not receiving compensation for it (other than from Seeking Alpha). I have no business relationship with any company whose stock is mentioned in this article.
Additional disclosure: I used to have a position in GS