Muni yields have dropped and the yield curve has flattened. Why? One reason is lack of supply.
But why the lack of supply? Supply is commonly defined as new issuance to finance public purpose projects around the country. Issuance itself is subject to a number of factors, not least of which is predictable seasonality. Generally speaking, at the end of the second quarter, issuance tends to intensify as municipalities approach their fiscal year ends, predominantly at the end of June. In July and August, there is a natural lull as people take vacations and the market receives less attention. Finally, in the last quarter of the year, the pace of issuance generally picks up again as bankers seek to book deals before the year ends.
But seasonality really only constitutes "noise" over the underlying supply "signal," and that signal remains weak. Since the global financial crisis and the subsequent recession, municipalities remain wary of increasing their citizens' tax burdens. Property values have been restated, leading to lower tax bases, with some companies relocating while others have gone out of business, resulting in lost jobs. Uncertain revenue streams have prevented expansion of capital programs at many local levels, hence this has resulted in far less supply than one might anticipate given what current low interest rates could support. Demand for munis, by contrast, has remained robust. We entered 2016 coming off the back of two strong years in 2014 and 2015, and investors comfortable with, if not reliant upon, steady income from the muni space. And in the face of persistent uncertainty in both the domestic U.S. and international markets, munis have continued to provide investors with low correlation to other asset classes, and strong credit quality, in addition to positive performance for the past three years according to the Barclays muni bond indices.1
This is clearly illustrated by muni fund flows versus issuance over the past three years, as well as year-to-date 2016.
Municipal Bond Fund Flows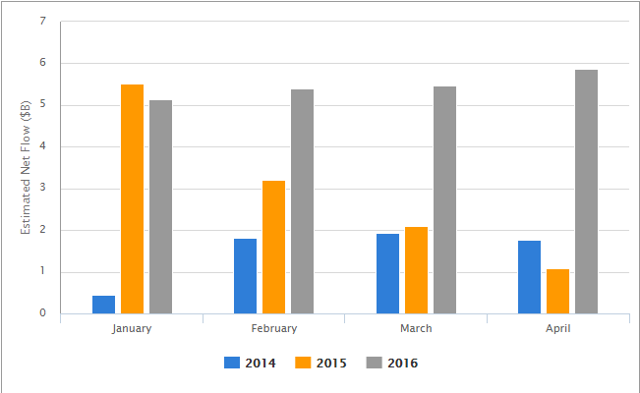 Municipal Bond New Issuances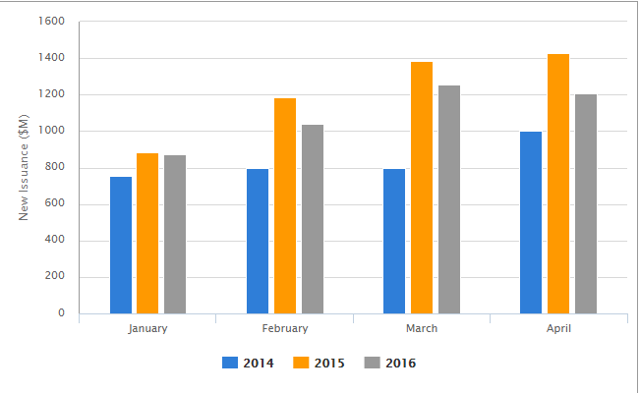 One way of addressing the supply issue, would be for Congress to launch a national infrastructure financing program akin to the Build America Bond (NYSEARCA:BAB) program launched by President Obama in February 2009 in the wake of the global financial crisis. Such a move would serve not only to provide much needed, and, in some cases vital, infrastructure improvement, but also, through fiscal policy, to take the onus for stimulating growth from the Federal Reserve alone. In addition, while sidestepping any need for municipalities themselves to raise taxes, it could, like BAB, have an immediate effect.
Post Specific Disclosures
1 As measured by the Barclays Municipal Bond Index and the Barclays High-Yield Municipal Bond Index. The Barclays Municipal Bond Index is considered representative of the broad market for investment grade, tax-exempt bonds with a maturity of at least one year. The Barclays High-Yield Municipal Bond Index is considered representative of the broad market for below investment grade, tax-exempt bonds with a maturity of at least one year.
Correlation, in the world of finance, is a statistical measure of how two securities move in relation to each other.
Important Muni Nation® Disclosure
This content is published in the United States for residents of specified countries. Investors are subject to securities and tax regulations within their applicable jurisdictions that are not addressed on this content. Nothing in this content should be considered a solicitation to buy or an offer to sell shares of any investment in any jurisdiction where the offer or solicitation would be unlawful under the securities laws of such jurisdiction, nor is it intended as investment, tax, financial, or legal advice. Investors should seek such professional advice for their particular situation and jurisdiction.
VanEck does not provide tax, legal or accounting advice. Investors should discuss their individual circumstances with appropriate professionals before making any decisions. This information should not be construed as sales or marketing material or an offer or solicitation for the purchase or sale of any financial instrument, product or service.
Please note this post represents the views of the author and these views may change at any time and from time to time. MUNI NATION is not intended to be a forecast of future events, a guarantee of future results or investment advice. Current market conditions may not continue. Non-VanEck proprietary information contained herein has been obtained from sources believed to be reliable, but not guaranteed. No part of this material may be reproduced in any form, or referred to in any other publication, without express written permission of VanEck. MUNI NATION is a trademark of Van Eck Associates Corporation.
All indices listed are unmanaged indices and do not reflect the payment of transaction costs, advisory fees or expenses that are associated with an investment in a fund. An index's performance is not illustrative of a fund's performance. Indices are not securities in which investments can be made.
Any discussion of specific securities mentioned in the commentary is neither an offer to sell nor a solicitation to buy these securities.
Municipal bonds are subject to risks related to litigation, legislation, political change, conditions in underlying sectors or in local business communities and economies, bankruptcy or other changes in the issuer's financial condition, and/or the discontinuance of taxes supporting the project or assets or the inability to collect revenues for the project or from the assets. Bonds and bond funds will decrease in value as interest rates rise. Additional risks include credit, interest rate, call, reinvestment, tax, market and lease obligation risk. High-yield municipal bonds are subject to greater risk of loss of income and principal than higher-rated securities, and are likely to be more sensitive to adverse economic changes or individual municipal developments than those of higher-rated securities. Municipal bonds may be less liquid than taxable bonds.
The income generated from some types of municipal bonds may be subject to state and local taxes as well as to federal taxes on capital gains and may also be subject to alternative minimum tax.
Diversification does not assure a profit or protect against loss.
Investing involves substantial risk and high volatility, including possible loss of principal. Bonds and bond funds will decrease in value as interest rates rise. An investor should consider the investment objective, risks, charges and expenses of a fund carefully before investing. To obtain a prospectus and summary prospectus, which contain this and other information, call 800.826.2333. Please read the prospectus and summary prospectus carefully before investing.