The global infrastructure sector continues to bear the brunt of constrained public budgets and lack of effective government and private partnerships that have led to inadequate investment and disappointing growth. Consequently, the gap between the required and actual investment continues to widen. We believe selective investment strategy in emerging markets will open the door to plethora of investment opportunities in the sector.
While in emerging markets basic infrastructural facilities are not up to the mark, there is an increasing demand underpinned by growing populations, rising affordability, the need to upgrade to better standards of living, and improving levels of urbanization and modernization. We believe emerging markets in Asia and Africa offer better growth opportunities supported by high single digit growth in their economies in real terms. However, these opportunities tag along challenges related to executional bottlenecks associated with poor governance and a lack of experience in implementing projects using superior methods.
Unlocking the Value in Emerging Markets' Infrastructure
Global Gap Between Infrastructure Demand and Investment Continues to Widen…
Adequate and sophisticated infrastructural facilities remain vital in building a progressive country that is experiencing robust growth in trade and economy. With a booming population, rising per capita incomes and a higher rate of urbanization amongst emerging markets (Asia-Pacific and Africa scores better here), the demand for infrastructure facilities like roads, power stations, schools, water and transport systems remains at an all-time high. Similarly, an increasing necessity to replace and renovate aging infrastructure systems is driving the need for renovation across the developed markets like the US and Europe.
Despite the rising need for infrastructural facilities, infrastructural spending continues to remain inadequate; constrained by public budgets as tough economic conditions continue. This has resulted in a significant gap between the required and actual investment in infrastructural facilities. As per the World Economic Forum, total annual investment in infrastructure currently stands at around USD 2.7 trillion, while demand far exceeds this amount, at USD 3.7 trillion. Furthermore, over 2014-30, this mismatch is expected to widen to an annual gap of USD 1.0-1.5 trillion.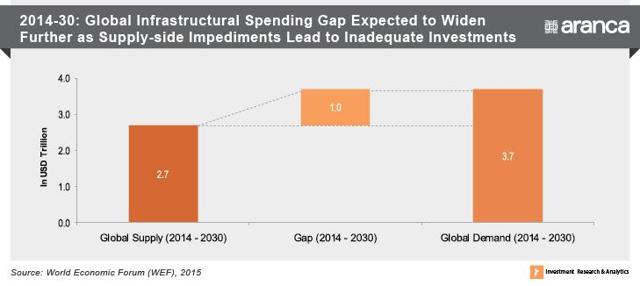 Apart from constrained government budgets, investment in infrastructure has taken a hit due to several other impediments:
· Lack of Investment in Maintenance Projects
While developed economies stay at the top of the infrastructural pyramid, paucity of adequate public capital means inadequate investment in maintenance projects. As per a report by the American Society of Civil Engineers, a significant backlog of maintenance has created a pressing need for modernization, which presents an immense opportunity to create reliable, long-term funding in developed economies.
· Lengthy Bureaucratic Procedures
Stringent rules and regulations lead to a further delay in investments at the right time as investors hold back the supply of private capital. For instance, investments in infrastructure, especially energy and power, in the US are adversely affected by certain regulatory issues like lengthy licensing processes. Similarly, in most of the developing nations, the projects lack effectiveness due to various technical and non-technical inefficiencies, and poor governance (both public and private).
· Lack of Effective Collaboration Between the Government and Private Sector
The successful formation and management of public-private-partnerships (PPPs) could play a major role in filling the infrastructural gap. However, poor management and inefficient service provisions cause most PPPs across several developing economies to fail due to executional inefficiencies.
· Lack of Confidence from Institutional Investors
Owing to various barriers to effective investing in the infrastructure sector in developing countries, institutional investors mostly prefer to invest in developed market projects that are at the mature stage and offer a steady stream of cash flow rather than significantly high returns.
Nevertheless, Emerging Markets Offer Promising Investment Opportunities
The fiscal austerity measures implemented by governments in developed economies in response to the weakening economic condition continue to weigh heavy on the infrastructural spending. In contrast, the activity in the infrastructure sector is expected to remain notably high across emerging markets like the BRIC nations and other Asia-Pacific countries. Emerging market infrastructural demand is expected to rise out of large populations, rising income levels and higher rates of urbanization.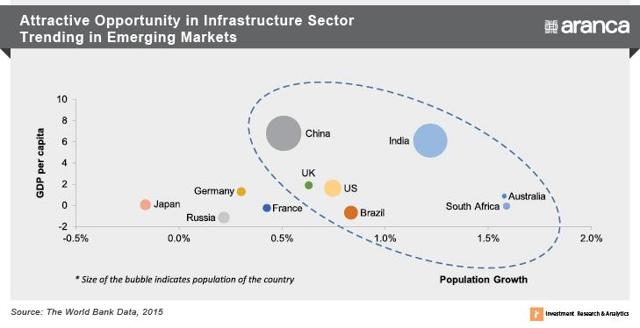 Basic infrastructural facilities in developed markets like the US and Europe are advanced and larger in scale. The new infrastructural investments in the developed markets are mostly targeted towards secondary stages, i.e., innovation and renovation of the aged projects. On the other hand, infrastructural investments in emerging markets are large-scale in nature and are primarily targeted towards economic and social development and offer greater investment opportunities. Total global spending in infrastructure moved up at an average rate of 6.4% over 2011-14, whereas spending across Asia- Pacific region alone moved up at a higher average rate of 9.5%, for the same period.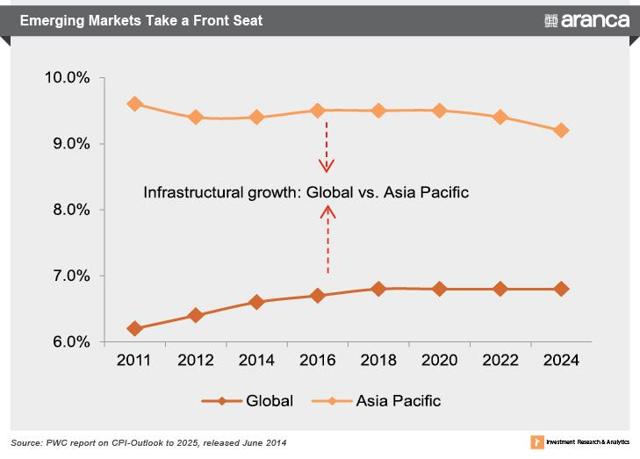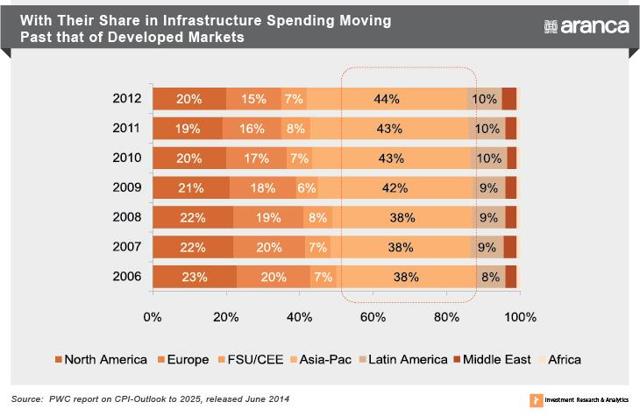 Within the Asia-Pacific region, growth economies like China, India and Indonesia remain on the forefront of investments across different segments of infrastructure.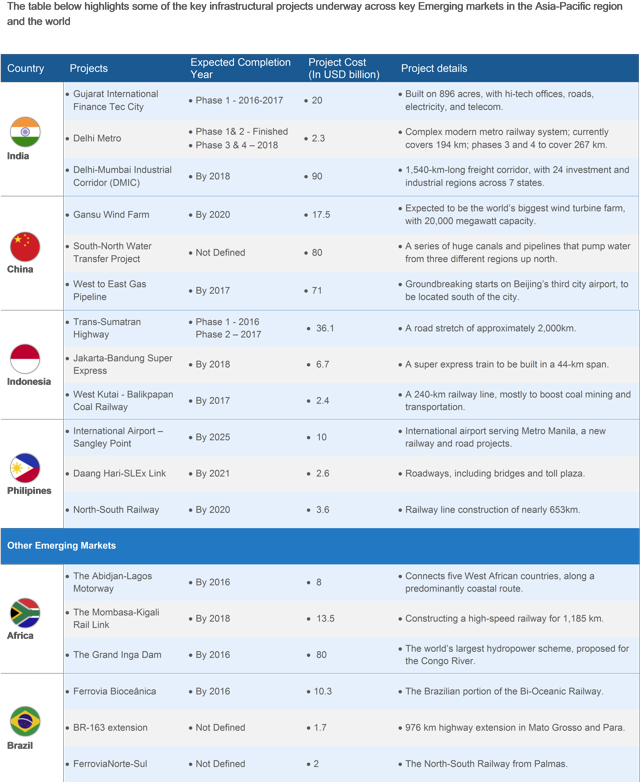 Emerging Markets Governments - Changing Ways to Meet the Need
Understanding the importance of infrastructure growth, regulatory bodies in developing nations have implemented several reforms to boost infrastructure funding and timely completion of work. Permitting foreign direct investment (FDI) in government sectors and mega infrastructure projects such as roads, ports, railways and waterways is one major reform adopted by many developing nations. To spur FDI growth in infrastructure, the governments of many emerging markets are also amending important laws and bills in their countries' legislation. This would help the timely completion of stalled infrastructure projects and increase participation from foreign investors. Similarly, reducing key hurdles such as government and environmental clearances for infrastructure projects, less bureaucratic tangles and a push towards the PPP methodology are other reforms adopted by the developing nations.
For instance, in the Indian Budget for 2015, the government focuses on concrete steps for infrastructural allocations in segments like railways, power, roadways and rural infrastructure. Other common reforms/regulations include the creation of Special Economic Zones (SEZs), the adoption of tax holidays, and automated clearances of minor infrastructure projects to reduce backlogs and increase PPP participation.
Amongst the various solutions mentioned above, two solution frameworks are gaining higher importance:
· Private Participation in Infrastructure (PPI)
The increasing paucity of capital expenditure on infrastructure at government bodies is increasingly encouraging private sector participation in the sector. As of 1H-2014, the top five emerging markets - including Brazil, Turkey, Mexico, India and China - attracted about USD42.9 billion worth of private investments in infrastructural projects. The private investment in these five countries alone accounted for ~84% of total private investments worth USD51.2 billion in infrastructural projects across all the emerging markets in the world. Most of the private sector investment in the infrastructural sector of emerging markets is targeted towards industries like transport, energy, and water and sewerage.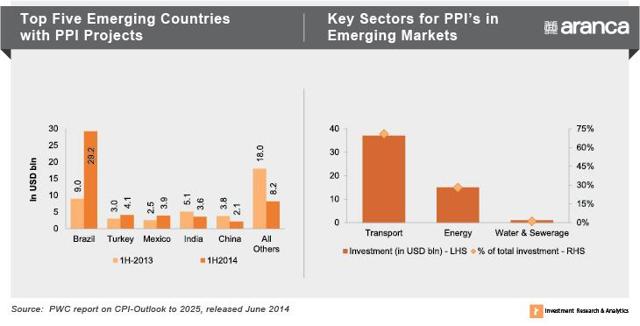 · Public Private Partnerships (PPPs)
Apart from private investments, the number of PPP-based projects across emerging as well as developed markets continue to increase. PPPs ensure effective and efficient execution of projects due to a perfect combination of the governments' control of regulations and the private sector's expertise and ability to fund the project. Despite the relevance, PPPs across emerging regions like Sub-Saharan Africa have frequently failed to generate the desired results. This is due to political instability, poor governance, lack of an effective roadmap for implementation, and a lack of adequate knowledge (like selecting appropriate partners; expertise; etc.) to operate efficiently. However, the scene is changing fast, with governments allowing private partners in the setup to take up key roles, in terms of project expertise & execution and ensuring efficient governance practices.
The Way Forward - Promising Opportunities, Bigger Challenges
Activity in the infrastructure sector in emerging markets is expected to remain high, attracting greater interest from global markets. While impediments to execution will remain, emerging markets are likely to show greater traction in the infrastructure sector, relative to developed markets that have already matured and mostly focus on renovation and updates of existing projects. Overall, the ability to harness the available opportunity in emerging markets will largely depend on the private sector's active participation, effectiveness of the Public Private Partnerships, and efficient and timely execution of the projects at hand.
Disclosure: I/we have no positions in any stocks mentioned, and no plans to initiate any positions within the next 72 hours.
I wrote this article myself, and it expresses my own opinions. I am not receiving compensation for it. I have no business relationship with any company whose stock is mentioned in this article.
Additional disclosure: This Article has been authored by Kunal B Soni, Research Analyst, Investment Research at Aranca.