By Scott Tzu with Thom Lachenmann
We have a few important questions we want to raise about Tesla's (NASDAQ:TSLA) response that it offered the public this morning. If you haven't read a wrap up of yesterday's drama, this is a good place to start.
By now, you have probably read the headlines surrounding Tesla that broke yesterday afternoon. The story was that the NHTSA was looking into complaints about the Model S suspension and the ensuing media follow up was about a nondisclosure agreement that Tesla was reportedly having customers sign after performing out of warranty work.
As we stated in article yesterday, the suspension issue has been relatively well-known, having been talked about on Tesla message boards for the last couple of years. As we pointed out yesterday, the controversy is with whether or not Tesla should have issued a recall on these suspensions, but did not.
This morning, in an early press release, Tesla got to lay out their side of the story, responding to the Reuters report that the NHTSA was looking at the suspension issue, and also responding to the subsequent follow-up regarding the nondisclosure agreements.
If you have not seen the full response, you can read it here, which we encourage you to do before reading through the questions we want to raise.
Question #1 - The Content of the "Goodwill Agreement"
The first question we want to raise is the most glaringly obvious one. Tesla says that they have,
"never and would never ask a customer to sign a document to prevent them from talking to NHTSA or any other government agency."
They go on to call this notion "preposterous."
Then, they go on to explain that they do, in fact, have customers sign a document called a "Goodwill Agreement".
"...we sometimes ask our customers to sign a "Goodwill Agreement." The basic point is to ensure that Tesla doesn't do a good deed, only to have that used against us in court for further gain."
However, the text of a goodwill agreement posted to the web this morning, and the text of the goodwill agreement talked about it yesterday's blog, both clearly state,
"...You further agree that you will not commence, participate or voluntarily aid in any action at law or in equity or any legal proceeding against Tesla or related persons or entities based upon facts related to the claims or incidents leading to or related to this Goodwill."
Well it is true that the agreement does not implicitly and specifically state that customer should not speak to the NHTSA, it could be very easy for a lay person, who is not a legal scholar, to surmise from those two sentences that they should not be talking to anybody related to any regulatory or law-enforcement agency regarding the issue.
Question #2 - The Nature of the NHTSA Investigation
Second, with regard to the NHTSA probe, Tesla states,
"NHTSA has not opened any investigation nor has it even started a "preliminary evaluation," which is the lowest form of formal investigatory work that it does."
This information, while potentially technically true because it has not been classified a "investigation" or "preliminary evaluation" yet, still directly contradicts what was reported in Reuters yesterday when they stated not just that they are "investigating", but that they are still seeking information from the company,
A federal regulator said on Thursday it is reviewing reports of suspension problems in Tesla Motors Inc's (TSLA.O) Model S sedans, and is investigating whether the company urged customers to sign agreements not to disclose the problem.

A spokesman for the U.S. National Highway Safety Administration (NHTSA), Bryan Thomas, said the agency is "examining the potential suspension issue on the Tesla Model S, and is seeking additional information from vehicle owners and the company."
The Reuters article then goes on to say,
A review is a step before the agency decides whether to open a formal investigation leading to a potential safety recall.
Question #3 - Are There Suspension Issues?
Third, Tesla leads its press release with the following statement,
First, there is no safety defect with the suspensions in either the Model S or Model X.
But the facts are that the company did release a Technical Service Bulletin ("TSB") about this issue, which means that it did warren enough attention for them to make an internal note of it, without posting a recall,
Tesla itself issued a Technical Service Bulletin (TSB) in March of 2015, which indicates that a "known non-safety-related condition" applied to the front lower control arm of the Tesla Model S.
Here's a copy of the text from the bulletin itself,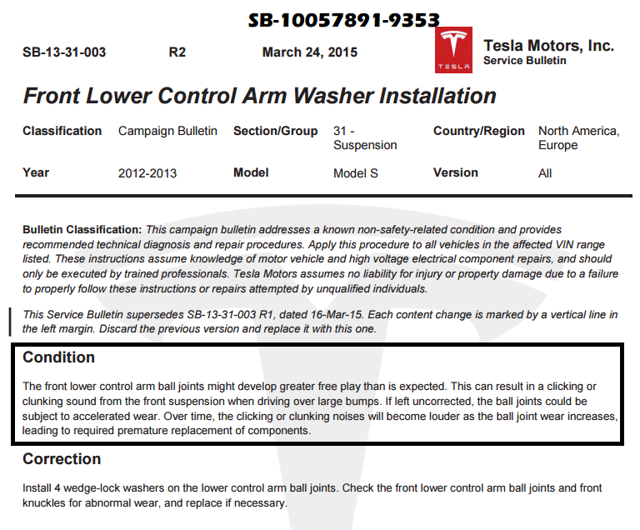 This appears to now be an issue of what a "non-safety-related condition" means to Tesla, versus what the potential suspension issue could be classified as to regulators.
Question #4 - Blaming Short Sellers
Finally, the company makes the statement that,
...it is important to highlight that there are several billion dollars in short sale bets against Tesla. This means that there is a strong financial incentive to greatly amplify minor issues and to create false issues from whole cloth.
Though we are not sure it is the case in this situation, we have often found that blaming short-sellers for declines in stock prices is neither a good PR strategy, nor is it an indication of a solid defense on the company's behalf.
Conclusion
One of the two sides is stretching the truth here, and Thom and I are going to continue to follow these developments very closely to find out who it is. On one hand, we have the company telling people they did not make them sign documents that would prevent them from talking to regulators, on the other hand we appear to see a document that does indicate that. Tesla says there are no issues with the suspension in the Model S, but we are seeing pictures compiled that suggest otherwise and a bulletin issued internally addressing the issue.
Which of these two sides is stretching the truth?
We will continue to look into this development, but in the meantime continue to stay short Tesla.
Disclosure: I am/we are short TSLA.
I wrote this article myself, and it expresses my own opinions. I am not receiving compensation for it (other than from Seeking Alpha). I have no business relationship with any company whose stock is mentioned in this article.