The Traveler's Perspective is about my take on a variety of important macroeconomic issues around the world.
U.S. Domestic
Just a week ago, the market panicked (SPY, QQQ, DIA) as the U.S. Department of Labor announced that just 38,000 jobs were created, the lowest in six years. On Thursday, the weekly jobless numbers were released, and they told a completely different story. Initial jobless claims fell 4,000 from 268,000 to 264,000 for the week ending June 4th. Similarly, the continuing jobless claims fell 77,000 for the week ending May 28th. This illustrates the danger of tunnel vision when analyzing macro indicators. Take a step back and look for other clues, no matter how telling a single indicator may be.
Retail stocks (NYSEARCA:XRT) have failed to recover despite the news however, falling 1.51% on Thursday. More sturdy companies such as Wal-Mart (NYSE:WMT) and Dollar Tree (NASDAQ:DLTR) fared better, declining by 0.27% and rising by 0.44% respectively. Evidently, the market is still in a defensive mood. Amazon (NASDAQ:AMZN) helped to dampen the fall as well, having appreciated slightly by 0.14%.
Commodities
Natural gas (NYSEARCA:UNG) inventory continued to climb as we head towards summer, up 65 Bcf and 29% year over year to 2,972 Bcf. The decline that we saw in crude oil inventory (NYSEARCA:USO) was not present in natural gas. What does this divergence mean? I don't think it means much right now as the numbers are fudged due to seasonality, but should the trend continue, one could make the case for looking into natural gas engine/vehicle manufacturers. Those companies have been taking a beating since oil started to fall in 2014, as it made gas comparatively more expensive, and hence less desirable as fuel. The stocks of companies like Westport Innovations (NASDAQ:WPRT) and Clean Energy Fuels (NASDAQ:CLNE) have been suffering large losses since oil sank. But as supply for natural gas and oil diverges, these stocks could benefit as demand rises for gas-powered engines/vehicles once again.
International
Draghi came out to say that governments need to do more to stimulate the economy. Despite hundreds of billions of funds being injected into the economy, the situation isn't improving as much as people thought it would. If you haven't been keeping up with what's going on in the Eurozone, unemployment is at a whopping 10.2%. While unemployment has steadily declined from 12% in 2013, inflation is still stubbornly dancing around zero.
How can they dig themselves out of this hole? Is time the answer? Even if it is, it may be too late. The U.K. is getting impatient as it may leave the EU after the referendum, which will take place in two weeks. For international investors, Brexit spells a tremendous amount of uncertainty. Currencies will most certainly experience historic volatility as traders around the world try to figure out what exactly a Brexit would mean.
Domestic investors, you are not completely safe, as some of your holdings may conduct operations in Europe, adding a layer of uncertainty to your portfolio. However, if you are holding some of the more well-known names such as Procter & Gamble (NYSE: PG) or McDonald's (NYSE: MCD), there is really no reason to worry. Those companies are diversified enough such that currency fluctuations won't dramatically impact returns.
The V20 Portfolio: Performance Since Inception
On Thursday, the V20 Portfolio declined by 2.2% and the SPDR S&P 500 ETF declined by 0.1%. Week to date performance for the V20 Portfolio is 1.4%.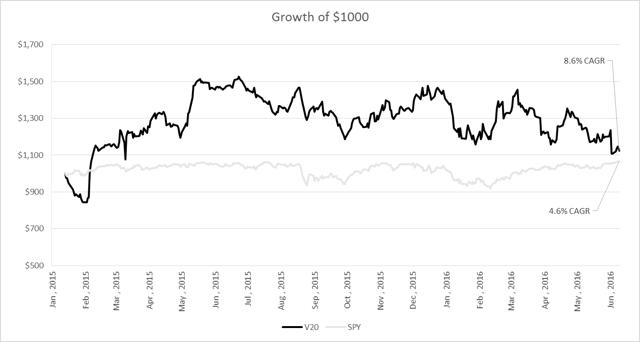 Click the "Follow" button beside my name on the top of the page to be updated with my latest insights. To learn more about the V20 Portfolio (+40% in 2015), whose goal is to compound capital at 20% over the long term, I encourage you to read the introduction to my investment process. Premium subscribers get full access to the V20 Portfolio. You can follow my latest updates, available to all, here.
Disclosure: I/we have no positions in any stocks mentioned, and no plans to initiate any positions within the next 72 hours.
I wrote this article myself, and it expresses my own opinions. I am not receiving compensation for it (other than from Seeking Alpha). I have no business relationship with any company whose stock is mentioned in this article.