Back in December last year, I had said that Crescent Point Energy (NYSE:CPG) was capable of delivering upside even though it was going through a rough patch at that point of time. Cut to 2016 and the stock has already gained over 40% on the back of an improvement in oil and gas prices. This is not surprising as the rally in oil and gas prices will allow Crescent Point to increase its netbacks on the back of higher average selling prices.
As such, in my opinion, even after strong gains so far this year, I believe that Crescent Point Energy is still a buy. Let's see why.
Waterflood developments will boost production efficiency
Crescent Point is focused on improving its production efficiency by enhancing drilling and completion methods. The company is using infill drilling, apart from using new completion fluids, in order to increase waterflood development in its core acreage. For instance, in the last quarter, Crescent Point started using the water injection technology at 30 of its wells in the Viewfield Bakken, Swan Hills, and Saskatchewan Viking.
As a result of this initiative, Crescent achieved record quarterly production of 178,241 barrels of oil equivalent per day in the first quarter, representing an increase of 16% from the prior-year period. Boosted by such results, Crescent has decided that it will convert another 120 wells to water injection across these resource plays.
This represents an increase of 70% in the number of wells being converted to the waterflood technique as compared to last year. Now, as Crescent turns to water injection at more wells, its production will increase since it is going to increase the number of stages at each well.
For instance, in the Lower Shaunavon resource play, Crescent has accelerated the number of stages per well from 25 stages to 35 stages. On account of this increase in the number of stages, the initial 30 day production rate in the area has improved by around 13%. On the other hand, the waterflood programs have enabled the company to lower the base decline rate to 28% in 2016 as compared to 35% at the end of 2015. The drop in the base decline rate will allow Crescent to extract oil from these assets for a longer time period without incurring additional capital costs, thereby lowering the company's cost structure.
The following graphic shows how the use of the waterflood program has allowed Crescent to lower its costs as compared to the conventional well-spacing method: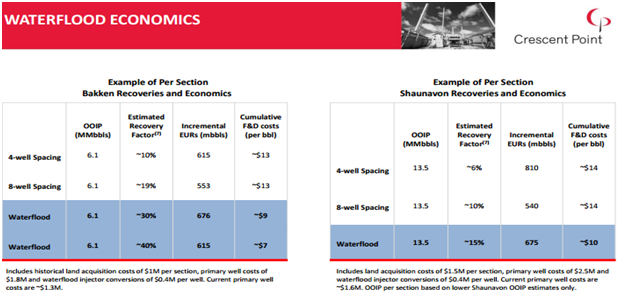 Source: Crescent Point Energy
As seen in the table above, Crescent Point's estimated recovery factor in both the Bakken and the Shaunavon has increased substantially, leading to a jump in the estimated ultimate recovery rates. At the same time, the cumulative finding and drilling costs have also gone down in both areas due to the usage of the waterflood drilling program. As such, Crescent Point is making the right move by increasing the deployment of this program as this will allow it to increase recoveries at lower costs.
Lower costs will be a tailwind
Due to its efficient production techniques, Crescent Point has been able to significantly lower its production costs. For instance, its operating costs last quarter dropped 14% to $10.21 per BOE as compared to operating costs of $11.87 per BOE in the same quarter last year. As the company continues to use waterflood at more wells, I believe that it will be able to bring down its operating costs further going forward.
In addition, Crescent Point has lowered its transportation expenses by 6% to $2.22 per BOE on a year-over-year basis. This reduction in its transportation cost is a result of its recent investment in the pipeline gathering system that has allowed it to lower trucking costs. Moreover, since Crescent has lowered the number of oil deliveries through rail terminals, it does not have to incur costs related to the same.
As a result of these initiatives, Crescent Point has managed to lower the rate of decline in its netbacks as compared to the drop in the oil price. This is shown in the chart given below:

Source: Crescent Point Energy
Conclusion
Crescent Point Energy's rally so far this year seems justified as the company is aggressively focused on reducing costs and enhancing production efficiency, which will allow it to benefit from the recovery in oil prices. So, in my opinion, it will be a good idea to remain invested in Crescent Point Energy for the long run since it can continue to get better.
Disclosure: I/we have no positions in any stocks mentioned, and no plans to initiate any positions within the next 72 hours.
I wrote this article myself, and it expresses my own opinions. I am not receiving compensation for it (other than from Seeking Alpha). I have no business relationship with any company whose stock is mentioned in this article.