Kinder Morgan (NYSE:KMI) has had a rough year thanks to its 80% dividend cut. Compared to midstream MLP peers such as Enterprise Products Partners (NYSE:EPD), Magellan Midstream Partners (NYSE:MMP), Spectra Energy Partners (NYSE:SEP) or Holly Energy Partners (NYSE:HEP), its return has been abysmal.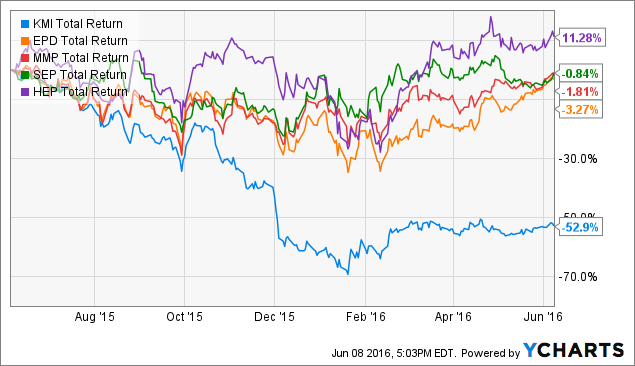 KMI Total Return Price Data by YCharts
Yet the dividend now appears highly secure, and recent project announcements mean that cash flow growth is potentially on the horizon. Value-hungry dividend investors might be thinking Kinder Morgan shares offer an appealing long-term opportunity. But there are several reasons why the Kinder turnaround is still far from certain. More importantly, I believe that Enterprise Products Partners, Magellan Midstream, Spectra Energy Partners, and Holly Energy Partners are likely to prove superior long-term income investments in the years to come.
Dividend Highly Secure, but Weak Growth Prospects
| | | | |
| --- | --- | --- | --- |
| Midstream MLP | Forward Yield | Q1 2016 Distribution Coverage Ratio | Payout Growth Guidance |
| Kinder Morgan | 2.8% | 4.4 | NA |
| Enterprise Products Partners | 5.5% | 1.3 | 5.2% in 2016 |
| Magellan Midstream Partners | 4.4% | 1.1 | 10% in 2016, 8% in 2017 |
| Spectra Energy Partners | 5.5% | 1.9 | 7.3% through 2018 |
| Holly Energy Partners | 6.7% | 1.6 | 8% in 2016 and 2017 |
Sources: Earnings Releases, Investor Presentations, Management Guidance
Thus, despite the largest distribution coverage ratio, its payout growth prospects are by far the weakest. That's partially because Holly Energy, Magellan Midstream, and Enterprise Product Partners have strong track records of retaining distributable cash flow, or DCF, to fund more projects internally. That, in turn, has allowed them easier growth with far less investor dilution over the past few years. Kinder's sky-high distribution coverage ratio initially seems to offer the most secure dividend. However, the $954 million in excess DCF it generated this quarter is already earmarked for debt repayment and funding its capital expenditure budget of $2.9 billion for 2016.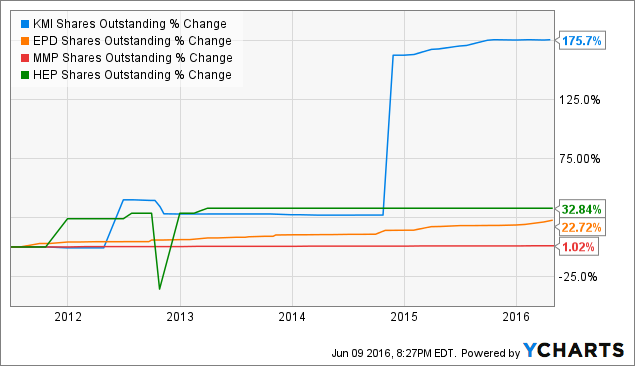 KMI Shares Outstanding Data by YCharts
Latest Project Announcements Mask Major Growth Concerns
As of Q1 2016, Kinder Morgan's growth backlog stands at $14.1 billion. That's down 36% from its high of $22 billion in mid-2015. This is a result of management wisely focusing on only its most profitable growth opportunities. One such example is the $5.4 billion Trans Mountain pipeline expansion, for which the Canada's National Energy Board has just given its recommendation for regulatory approval. The final green light from Canadian federal officials is expected by the end of 2016, with construction set to begin next year.
Kinder Morgan also recently received regulatory approval for its $2 billion Elba LNG liquefaction project. However, investors shouldn't forget that it also just cancelled its $3.3 billion Northeast Energy Direct pipeline. The reason was lack of customer interest in signing long-term contracts due to ongoing low energy prices.
But don't forget that these are long-term projects, which means that, even if completed on time and on budget, increased cash flows are still years away. In contrast Spectra, Holly Energy, Enterprise Products Partners and Magellan Midstream all have far better immediate growth prospects. For example, Spectra Energy Partners has over $8 billion of projects currently under construction that will grow EBITDA by 55% over the next four years. Meanwhile, Enterprise has $6.4 billion in new projects coming online through 2018.
In the case of Holly Energy Partners, its sponsor and general partner HollyFrontier Corp. (NYSE:HFC), is one of America's largest independent refiners. HollyFrontier provides its MLP with a steady diet of accretive acquisitions, each with long-term, fixed-fee contracted cash flow protected by minimum volume commitments. This insulates Holly's cash flow from commodity price fluctuations and has allowed the MLP to just deliver its 46th consecutive quarterly distribution increase.
While Magellan Midstream's backlog of $950 million might appear somewhat small on paper, keep two things in mind. First, management likes keeping growth plans close to its vest rather than advertise them years in advance. For, example construction will soon begin on its recently announced 4 million barrel storage expansion project at the Seabrook, Texas, oil terminal, which management hopes will begin generating cash flow in 2017.
Second, Magellan's management is extremely picky about what initiatives it allocates investor capital to. This allows it to generate some of the highest returns on invested capital, or ROIC, in the midstream industry. In fact, over the past year Magellan's ROIC was 18%. Compare that to Kinder Morgan's weak 1.66% ROIC and you can see one of the reasons Magellan is better able to reward investors with steady payout growth. Actually, the reason that Kinder is struggling to grow profitably is primarily why you should avoid the stock for now.
Massive Debt Could Stall Dividend Growth for Years
| | | |
| --- | --- | --- |
| Midstream MLP | Debt/EBITDA Ratio | Interest Coverage Ratio |
| Kinder Morgan | 9.72 | 1.1 |
| Enterprise Products Partners | 4.49 | 3.7 |
| Holly Energy Partners | 4.02 | 5.0 |
| Spectra Energy Partners | 3.79 | 5.4 |
| Magellan Midstream Partners | 3.28 | 6.5 |
Sources: Morningstar, Gurufocus
The entire reason Kinder had to cut its dividend is that it over-leveraged its balance sheet and found itself facing a potential credit downgrade to junk. That would have raised its debt service costs to unsustainable levels. Thanks to its $44 billion in total debt, Kinder investors are left with a highly secure, albeit low dividend, with weak growth prospects. After all, management will need to direct the majority of future DCF to pay down its mountain of debt.
In comparison, Enterprise Product Partners, Magellan Midstream, Spectra Energy Partners, and Holly Energy have all been far more conservative with their use of debt. Which is why each still has cheap access to debt and equity capital markets. Combined with their significant quantities of retained DCF, these four MLPs are likely to find an easier time growing their cash flows over the coming years.
Bottom Line: Kinder Is Getting Better, but Not Yet Good Enough to Buy
Kinder's prospects are improving. However, with Enterprise Products Partners, Holly Energy Partners, Magellan Midstream, and Spectra Energy Partners all offering superior forward yields, stronger balance sheets, and better distribution growth prospects for 2016 and beyond, I can't recommend investors buy Kinder shares over these excellent alternatives.
Disclosure: I/we have no positions in any stocks mentioned, and no plans to initiate any positions within the next 72 hours.
I wrote this article myself, and it expresses my own opinions. I am not receiving compensation for it (other than from Seeking Alpha). I have no business relationship with any company whose stock is mentioned in this article.