Oilfield equipment and services provider Halliburton (NYSE:HAL) has put up a surprisingly strong performance on the stock market this year despite the budget cuts implemented by exploration and production companies. In fact, so far in 2016, Halliburton shares are up over 33%, and this can be attributed to the recent rally in oil prices as the Brent now once again trades at more than $50 per barrel.
Why things are looking up for Halliburton
This seems to have brought optimism in the oil and gas industry that the rally in prices will once again encourage E&P companies to start drilling, a move that will improve Halliburton's addressable market. In fact, last month, the Halliburton CEO commented that "We do think that potentially we'll see an upswing in the rig count in the back half of the year... When this thing snaps back, it's going to snap back hard."
The optimism about a recovery in the rig count in the latter part of the year on the back of an oil price recovery has helped Halliburton gain impressive momentum. According to data released by Baker Hughes, the U.S. rig count for the week ending May 27, 2016 remained unchanged at 404 rigs. But, the rig count is approximately 53.8%, or 471 rigs, lower than last year.
The good part is that after a period of sustained decline, natural gas rigs increased 2.4% to 87 rigs for the week of May 27 as compared to the prior week. At the same time, inland water rigs moved up approximately 20% over the same period. Going forward, it is likely that the rig count might continue to get better as certain oil producers are likely to bring online more infrastructure in the current oil price environment.
For instance, Pioneer Natural Resources (NYSE:PXD) plans to add around 5 to 10 new rigs in case of a sustained $50 oil price scenario. Similarly, Whiting Petroleum (NYSE:WLL) is also expected to frac 44 wells after it entered into a deal with an unnamed investor.
This is good news for Halliburton investors, and I believe that the company will be able to continue improving in the long run as it has focused aggressively on product development moves that allow E&P companies to reduce drilling costs. Let's take a look.
Low cost offerings to E&P companies will be a tailwind
In a weak oil and gas pricing environment, oil and gas companies have focused on assets where they can generate robust production at low costs. Halliburton has been aware of this trend and this is why the company has aggressively focused on converting its pressure pumping fleet to the Frac of the Future configuration.
According to Halliburton, the new Q10 pump developed under the new configuration can perform longer and reduce idle time. This is because Halliburton's Q10 pump carries the lowest cost per BOE and increases production efficiency as it uses optimized frac sand volumes.
In comparison, pressure pumps tend to incur higher costs per BOE as frac sand volumes increase. For instance, last quarter, Halliburton witnessed an increase of 17% in the sand volume on a per well basis. Halliburton believes that this might have an adverse impact on the equipment, hurting the cost per BOE and the production efficiency.
Additionally, Halliburton's modular pumping equipment is also gaining traction. Last quarter, Halliburton delivered "production maximizing gravel pack chemistry for a major deepwater customer." Usually, this particular pack is delivered through a high-cost stimulation vessel, but Halliburton was able to do the same using a lower cost vessel due to the benefits of its modular pumping equipment.
So, Halliburton is doing the right thing by investing in the Frac of the Future as it will allow it to tap the recovery in the end-market more effectively. In fact, as shown in the graphic below, Frac of the Future will help E&P companies save nearly 20% capital, use 35% less workforce, and bring down the completion time by 40%.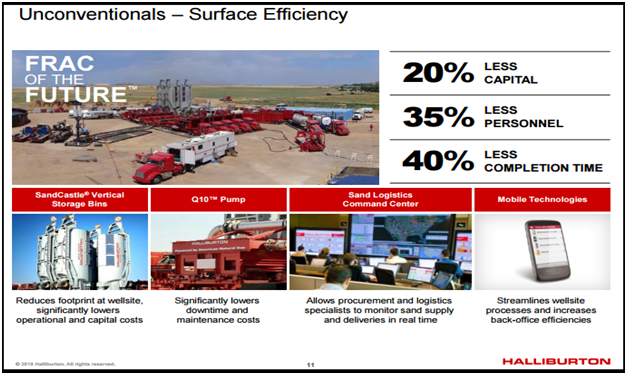 Source: Halliburton
As a result of such product development moves, Halliburton has been able to keep its top line in better shape as compared to industry peers. As the chart given below will show us, the company's revenue has declined at a slower pace in both North America and internationally: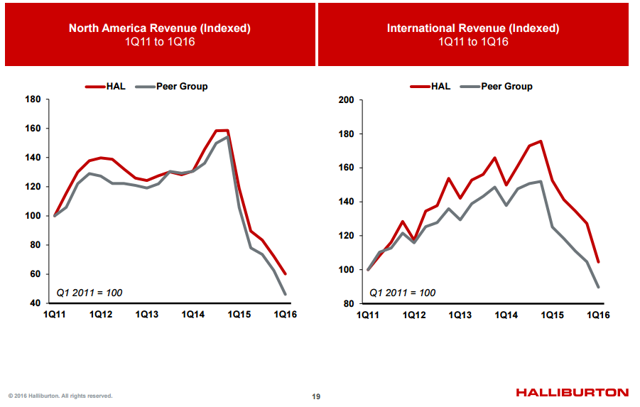 Source: Halliburton
Thus, it is quite evident that Halliburton's moves to get ahead of its peers are working since the company's top line has outperformed the industry.
Conclusion
Halliburton has put up a strong performance on the stock market this year and given the points discussed above, I think that the company will be able to sustain its performance going forward. It is making the right operational moves and will also be assisted by an improvement in the oil price environment. So, according to me, it will be a good idea to remain invested in Halliburton for more upside.
Disclosure: I/we have no positions in any stocks mentioned, and no plans to initiate any positions within the next 72 hours.
I wrote this article myself, and it expresses my own opinions. I am not receiving compensation for it (other than from Seeking Alpha). I have no business relationship with any company whose stock is mentioned in this article.