Reuters recently leaked the rumor that Kite Realty Group Trust (NYSE:KRG) is in talks to buy WP Glimcher (NYSE:WPG). That's an interesting notion, particularly since Glimcher is yielding about twice as much as Kite, suggesting that Kite may be looking to take advantage of a relatively cheap price point. But what value is there?
A strip mall REIT
Kite Realty basically owns strip malls, with roughly two thirds of its properties anchored by grocery stores. Its properties are located in clusters around six or so well-situated and fairly desirable broader markets; however, it doesn't own properties in top-tier areas. All in, it's not a bad retail REIT and it's raised its dividend annually for the past couple of years.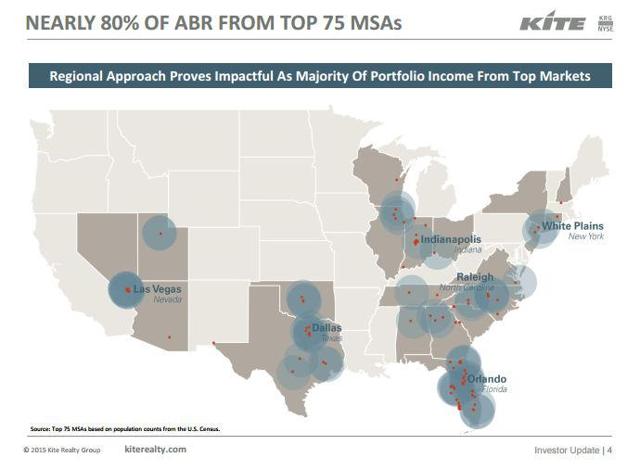 With a portfolio of 120 or so strip mall properties, however, it's not exactly an industry giant. Which means that acquisitions could add materially to the top and bottom lines. So in some ways it makes sense that Kite would be looking to expand its portfolio via the acquisition of WP Glimcher, a deal that would add 114 "core" properties (core is the term WP Glimcher uses for its main assets, but that might be a generous way to describe some properties) to its portfolio.
Kite's last big purchase was Inland Diversified in late 2014. And that deal was a big one too. Inland's 57 properties increased Kite's portfolio at the time to 131. It also more than doubled Kite's square footage. So, in some ways, you could say that Kite is used to significant acquisitions.
But a couple of years removed from that deal, the company has put a "road map" in place for improving its portfolio and financial performance. In fact, the REIT's share price has pretty much gone nowhere since the Inland deal closed, despite the increasing dividend. That said, the "road map" appears reasonable, with a focus on maintaining the core business and customer relationships and redeveloping a good chunk of its portfolio.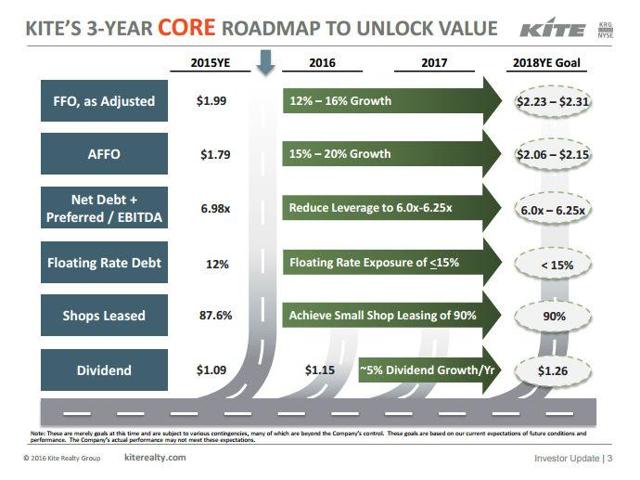 But based on even a cursory look at the two companies, you have to wonder why Kite wants to bother with WP Glimcher, which isn't really a clean fit and comes with some heavy baggage.
Headache or good deal?
WP Glimcher's 114 "core" properties are broken up between 52 community centers which fit nicely with Kite's business, and 62 enclosed malls that don't. Looking back in time, WP Glimcher itself was created from the merger of Washington Prime Group, essentially the assets that Simon Property Group (NYSE:SPG) didn't want and spun off, and Glimcher Realty Trust.
The average sales per square foot across all of the enclosed malls in WP Glimcher's portfolio is $375 or so. But the REIT breaks that down even further into its Tier 1 malls (36 properties), which have sales per square foot of around $410, and Tier 2 encumbered (16) and Tier 2 unencumbered (10), which have sales per square foot of $319 and $307, respectively. To put a reference point on those numbers, Taubman Centers (NYSE:TCO) and Simon have average sales per square foot in the $800 and early $600 areas, respectively. In other words, relatively speaking, WP Glimcher's "core" enclosed malls aren't the best malls around and its enclosed malls account for more than half of its property portfolio.
Worse, with the retail landscape being altered by a customer shift to internet shopping, it looks increasingly like only the best enclosed malls will thrive. Since WP Glimcher doesn't appear to own too many of those, Kite's rumored acquisition of WP Glimcher seems to me to be a questionable move.
This merger could cause a headache
For a while now, REIT industry veterans like Sam Zell have suggested that there are too many small REITs. The expectation is for increased acquisitions, a thesis that Kite and WP Glimcher's rumored deal would definitely support. However, that doesn't mean every deal opportunity is worth taking. And, in this case, WP Glimcher's enclosed mall portfolio is likely more headache than it's worth for Kite and its strip mall-focused portfolio. Investors should be cautious if Kite winds up buying Glimcher; the purchase could be hard for management to live up to its own projections.
Disclosure: I/we have no positions in any stocks mentioned, and no plans to initiate any positions within the next 72 hours.
I wrote this article myself, and it expresses my own opinions. I am not receiving compensation for it (other than from Seeking Alpha). I have no business relationship with any company whose stock is mentioned in this article.