Stocks got off to a scary start Friday after a rush to safety started in Europe and spread fear into our open. However, U.S. equities marked strong support and should look to hold or even bounce from here. This isn't the big one, so to speak, and there are reasons for U.S. equities to exhibit relative strength today.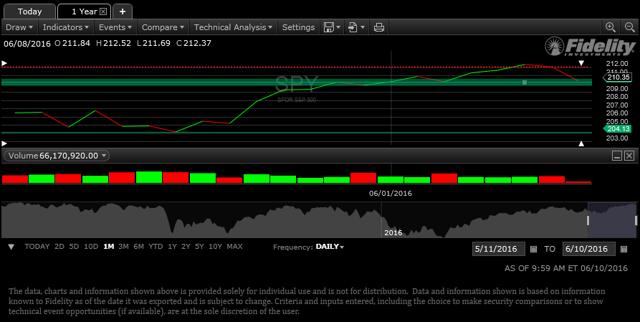 1-Month Chart of SPY at Fidelity
Blame George Soros for the start of it all, and Mario Draghi rode the sidecar yesterday; I wrote about Draghi's adventure in central banking here. Soros signaled that he is worried now (scared even) about Brexit, Donald Trump, etc. and is moving capital into safe havens in a meaningful manner. Meanwhile, Mario Draghi's ECB started buying corporate securities, going beyond the scope many of us believe central banks should range. Then today, a report showed what I thought we all knew already, that Brexit would have a meaningful impact on European securities. As a result of it all, capital is flowing into safety and taking yields down globally. And it started U.S. equities quite lower to begin our Friday.
| | |
| --- | --- |
| Security Sector | 06-10-16 AM |
| SPDR S&P 500 (NYSE: SPY) | -0.9% |
| SPDR Dow Jones (NYSE: DIA) | -0.5% |
| PowerShares QQQ (NASDAQ: QQQ) | -0.9% |
| iShares Russell 2000 (NYSE: IWM) | -1.3% |
| Vanguard Total Stock Market (NYSE: VTI) | -1.0% |
| Financial Select Sector SPDR (NYSE: XLF) | -1.0% |
| Technology Select Sector SPDR (NASDAQ: XLK) | -0.6% |
| Energy Select Sector SPDR (NYSE: XLE) | -1.0% |
| Health Care Select Sector SPDR (NYSE: XLV) | -1.0% |
| Consumer Discretionary Select Sector SPDR (NYSE: XLY) | -1.0% |
| Consumer Staples Select Sector SPDR (NYSE: XLP) | -0.2% |
| Utilities Select Sector SPDR (NYSE: XLU) | +0.2% |
| Materials Select Sector SPDR (NYSE: XLB) | -0.3% |
| Industrial Select Sector SPDR (NYSE: XLI) | -0.7% |
I'm wise to the many perils of June, but the latest signal for U.S. equities was exactly what the myopic market looks for. The weak job creation reported for May has convinced U.S. equity investors that the Fed will not go in June. Fed Funds Futures are showing about a 2% chance for June and 23% chance for July. I'm not as certain, but I'm not getting in the way of the machine at the moment either, not yet anyway.
The same power that took stocks to near their all-time highs - the perceived free pass from the Fed - should allow equities to hold ground today. By the way, that free pass only works for as long as the market does not believe in the reason for it, economic issue. For now, the market is not buying the jobs indication, but is taking the ticket to ride. By the way, I have been looking for U.S. economic gains in Q2 for quite some time and continue to expect it. Here's a warning: I suspect the Fed is in line with my thinking. That is something to keep in mind this summer.
U.S. stocks have not bounced sharply initially off support, I suspect, because of the impending FOMC meeting and some lingering doubt. There's also a threat of terrorism this weekend as the big European soccer championship kicks off - Greece failed to qualify so I'll be completely focused on the championships of the Americas and my nation, the USA, as it charges toward victory.
Still, things could improve as investors, including of the international sort, realize the U.S. market likely offers better returns than Europe for now. So while the dollar is gaining today - see the PowerShares DB US Dollar (NYSE: UUP) gain of 0.4% - U.S. equities have reason to exhibit relative strength as well versus Europe. The Vanguard FTSE Europe ETF (NYSEARCA: VGK) is down 2.6% as I scribble here.
As the day meanders toward the weekend this afternoon, expect trading volume to slow and equities to stay stuck about wherever they have settled in. I cover the market closely and invite relative interests to follow my column here at Seeking Alpha.
Disclosure: I am/we are long UUP.
I wrote this article myself, and it expresses my own opinions. I am not receiving compensation for it (other than from Seeking Alpha). I have no business relationship with any company whose stock is mentioned in this article.