LendingClub (NYSE:LC) is a peer-to-peer lending platform that matches investors to borrowers. Borrowers take out 3- or 5-year loans on the platform. LendingClub packages these into "notes." Investors can invest as little as $25 into each note. By reducing the middle-man costs of banking, borrowers, who overwhelmingly use the service for debt consolidation and to pay off credit cards, get a better rate than they would from other sources. Investors get a better risk-adjusted return on their investments than they might from other sources. LendingClub, for their part, makes money on loan origination fees and transaction fees as the loans are serviced.
LC has been under a cloud lately since their board of directors ousted the CEO over an issue where $22 million in loans were issued to an institutional buyer that did not meet that buyer's criteria. The stock has since tanked as institutional investors are backing away from the platform. It has been a rough ride for shareholders.
Note: I use the term shareholder for those that own LC stock, and investor for those using the platform to invest in the borrower notes.
I don't see much to attract me again as a shareholder. Lawsuits and government regulators are causing the company some headaches. There is so much uncertainty as to the valuation of the company that I'm currently not comfortable as a shareholder. I have every reason to believe the company will grow and be profitable, but likely at a slower pace than their original plan.
With that said, it may be the best time ever to be an investor in their notes. I've been one since 2012, and things are moving in the right direction.
The turmoil in the company is unlikely to affect individual note investors. A recent letter sent to me (and probably all investors) from acting CEO Scott Sanborn addresses this:
...First and foremost, we are not going out of business. LendingClub has a strong business, a large balance sheet and we are here to stay. We have $868 million in cash and securities, which could cover our costs for a long time. Second, LendingClub has no claim to the payments you receive from borrowers, since each Note is tied to a loan, and loan payments are passed on to Note holders. Third, with a $10.2 billion loan portfolio that generated over $18 million in revenue in the first quarter of 2016 alone, we could profitably service the existing LendingClub platform as a standalone business, even if we didn't facilitate a single new loan. Finally, and I am only mentioning this because some have asked, if all else failed we would transfer our loan servicing obligations to a third party backup servicer. We have a longstanding contract with a third party to service loans in the event LendingClub can't, so that you'd continue to receive borrower payments (regardless of LendingClub Corporation's status).
What I like about investing in my portfolio is that it is almost a distinct asset class, adding diversification. It's certainly not a stock. An investment in LC notes is a bit more like a high-yield bond fund, but since investors invest such small amounts in each note and (typically) hold to maturity, there's not as much interest rate risk. With enough diversification, there's little downside risk. LendingClub reports that historically, only about 0.04% of investors have lost money if they carry over 100 notes.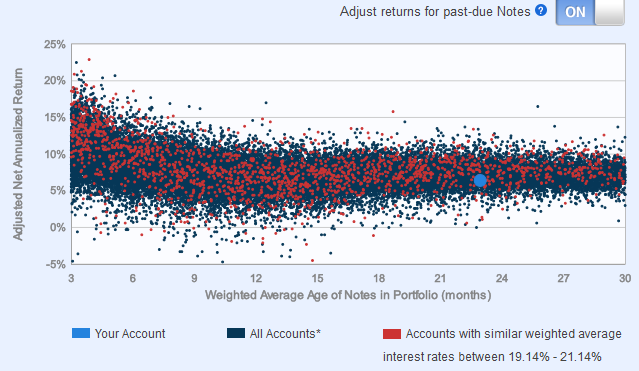 Some of the complaints that I have had in the past as in investor with LendingClub are:
Suspicion that institutional investors are getting top pick of notes
High default rates on the underlying notes, reducing real-world returns more than expected
Complying with tax reporting is daunting if you have hundreds of notes
Automatic investing had an additional charge
All four situations are improving:
Institutional investors are shying away from the platform, which should leave a lot more choice for individual investors.
LC recently announced they are tightening credit standards for borrowers, and increasing rates across the board. This will tighten the supply of loans somewhat, but those remaining should be more profitable for investors with fewer defaults and a better rate. This tighter supply of notes should be balanced somewhat by the reduced institutional interest, so I expect there to continue to be an available supply of notes for investment. This morning there were 446 notes available.
Tax reporting is complicated if you do it manually, since you have to make entries for every defaulted note, every recovery, and so forth. Fortunately, in 2016 (for the 2015 tax year) LC has made available a TurboTax import that made this a breeze.
Automatic, rule-based investing of idle cash is now free.
Additionally, A recent article by James Godbout "LendingClub - Don't Buy The Stock, Buy The Notes" describes a method for hunting for notes on the secondary market.
In conclusion, I think there's little reason to fear investing in LC notes, and in many ways, this may be the best time there's ever been for these investments.
Disclosure: I/we have no positions in any stocks mentioned, and no plans to initiate any positions within the next 72 hours.
I wrote this article myself, and it expresses my own opinions. I am not receiving compensation for it (other than from Seeking Alpha). I have no business relationship with any company whose stock is mentioned in this article.
Additional disclosure: I am investor in notes in the LC platform