Shopping for stocks in the oil and gas sector can be very difficult especially considering the crazy spot price trend that has developed over the past two years. While looking for growth is ideal, investors have to be aware of the risk of high debt and, thus, might opt for a firm with more liquidity. The restriction disqualifies most of the small-cap companies that took out risky loans to fuel a search for the discovery that would skyrocket them to windfall profits. In many cases, mid-cap stocks find themselves with the same downside. All that's left are the leaders in the industry, the large-cap heavy hitters with production across the globe. The most obvious choices are the top four oil majors with capitalizations well over $100 billion. In fact, Exxon-Mobil (NYSE:XOM), BP (NYSE:BP), Chevron (NYSE:CVX), and Royal Dutch Shell Corp (NYSE:RDS.A) account for $1.6 trillion of energy market capitalization occupying spots in the S&P 500 and the Dow Jones Industrial Average.
Sometimes, it can be difficult to compare the big four in the oil and gas industry as each have such high revenue and solid asset bases. With hands in almost every play in the world and dozens of subsidiaries, the oil majors are involved in a large share of international oil production. According to statistics from the EIA, the total of 16.8 million barrels a day worth of production from the four companies accounts for 19 percent of global output. That number rivals the oil production of Iran, Iraq, and Saudi Arabia who combine for 18.3 million barrels a day themselves. Since it can be hard to rein in such a diverse asset base, the most efficient and normalized method of comparison is digging into each balance sheet and organizing the numbers.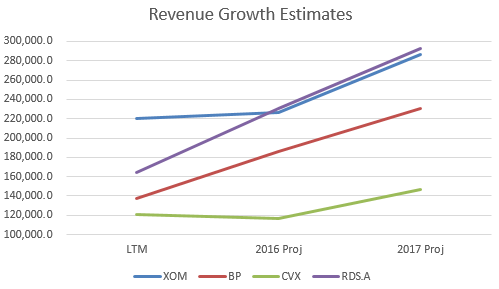 From FactSet
One of the benefits of investing in the oil majors is their solid revenue base which can withstand some of the worst pullbacks in price. Each firm boasts sales of over $100 billion coming from downstream and upstream services with operations in all kinds of substances. What's important to the value investor is how can revenue growth (or maintenance) help increase (or solidify) my dividend while improving the price of the share. XOM provides the largest amount of sales to work with a relatively low price tag per dollar. Its enterprise-value-to-revenue multiple ties with CVX at 1.9x and beats BP's 4.7x and RDS.A's 2.9x. The cheaper multiple shows who has been the best at maintaining a solid revenue base as prices fell and demand contracted. BP and RDS.A, with higher multiples, trade at a bit of a premium per sale dollar as their revenue growth is estimated to be higher than both CVX and XOM in the next two years. FactSet consensus estimates project revenue for CVX and XOM to grow 22 percent and 30 percent in the next two years while revenue BP and RDS.A is projected to grow 68 percent and 79 percent in the same period. By 2017, sales expansion will improve multiples for BP and RDS.A to 2.8x and 1.6x. As far as this metric goes, CVX and XOM represent cheap, solid revenue dollars while BP and RDS.A provide more growth for the investor of that type.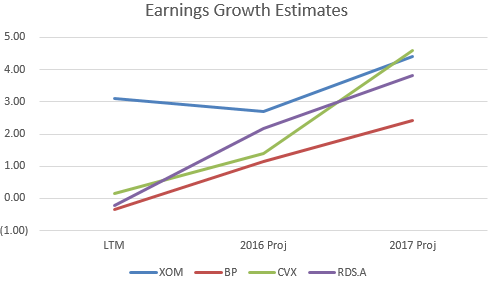 BP and RDS.A reported negative EPS in the first quarter of 2016 which adds up to a negative EPS over the last 12 months. For that reason, their price-to-earnings ratios are unavailable for comparison. CVX reported an EPS of $0.16 over the last twelve months as they eked out a profit despite a crude oil price drop into the $20's. Their P/E ratio also remains relatively negligible at 649.3x an incredible premium that should normalize as commodity prices improve. XOM, with its secure revenue base, maintained an impressive EPS of $3.11 over the last twelve months. Their P/E multiple of 29.2x is one of the cheapest in the industry considering the lack of profits that has plagued the oil and gas companies. For investors looking for a dividend, this company, with a market capitalization of over $370 billion, is a safe bet. Growth, though, is limited. Analysts estimate just a 41 percent growth in the firm's EPS with CVX, BP, and RDS.A quickly making a comeback in those same two years. In 2017, estimates show XOM with a P/E ratio higher than both BP and RDS.A as analysts predict that XOM operation growth will be costlier than BP's and RDS.A's. Here's why.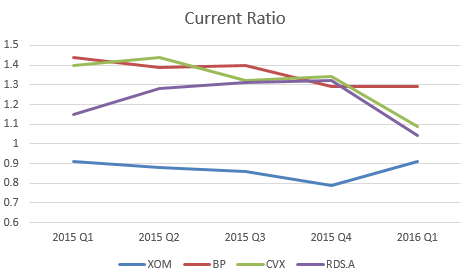 During a crash in commodity prices, it is essential for companies that buy and sell the respective commodities to buckle down and secure the balance sheet. For small- and mid-cap firms, the consequence for failure is default and bankruptcy. For the oil majors, the reason is a little different. As companies go bankrupt and divest their assets, the larger survivors will hope to secure these assets so that they can build onto their revenue base when prices turn upward. But, this is only possible for companies with unshackled cash or other highly liquid equivalents. XOM, a company that had their credit rating downgraded earlier this year, has short-term debt obligations topping $13.5 billion which is almost $4 billion over CVX's $9.6 billion. At the same time, XOM has the lowest cash reserves with only $4.8 billion reported in the last quarter. Its potential growth in times of higher oil prices will be subdued by the necessity to ameliorate their debt situation. BP, on the other hand, has the lowest net debt out of the four majors with only $19.6 billion and only $3.1 billion short-term obligations. Their high long-term growth estimates can be attributed to their superior current position. RDS.A and CVX, which both saw their current positions worsen in the last quarter, are in better positions than XOM but still must sort out their balance sheet before they can conquer more market share.
So what's the secret trade? BP is the best out of the four in terms of potential growth. Long-term estimates have an average BP growth rate at 34.2 percent over the next five years. Investors can rest easy with their money in this stock as well as their superior solvency primes them to spend what needs to be spent in order to grow when higher oil prices come. RDS.A comes in at second as a growth buy with higher debt, but a solid revenue base and huge capitalization. XOM and CVX battle it out for dividend trades, but XOM edges out the win in the end. None of the four majors can compete with the revenue infrastructure that has been established by the largest U.S. oil and gas firm. As XOM continues to increase its dividend in any price climate, it is important for investors to also keep an eye on net debt reductions in the coming years in order to avoid the risk of credit problems. CVX comes in at second best to XOM in the dividend category. Its low profits in the last quarter might scare some investors away with less dividend security than XOM, but a smaller debt position and better cash reserves will support growth that will reinforce the quarterly payments in the long-term.
Supporting Documents
Disclosure: I/we have no positions in any stocks mentioned, and no plans to initiate any positions within the next 72 hours.
I wrote this article myself, and it expresses my own opinions. I am not receiving compensation for it (other than from Seeking Alpha). I have no business relationship with any company whose stock is mentioned in this article.