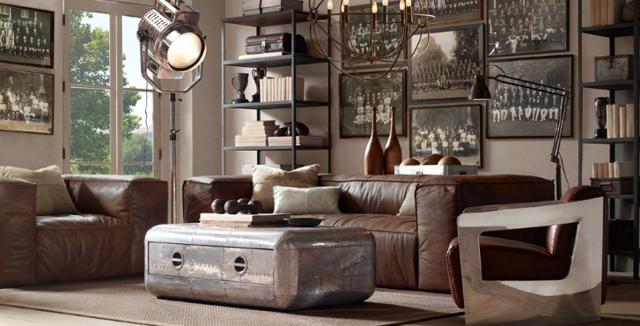 I've been long Restoration Hardware (NYSE:RH) in the past as I was enamored with the company's world-beating designs, unique customer experience and the growth track I saw for earnings. That hasn't exactly worked out as you can see from the chart below as RH has shifted its business model around a bit and some growing pains are emerging. That has never been more apparent than it was after the Q1 report was released and shares imploded, reaching new lows again. RH offered up some very conservative guidance but also reiterated its long-term operating goals. So at $28, should RH be left for dead?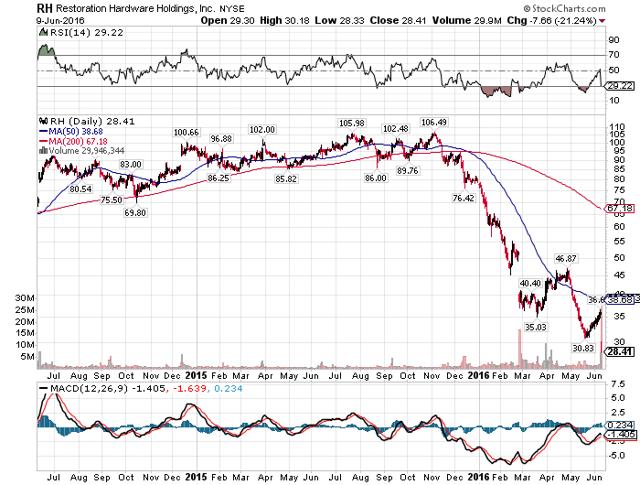 It's difficult to fathom that what was once perhaps the hottest growth story in retail has subsequently lost about 70% of its value but that is exactly where we find RH today. Investors have completely lost patience with RH as the selloff subsequent to the Q1 report shows. Guidance was terrible and certainly came out of nowhere for most of us so I get the selloff. But this business is not dying so at some point there's some value to be had.
Total revenue did increase 8% as comparable brand revenue rose 4% during Q1. Those numbers are on top of multi-year growth stats that are well in excess of those numbers as RH used to grow by leaps and bounds. Of course, that surely has something to do with the selloff as RH's growth numbers in the mid-teens are apparently a thing of the past. But if we take stock of what RH is still accomplishing, things aren't so dire. RH is in a period of transition and flux including moving to a membership model and transforming its stores into its new design gallery model. These things are expensive and take time and it shows up partially in revenue but more so in margins.
RH struggled with margins in Q1 and according to guidance will struggle all year on that front. Gross margins were pummeled in Q1, losing a whopping 460bps on an adjusted basis, a catastrophic loss of profitability that whacked results overall. Reasons cited include a slowdown in the luxury retail market, timing of membership revenue and production delays in the Modern collection, among others. Management insists these headwinds are largely transitory and while I can believe that given the reasons cited, I also know it takes some faith to believe things will turn around. Production delays should - by definition - be transitory. In addition, if management is right about revenue from members we should see that tick up in subsequent quarters as well. So it isn't as though management is making things up to keep investors on the hook but it is no less painful in the short term if you're long. RH has a lot of moving pieces in terms of margins right now and none of them are moving in the right direction so there's a lot of work yet to be done and faith required to buy the turnaround.
Guidance for Q2 and the full year were absolutely horrendous and to see just how far RH has fallen in the past three months have a look at what analysts have done to their respective price targets in that time frame.

Q2 has been slashed from 88 cents to just 30 cents and the full year has seen a move from $3 to $1.72. the story is the same with next year and why not? RH has completely imploded against what expectations were just a few months ago and while I can see the point management is trying to make, it's very difficult to stay bullish through a transition period like this.
After the beating the stock took after the report, share are now trading for 16.5 times this year's earnings and 12 times next year's earnings. Those aren't close to where RH used to trade but to be fair RH isn't growing at nearly the rate it used to either. We are seeing the transition from a torrid growth pace to a more mature retailer with gains that are incremental rather than the mid-teens stuff we have grown accustomed to. RH did, however, reiterate its long-term guidance of $4 to $5 billion in long-term North America revenue and mid-teens operating margins, indicating to me that management really does believe its current headwinds are transitory. That would be terrific for the stock, of course, but we are a very long way from either of those things happening. I'm more worried about RH's margins at this point than its ability to grow revenue but again, if management is right, margin headwinds will subside later this year.
As painful and difficult as it is, I'm inclined to ride out the storm here. The midpoints of the company's long term guidance would produce something like $675 million in operating profit, meaning shares are trading for less than two times that number. Of course, we are a very long way and many years from that happening but should management hit those numbers, the stock will be a lot higher than it is today. RH still has all the important pieces in place for a long-term success story including a coherent strategy and a terrific brand but it also has some challenges in the near term. Those challenges have crushed the stock in the past year or so but I think the long-term story is still very much intact. I'm holding my nose and owning the stock here because I think a few years on from today $28 will have proven a terrific buying opportunity. I believe RH can turn its margins around given the causes for the weakness and that's good enough for me.
Disclosure: I am/we are long RH.
I wrote this article myself, and it expresses my own opinions. I am not receiving compensation for it (other than from Seeking Alpha). I have no business relationship with any company whose stock is mentioned in this article.