This year's World Wide Developer Conference (WWDC, starting Monday) could be the most critical in Apple's (NASDAQ:AAPL) history. Apple faces crises on many fronts: declining iPhone sales, lack of new products to take up the slack, and the sense that Apple is falling behind in crucial technologies of cloud services and Artificial Intelligence. WWDC is Apple's opportunity to show that it is still capable of self-reinvention, that it can still surprise and delight us, that it isn't the next BlackBerry (BBRY), in any sense. I'm optimistic that WWDC will show that innovation is alive and well. Here's what Apple must do at WWDC.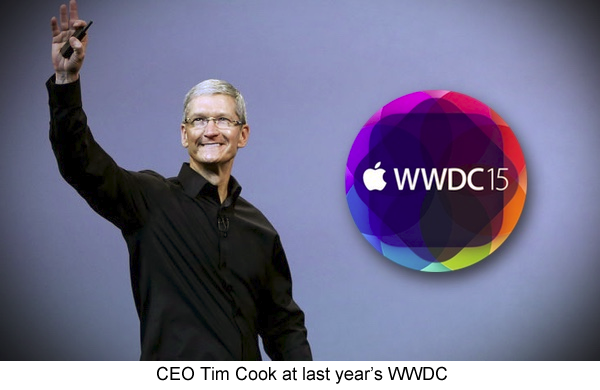 Source: Redmond Pie
Correcting Past Mistakes
With benefit of 20/20 hindsight, it's clear that there was a crucial mistake made in the iPhone 6s/6s Plus, and it had nothing to do with hardware. This was the decision not to introduce iOS multitasking on the iPhone. Multitasking was first shown at WWDC last year, but was confined to newer generation iPads, especially the iPad Pro.
This was a monumental and costly failure to exploit Apple's unique advantage in hardware/software integration. Apple simply played it too conservative, hoping to resuscitate sales of the iPad. It didn't work, but it did deprive iPhone of a much-needed advantage compared to the very good Android phones that were introduced in 2016, especially the Samsung (OTC:SSNLF) Galaxy S7. The result was the first ever decline in iPhone sales in the March quarter, and more of the same expected for the June quarter.
With the new A9 processors of the 6s, there was no technical reason why the iPhone couldn't support multitasking. At the very least, it should have been enabled on the larger 6s Plus, which had enough screen real estate to support split screen comfortably. If Apple doesn't fix this problem this year, it will be in serious hot water, as Google IO made it very clear that a similar feature is coming to Android this year.
To Do 1: I consider this so critical that if Apple fails to do this, I will probably reevaluate my current buy recommendation on the stock. Fortunately, I think it's likely Apple will introduce this feature at WWDC.
Another mistake that was made was less impactful, but nevertheless glaring. This was the hobbling of the new Apple TV with a severely limited feature set in tvOS. The result has been lackluster sales, according to IHS. More importantly, Apple TV hasn't turned out to be a particularly lucrative platform for developers, as Ars Technica has pointed out.
My biggest criticism at the time was the lack of HomeKit support, and this has turned out to be prescient in light of Amazon (NASDAQ:AMZN) Echo and Google (NASDAQ:GOOG) (NASDAQ:GOOGL) Home (revealed at Google IO). I felt that an obvious role for Apple TV was to be a hub for home automation, especially with Siri as a means of control. Subsequent to the Google Home reveal, there have been a lot of rumors to the effect that Apple will introduce its own product, or endow Apple TV with these features.
To Do 2: I think it's likely that Apple will enable HomeKit on Apple TV, as well as expanding the HomeKit APIs to make Apple TV a better home automation hub. It isn't quite as convenient as the Echo or Google Home, but it's a start, and it gives TV functionality it should have had from the start.
Closing Gaps
Since my article on Apple's AI gap, which highlighted Marco Arment's blog comparing Apple to BlackBerry, asserting that Apple is the next BlackBerry has become a favorite pastime of Apple bears. I should have expected it. As I've acknowledged, it's clear that Apple trails rivals Google and Microsoft (NASDAQ:MSFT), which both hope to leverage their AI capabilities to promote their OS platforms. I don't see any point in becoming embroiled in a debate about the magnitude of the gap, since it's very difficult to assess that from the outside.
Apple's secretiveness allowed it to completely blindside the mobile device industry with the world's first 64-bit smartphone system on chip (SOC) in 2013 for the iPhone 5s (the A7). So I don't think it's reasonable to discount Apple's secretiveness in the matter of AI development.
To Do 3: That being said, Apple needs to show developers and investors significant progress in AI at this year's WWDC. That means making Siri more effective and reliable in voice recognition, and most importantly, it means that Apple has to show progress in its own search capability. Apple can't afford to rely on either Microsoft or Google for search. There's been considerable discussion that Siri will become available to developers through a new set of APIs. Yes. This is a must. If Apple fails to do this, this will constitute another reason to reevaluate my rating of the stock. But once again, I consider progress in this area very likely.
Another long-standing complaint of analysts has been Apple's lack of presence in enterprise cloud services. While Microsoft, Google and Amazon all offer hosting for cloud-based apps, and extensive developer tools for those apps, Apple offers nothing comparable.
The importance of cloud-based apps is not so much in Web apps that are accessed through a browser as in the services and support that cloud apps can provide to mobile apps in general. Everything from video and music streaming to Web-based shopping relies on cloud apps. As I've pointed out, Apple currently seems to want to rely on partnerships with companies such as IBM (NYSE:IBM).
The problem with this division of labor is that it deprives Apple's extensive base of developers (iOS, tvOS, macOS, watchOS), with tools for cloud apps that they can use in a frictionless, integrated way with the current Xcode tools for app development. Apple is missing a huge opportunity, and it's being perceived as falling behind.
To Do 4: In past WWDCs, Apple has been creeping up on the enterprise web services business, by offering developers some useful tools, but stopping short of full cloud-based apps. This year, Apple needs to go all in. Period. And the logical tool for this is Open Swift. Open Swift gives Apple a tremendous opportunity to simultaneously create a robust enterprise web services business, as well as afford developers the best way to enhance the power and utility of mobile apps. My belief is that Apple created Open Swift with this in mind, and we'll see this come to fruition at WWDC.
Making Watch More Disruptive
I wrote recently on the Watch's ultimate destination as a disruption of the smartphone, taking over many communications functions such as voice calling and messaging. In the context of where Google and Qualcomm (NASDAQ:QCOM) are going with connected smart watches, it's clear that the trend is for greater standalone capability, which includes an independent LTE connection for voice and data.
I don't expect Apple to be at the bleeding edge here. Apple will hang back and learn from the mistakes of the first movers. Also, the technology is still a little immature and probably doesn't come up to Apple's "user experience" standards. But Apple needs to make the Watch more capable and independent, and the next version of watchOS can be expected to anticipate this.
To Do 5: The key advances in Watch hardware will be a faster processor with more memory and storage, combined with standalone Wi-Fi capability. This will allow the watch to perform messaging functions, as well as download apps without being tethered to an iPhone. I expect that the next watchOS will reflect these changes. Apple needs to show the next watchOS at WWDC, although it's less critical until a revised version of the Watch makes its appearance.
Investor Takeaway
It's part and parcel to the sorry state of the coverage of Apple that there is so much focus on trivialities such as whether Mac OS X will be rebranded macOS. I'm just assuming it. I'm also assuming that not much of interest will be shown for the new macOS itself.
It would be nice if Apple would cease its idiotic stance on convergence and endow macOS devices with a touch screen, but I don't see that happening, and I don't consider it critical. It would be nice to have.
I consider all five of the to-dos to be must haves, and lack of progress in a combination of these areas may be cause for me to reevaluate my rating of the stock. The absolutely critical areas are the ones I've identified above: iOS multitasking for the iPhone, and significant progress in Siri and search. Failing to make progress in these areas in and of themselves will trigger a reevaluation. However, I'm optimistic that we'll see good progress in these and other areas and remain long Apple. I continue to recommend it as a buy for investors with 3-5 year investment horizons (pending the outcome of WWDC).
Disclosure: I am/we are long AAPL, QCOM. I wrote this article myself, and it expresses my own opinions. I am not receiving compensation for it (other than from Seeking Alpha). I have no business relationship with any company whose stock is mentioned in this article.
Editor's Note: This article discusses one or more securities that do not trade on a major U.S. exchange. Please be aware of the risks associated with these stocks.