It has been a wild ride for shareholders of Cemtrex Inc. (NASDAQ:CETX) since I first wrote about the company in early December 2015: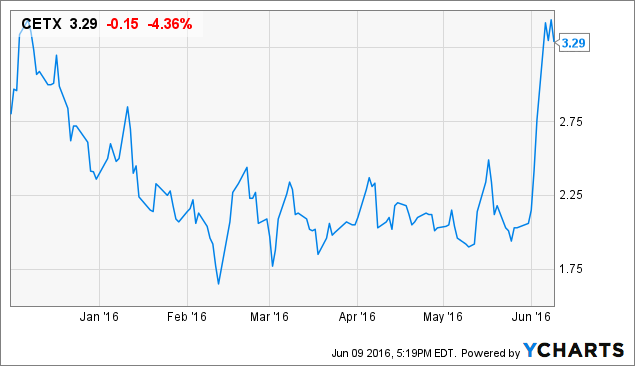 Some of this volatility is due to Cemtrex's very small float of shares outstanding (of its 8.5m shares outstanding, only about 3m trade liquidly due to the substantial insider position held by the Govil family). The firm has been very busy recently, announcing three acquisitions during this period, eventually closing on two of them.
Seeking Alpha contributors Matt Margolis and Ian Cumberland both wrote articles detailing the value thesis behind an investment in Cemtrex here and here. This coverage has helped drive some of the recent rise in its share price, as it has little analyst coverage. In this article, I want to focus on its roll-up strategy, as well as the implications of its proposed and withdrawn S-3 filing.
The Roll Up
Cemtrex has been diversifying its business since 2013, focusing on developing its Electronic Manufacturing Segment. This segment serves its customers as an outsourcing or near-sourcing alternative. Cemtrex has been rolling up companies into both of its operating segments since then. Roll-up strategies have been getting a lot of bad press recently, as busted roll-ups like Valeant (NYSE:VRX) have been attracting very negative headlines concerning their business and accounting practices. This can be the "dark side" risk of rolling up companies before they are truly integrated. However, Cemtrex has gone about its roll up in a much different way.
One of the key commonalities to their three main acquisitions is the price they were able to pay for each entity. To illustrate, here is the purchase detail of its original October 2013 acquisition of ROB Group: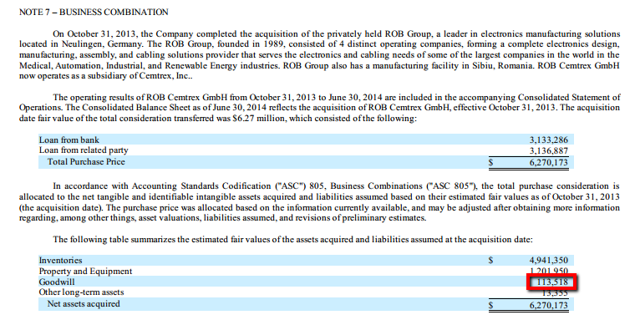 Source: Q1 2014 10-Q Cemtrex
You can see on this purchase (made out of bankruptcy) that they incurred just $113 K in goodwill on the purchase of a business generating $20 to $22m in annual revenues.
Its most recently integrated transaction of AIS, from December 2015, illustrates this same trend:

Source: Cemtrex Q2 2016 10-Q
Again, with just $9 K in goodwill, Cemtrex acquired a business that averaged revenues of $23m in 2013 and 2014 for the cost of the assets on the target's books.
In both these cases, Cemtrex acquired companies at essentially the book value of their tangible assets and working capital. Cemtrex acquired the operating business, client lists, and brands for free.
The nature of purchase accounting involves some estimations of fair value to be attributable as these will have different values for the acquiring company than they would have for the target. Working capital amounts like cash, inventory, receivables and payables are easy to determine as they have liquidity. The valuation of machinery can be less obvious, as it will often be in used condition with a very illiquid secondary market to value it. This sale price would likely be at fire sale prices, which excludes their "value in use" and could be far too conservative. Goodwill becomes the difference in value paid above the assets of the target company. In ROB & AIS, this is the entire operating business. Cemtrex acquired $43m in annual business for just over $100,000 above the value of their assets.
Cemtrex is continuing this strategy with its recently closed deal on June 2, 2016 to purchase Periscope GmbH (no, not that Periscope, Twitter fans). Periscope was going through insolvency so we can bet that the purchase price of 9m Euro ($10.2m USD) was pretty close to book value again. Cemtrex has estimated that Periscope should add about 30m Euro ($34.2m) to its revenue base in the next 12 months. They look to be again buying low.
One of the concerns I had previously was related to the minimal disclosure Cemtrex provided on its deals. It is understandable that they would keep their bid values close to the chest, as another bidder could easily come in above them if they knew the price prior to closing. In bankruptcy cases, the receiver does whatever they can to maximize value for the bankrupt entity so if better deals come out during the process, they will be taken, regardless of previous commitments. To avoid this, Cemtrex clearly didn't wish to publicize any more details than they need to.
It is not all sunshine for these deals; vendors don't sell businesses at book or enter bankruptcy unless there are some warts. The ROB business is annualizing out at about $23m in revenues, roughly flat from the time of purchase three years ago. Likewise, the first quarter of AIS results in 2016 added $5.7m to the top line, or about $23m annually, down from its levels of 2013/4. Finally, Periscope's business was off by 30% in the current year compared to the one prior. None of this is particularly great for growth until you remember that Cemtrex got these operating businesses for next to nothing above the assets.
The worst case scenario for Cemtrex is that these businesses are in terminal decline and are operated with a declining, "sunset" type run-off. While not providing growth, this would provide cash flow on top of the liquidation value of the business assets. I don't believe this to be their goal or a likely outcome. It is more likely they are buying businesses suffering some market headwinds or drowning in debt. ROB has stayed steady despite sluggish growth in Europe; it is too early to say with the others.
Combining the ROB & Periscope businesses should give them scale and cross-selling opportunities, as well as synergies in the sales and administration areas. They may also be able to capitalize on a potential protectionist reaction in Germany, stemming from the failed refugee policy that is sweeping across Europe.
We have reviewed the asset side of these deals. It is also worthwhile looking at the financing side as well.
Financing
On April 12, 2016, Cemtrex filed an S-3 shelf registration in order to issue up to $10m worth of shares to help fund future acquisitions; this appears to have been originally intended for the Periscope deal. However, it was withdrawn just 5 weeks later as Cemtrex disclosed it would not meet the eligibility requirements. In an email exchange I had with Mr. Govil, he couldn't elaborate but indicated Cemtrex had other financing options available to them. They clearly did as the Periscope deal closed in early June.
On the one hand, it was disappointing they were not able to utilize share capital to fund this acquisition as it is less of a financial burden in the future. However, it would also have be done with a very low share price, resulting in greater dilution to current shareholders, both controlling and otherwise.
It is encouraging for me to see the Govil family be willing to let their stake be diluted in order to help grow the business should the share offering have occurred, though they could easily have taken up a similar amount of the prospectus offering to maintain their stake. The withdrawal was obviously a setback to the capital structure that Cemtrex had originally planned but they were able to find a way to close the Periscope acquisition after all.
Post-Periscope, we have the following pro-forma debt structure: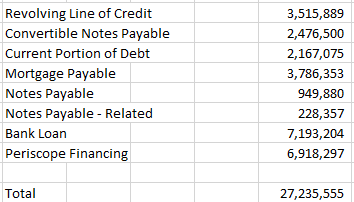 Source: Q2 2016 10-Q
With a current market cap of $29.4m, this is an acceptable level of debt. It is a little less daunting when we consider that the convertible notes payable are convertible at 75-80% of market share prices. These will likely be exercised over the next year as they are quite similar to warrants issued in the money with such a deep discount offered to the note holders. Cemtrex has set aside shares to meet these obligations.
Cemtrex now has some work to do in integrating AIS & Periscope. While they have alluded to further deals out there, the share financing delay will likely put a crimp in this in the short run. The recent share price run-up will make any share issuance far less dilutive than it would be even a month ago. I fully expect them to tap the equity markets at some point in the near future.
Risks
As noted above, the companies Cemtrex has acquired were likely in trouble for a reason. In the Periscope case, it seems like business cratered and they were over-levered. There is a chance that these businesses are in secular decline, which would put the "sunset scenario" on the table. We won't really know this until we see how the businesses operate under new management. Cemtrex also needs to wring better performance out of these businesses; they have a track record of success with the first ROB purchase but will need to replicate it here.
The small share float is also a risk. Cemtrex's share price can have very volatile swings on a day to day basis due to this small size. There has also been heavy volume in recent weeks related to the recent news flow. As a result, this may not be a great investment for those who can't stand that type of volatility, even with the margin of safety it provides.
There is a lack of investor coverage for Cemtrex, Seeking Alpha contributors excluded. To help get the word out, Cemtrex recently engaged the Taglich Brothers Research firm to initiate coverage on them with a written research report and subsequent follow-ups. This is a paid research report so it understandably puts Cemtrex in a positive light. I don't want to cast allusions that the report was not done professionally; it was, if you review it. The compensation Taglich received was also clearly disclosed in the report. I am just not a fan of this type of stock promotion, but I can understand why an under covered company would seek to try to increase its exposure this way.
Valuation
At this point, with two fresh acquisitions, it is a little tricky to evaluate the going forward results for Cemtrex with a lot of unknowns for a large portion of its business.
The AIS result in Q2 largely met the same gross profit levels as the existing business had previously (EbiTDA by product line is not broken out, likely for competition reasons) so extrapolating the margins of Cemtrex's existing business to this business seems to be fair assumption.
For Periscope, I assumed a similar EbITDA level as well. There will be some synergies in combination with the existing ROB group but we don't have a lot of history with Cemtrex's abilities to improve operations so I won't model any in here but rather leave it as an upside catalyst.

Source: Author Assumptions, Company Disclosures
With a current enterprise value (post-Periscope) of $54.7m, we end up with an EV/EbITDA multiple of 8.0x. In my original note, I compared their result to Ceco Environmental (NASDAQ:CECE) that trades at a roughly 9x multiple. At this point, Cemtrex is largely fairly valued after the recent share price appreciation, although this doesn't include any synergies or operational improvements.
Looking to cash flow, the company converted the $3.4m EbITDA in fiscal 2015 into $2.5m of free cash flow. This alone covers the expected interest expense of $0.8m + $2.1m of current debt obligations before any cash generation from the new acquisitions. As far as debt coverage, its debt/EbITDA ratio is 27.2/6.8 is roughly 4x. While a little high, its cashflow before any process improvements or organic growth should be close to covering its current year obligations. With the Govil family as a financial back stop and a clear interest to recapitalize using share equity, at this point I don't see the debt obligations as anything more than a minor risk.
The Takeaway
Cemtrex has proven to be a very astute deal maker. It has had success integrating its previous major acquisition profitably, while also successfully managing the existing industrial business. It continues to trade at a relatively cheap multiple to EbITDA and cash flow with a sustainable debt load. I also suspect they will continue to be opportunistic with its deal flow as they have a strong record of buying only at the bottom. With this strategy and some operational improvement in its businesses, Cemtrex has the real potential to provide significant upside from these levels, even in a low growth environment.
For continued discussion, please don't hesitate to comment below; I and other readers will be able learn from your feedback.
If you like what I'm doing, you can follow me by hitting the "follow" button at the top of this article. Plus, you can follow me in real time by selecting that option. It might give you somewhat of a head start whenever I write an article on what actions I am taking and why. Thanks for reading!
Disclosure: I am/we are long CETX.
I wrote this article myself, and it expresses my own opinions. I am not receiving compensation for it (other than from Seeking Alpha). I have no business relationship with any company whose stock is mentioned in this article.
Editor's Note: This article covers one or more stocks trading at less than $1 per share and/or with less than a $100 million market cap. Please be aware of the risks associated with these stocks.