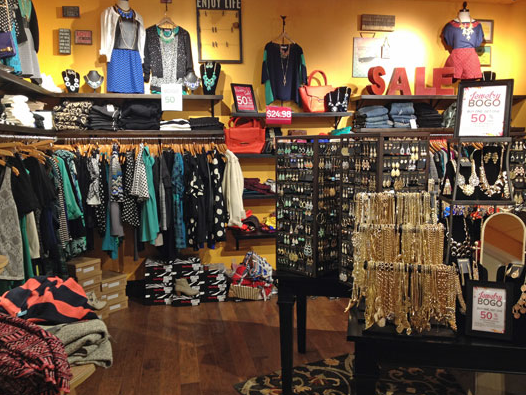 As a stock, boutique retailer Francesca's (NASDAQ:FRAN) and I go way back. I was enthralled a few years ago at the company's growth trajectory, given its unbelievable margins and its rapid store base and comp sales growth. Unfortunately for those of us who were long, all three of those things worsened tremendously and the share price has reflected that. And the Q1 report did little to change the trajectory of the stock as we now find the stock back near its lows at $10. FRAN has experienced terrific volatility over the years to the upside and downside so that begs the question - is this another chance to buy FRAN on the cheap or is this an impaired retailer with a new normal around ten bucks?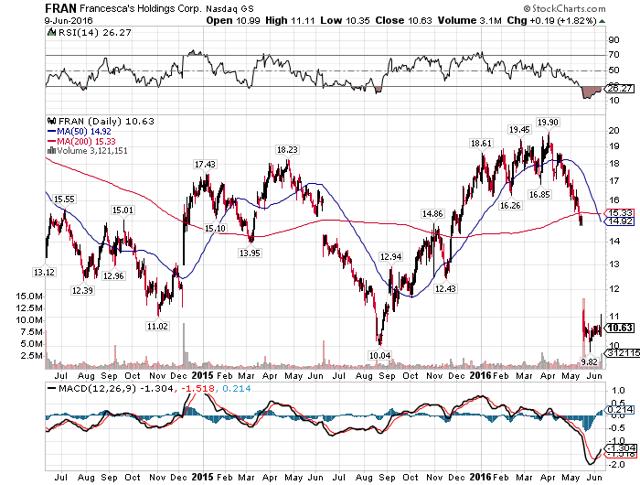 Total sales grew 12% in Q1 as the company continues to aggressively expand its footprint and grow comp sales. FRAN has had some very ugly quarters in recent years in terms of comp sales but Q1 was a nice surprise at +2%. In addition, its web business compared at +38%. Many retailers are seeing significant shifts in the makeup of their revenues and the idea of being channel-agnostic is resonating in a big way with FRAN. That means stores necessarily become less productive but as long as FRAN gets the revenue, investors should respond positively. And given where the stock is right now, it is priced for much, much worse than 2% comps. The web business is still a fraction of total revenues but with growth rates like 38%, it won't be long before it is a significant driver of revenue increases.
Unfortunately, weakness in margins continues to be the story for FRAN and we saw it yet again in Q1. FRAN's 50% gross margins originally drew me into the stock as retailers with those kinds of margins are few and far between. But FRAN's journey in the past couple of years has included some significant losses in margins and in Q1 FRAN ceded a further 100bps due to clearance of dead inventory and a deleveraging in occupancy costs. I'm not so much worried about the occupancy costs because as FRAN opens new stores, those stores are less productive than legacy stores but carry full occupancy costs. Until those stores are up to speed, they contribute to deleveraging of occupancy costs. The loss in product margin still concerns me and I'm wondering aloud where the bottom may be. It is painful to see product margin losses quarter after quarter and FRAN's current gross margin level is markedly below where it was just a couple of years ago. The declines are less severe now but they are declines all the same.
SG&A costs also increased more quickly than revenue as FRAN awarded significant stock compensation to executives to help align their interests to the company's long-term goals. While everyone agrees on aligning executives' personal interests with those of the company's, it is a very expensive proposition for a small company like FRAN. However, those massive awards should not be recurring items and that should help alleviate some of the upward pressure on SG&A as we move forward.
These factors conspired to send operating margins down 170bps and while that decline is painful, FRAN's operating margins of 10.8% are still rather high by retailing standards. By all means, they're nowhere near as high as they used to be but it isn't as though we're talking about a retailer on the brink of losses or anything near that.
FRAN's balance sheet is beautiful and it uses that extra capital to buy back stock. In Q1, it repurchased almost $17 million in shares and through the end of May had already bought another $9.5 million worth of shares. With a market cap in the $425 million area, those are significant purchases and the company's buyback is the main driver of EPS growth right now. As FRAN continues to make money and buy back stock at $10, we should see some pretty sizable leverage on EPS via a lower share count.
FRAN guided for much higher revenue this year against last year but also for flat EPS. That's not a great situation but we know what the culprit is - FRAN continues to lose margin as it cannot figure out how to get people in the door without discounts. While this strategy isn't necessarily a long-term impairment so long as investors know that is the strategy, I think a lot of negativity is from the fact that investors don't know where the bottom is with gross margins. I share that concern but I do take some solace in the fact that FRAN's gross margin losses seem to be narrowing. So there's that.
At 11.8 times this year's earnings, FRAN seems to be fairly valued. The company burned the trust bridge with investors a long time ago so there's no faith that FRAN will turn things around, and rightfully so. But that provides investors with a better risk/reward setup than would otherwise exist if FRAN was still going for 18 times earnings or more. This way, with a depressed valuation, FRAN has much more limited downside and more pronounced upside if things go right. And that's the rub - do you think FRAN can turn margins around? If you do, there's tremendous upside potential. FRAN could reasonably get back to the place where it is worth 18 or 20 times earnings but it is a long way from that today. The flip side is that if FRAN continues to lose margins, it could see 8 times earnings as well. Thus, the risk/reward is certainly skewed in favor of the bulls but you have to believe margins will stabilize.
I happen to think occupancy and SG&A costs will improve over time as things like executive compensation and new stores come on line, as I explained above. The big wild card is gross margins but I think FRAN will pull through and that at current prices the risk is to the upside more so than the downside.
Disclosure: I am/we are long FRAN.
I wrote this article myself, and it expresses my own opinions. I am not receiving compensation for it (other than from Seeking Alpha). I have no business relationship with any company whose stock is mentioned in this article.