In my previous article titled "Telecommunications Services: Stable, But The Pressure On Earnings Remains," I analyzed the telecom sector's credit and stock market performance. However, in this article, I would undertake revenue analysis of the telecommunications sector and try to dig out the trends from which this sector is benefiting.
The telecom sector's revenue can be divided into three main segments, which include Telco, Cable and Satellite Revenue. The following graph depicts the segment-wise revenue mix of the telecom industry.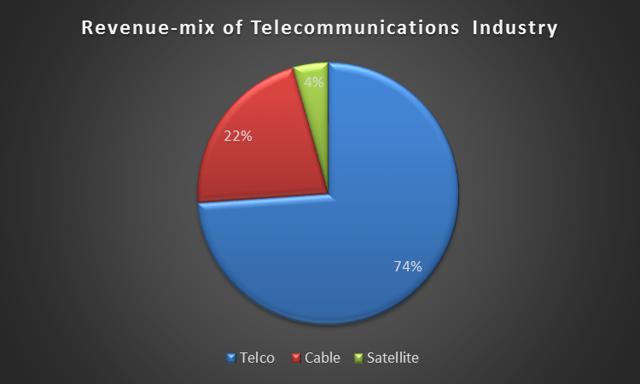 Moreover, if we analyze the industry's revenue trends since 2006, then we would come to know that the Telco segment used to contribute more than 80%, but now its share is dwindling due to the rise of the digital cable network. The graph below illustrates the concentration of each segment's revenue in the overall industry.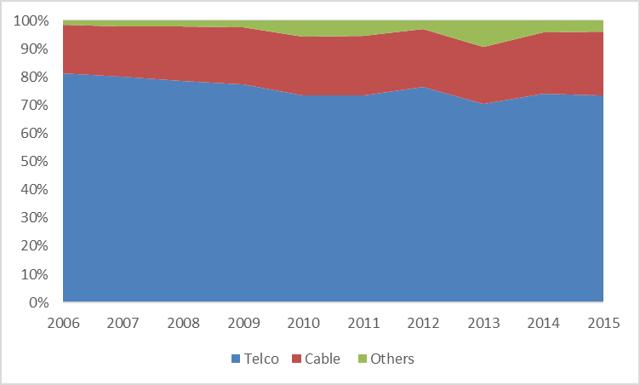 The shrinking share of Telco in this industry is mainly attributed to the declining revenues from "Wireless Voice" and "Fixed line Voice" services. However, in the meantime, "Wireless Data," "Wireline High-Speed Data" and "Video" services posted double-digit growth. But even after registering double-digit growth, their uptick couldn't arrest the decline on the overall revenues of the telco sector primarily due to lower base effect. The following graph shows an interesting relationship between Telco revenue growth and the growth of its different services.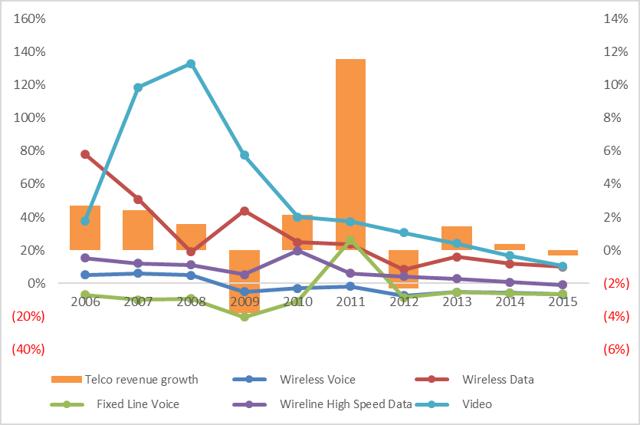 Further, the share of cable revenue has been on the ascend largely on the back of "High-Speed data" growth. Moreover, Basic and digital cable service coupled with telephony has recorded subdued growth but "High-Speed Data" has recorded double-digit growth throughout the past decade. Thus, ramping up cable revenue due to a relatively high base effect. The following graph shows an interesting relationship between cable revenue growth and the growth of its different services.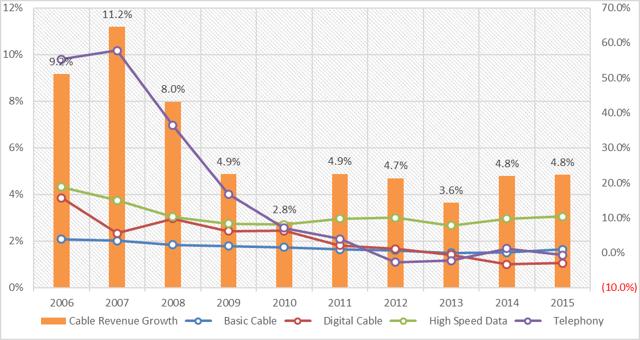 US Household trends
The following graph shows the increasing trend of US households to use wireless as compared to wireline.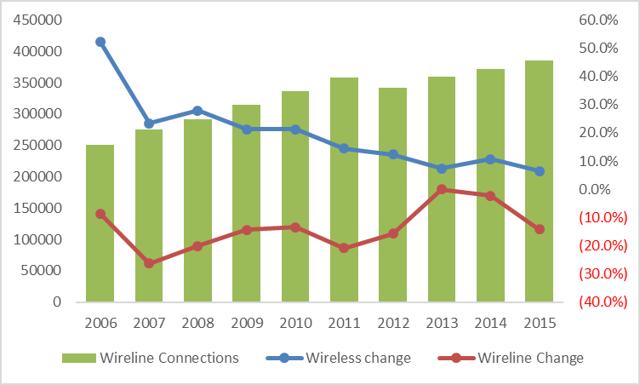 Investment case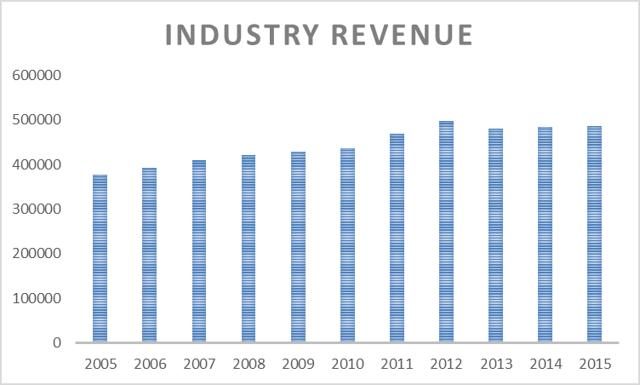 The industry's revenue dipped in 2013; however, it's an industry that sailed through uncharted waters of the financial crisis of CY08-09 with flying colors. Thus, along with being a defensive industry, this industry also has a healthy dividend payout. Thus, I believe an investor should at least have the SPDR S&P Telecom ETF (NYSEARCA:XTL) in their portfolio.
Disclosure: I/we have no positions in any stocks mentioned, and no plans to initiate any positions within the next 72 hours.
I wrote this article myself, and it expresses my own opinions. I am not receiving compensation for it (other than from Seeking Alpha). I have no business relationship with any company whose stock is mentioned in this article.