Extended Stay America (NYSE:STAY) made a huge announcement last week that it would begin to franchise new developments and even potentially sell some of its existing locations.
Why is this so big?
Well, it is because Extended Stay owns all 629 properties currently, and rumors were always swirling if the company would begin to franchise.
This model is called the asset-light strategy, and essentially, it allows the company to offload these assets to operators and instead just collect fees through royalties. Essentially, this creates a safety net for Extended Stay since it can continue to generate cash flow without worrying about large expenditures related to property maintenance and renovations.
Extended Stay's plan is to have about 25% of its locations franchised within its five-year plan. There is expected to be a significant amount of interest from hotel operators on franchising with Extended Stay mainly because this segment of the hospitality industry has done extremely well.
Extended Stay's rooms, unlike traditional rooms, consist of kitchenettes. This caters to many business travelers looking to stay for an extended period of time. With the economy recovering, business travel has increased significantly, causing extended stay properties to outperform traditional hotels.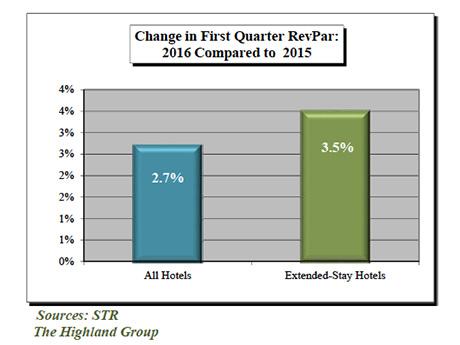 The Highland Group reported "room revenues are up more than 10% and gains in ADR are strong enough to continue positively impacted RevPar."
In addition to Extended Stay now franchising its locations, the company already maintains a dividend yield of more than 5%. Given that it will move to secure more stable cash flow streams through royalties and reducing property based expenditures, the dividend will be safe and could possibly increase. Also, as Extended Stay begins to sell properties to franchisees, it is very possible that the proceeds from these sales would be returned to shareholders through the form of special dividends over time.
I believe Extended Stay presents a great opportunity as it begins to move a business model that will provide the company with stable cash flow while cutting large property-related expenditures.
Disclosure: I/we have no positions in any stocks mentioned, and no plans to initiate any positions within the next 72 hours.
I wrote this article myself, and it expresses my own opinions. I am not receiving compensation for it (other than from Seeking Alpha). I have no business relationship with any company whose stock is mentioned in this article.