Vail Resorts, Inc. (NYSE:MTN) represents one of the world's leading operators of mountain resorts in the U.S. and Australia. The latest earnings report showed substantial cash flow strengthening, which the company utilized to further bolster its industry-leading balance sheet. Most notably, the increase in season pass sales accentuated the record level of growth the company is currently experiencing, which has translated into phenomenal investment returns and a growing dividend yield.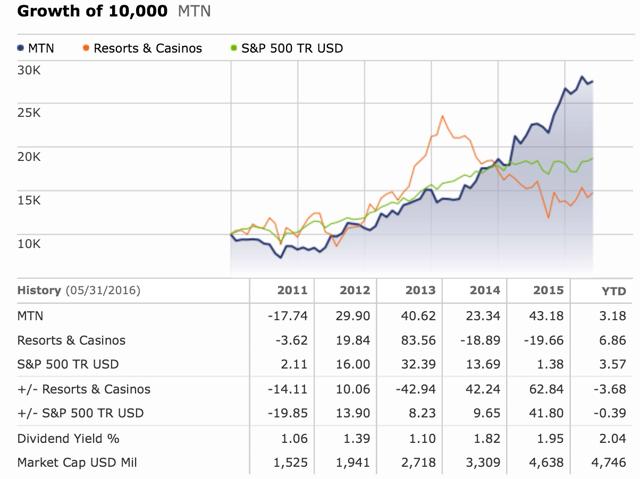 Earnings Highlights
Net income for the third quarter of 2016 reached an unprecedented $157.6 million, or $4.23 per share, which surpassed consensus estimates and marked an 18.2% increase compared to the third quarter of 2015. Meanwhile, total net revenue surged to $647.5 million, higher by $68.1 million, or 11.8% compared to the same period in the prior year. Similarly, total skier visits showed a 13.9% increase. The overall improvement was largely achieved by the effectiveness of the company's sophisticated marketing efforts while the favorable conditions in the western resort areas provided a welcome tailwind this season. This development signals that the multi-year trend of uninterrupted annual revenue growth is likely to continue.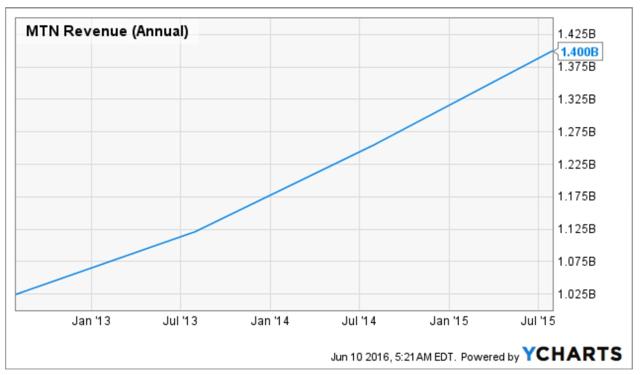 EBITDA came in at $306.6 million, which represented a 14.7% increase compared to the same period in the previous year. The company's CEO, Rob Katz, attributed this development to the increasing popularity of the firm's season products, which has generated a particularly positive momentum, triggering a virtuous circle of positive outcomes in all business segments. Indeed, a brief overview of the EBITDA growth in recent years confirms this momentum.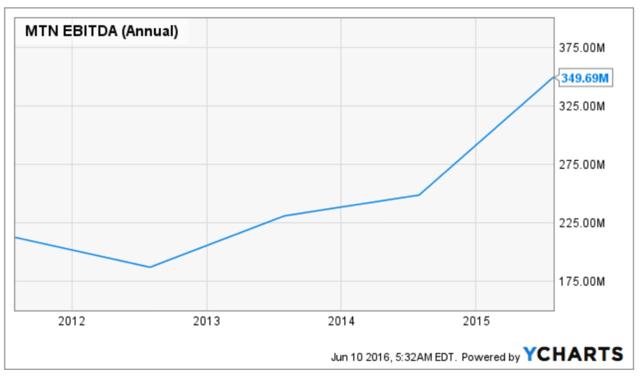 Season pass sales for the 2016/2017 U.S. ski season skyrocketed, increasing by approximately 29% in units and 34% in sales dollars through May 31, 2016. This serves as further proof that the accelerating momentum, which we have been witnessing particularly since 2012, remains well founded.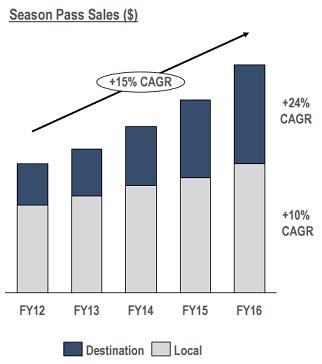 Given the excellent performance so far this year, the company has raised its guidance for 2016 and is now expecting EBITDA to range between $448 million and $454 million. This translates into an increase of 7.3% to 8.7% relative to the midpoint of the original guidance range for fiscal 2016 and an increase of 28.2% to 29.9% compared to the prior year.
It is noteworthy that early season pass results, which included surprisingly strong performance from Northern California and Colorado, demonstrate the success of the firm's efforts to accelerate the timing of season pass purchases, aiming to generate enhanced growth opportunities. The season pass results this spring marked the strongest absolute and percentage growth achieved during the spring selling season. They underscore the success of the well targeted marketing efforts as well as the considerable investments made in the last five years, which included some significant acquisitions:

The price gains of Vail Resorts stock have been undoubtedly impressive recently. However, valid concerns about overbought conditions are starting to appear, as existing momentum gathers speed.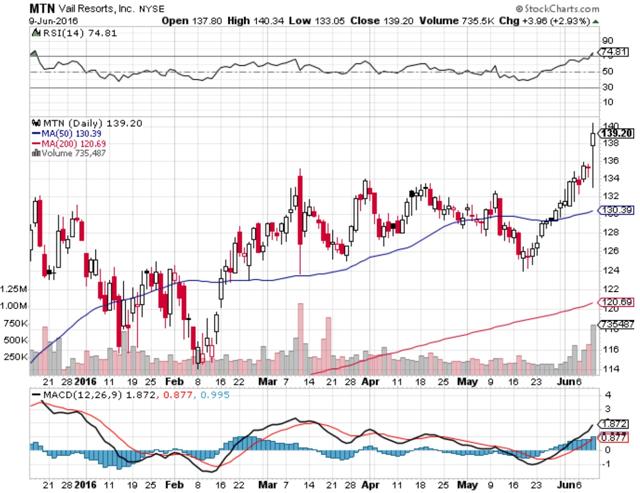 On the other hand, the increasingly steeper valuation appears to be more or less justified given the firm's growth prospects and its rapidly increasing profitability.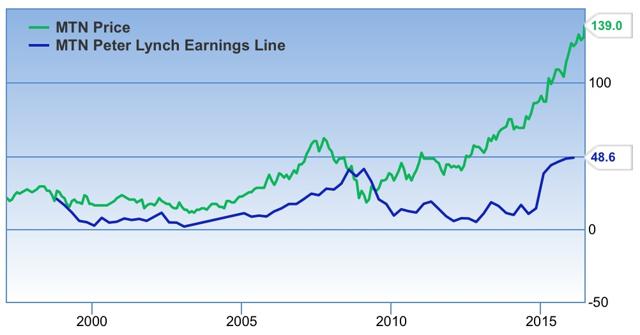 Consequently, the remarkable price gains we have seen in Vail Resorts shares in the last two years appear to be based on a convincing growth story and reflect a sound business that consistently delivers positive surprises to its stakeholders. In fact, investors can find in this company an indisputable leader in its niche, whose vision and drive for expansion are truly impressive.
Disclosure: I/we have no positions in any stocks mentioned, and no plans to initiate any positions within the next 72 hours.
I wrote this article myself, and it expresses my own opinions. I am not receiving compensation for it (other than from Seeking Alpha). I have no business relationship with any company whose stock is mentioned in this article.