Foncière Des Régions (OTCPK:GSEFF) (OTC:FNCDY) is a holding company for REITs that has diversified portfolios in some of Europe's most prominent locations. This €5.5 billion market cap company was founded in 1963, and it's headquartered in Metz, France, with over 700 employees. The company's assets are comprised of commercial and residential real estates in France, Italy and Germany. FDR's main objective is to provide shareholders stable and increasing dividends while maximizing the company's market capitalization.
Portfolio

Source: FDR IR
FDR's direct and indirect value of holdings is around €17.7 billion, which yields approximately 5.8%. In 2015, the company invested €2.1 billion in new real estate, redevelopments, and asset rotation.
The largest and most important part of FDR's portfolio is France's office real estate at around €5.6 billion, which has an above-average yield of 6%. The company has €1.2 billion in development pipeline, and it expects record level of deliveries in 2017. The offices are mostly located in Paris (35%) and in inner suburbs (41%). It has consistently had higher occupancy rates than the historical average of 95%. However, in the recent years, it has slightly ticked down, and it is planning to reduce the vacancies in some of its real estates. The maturity of its leases tracks the long-term average of 5.4 years. Overall, the office real estate portfolio in France is developing favorably, and despite the competitiveness in Paris, it overperformed the rest of the regions. The major client in Paris is the telecom company Orange.

Source: FDR IR
FDR's second largest holding is the Italy's office real estate at around €3.9 billion, which yields slightly below the average at 5.7%. Part of the decline was the renegotiation of rental terms with one of the company's largest clients, Telecom Italia (NYSE:TI). It managed to increase the duration of the leases, but for a slightly lower yield. However, the real estates are valued at €1.6 billion, yielding 6.4% and locked in for 15 years. Telecom Italia will be a secure and stable cash flow for FDR for more than a decade. It is looking to lower the exposure to Telecom Italia to 20% by 2020. The occupancy rate in Italy is around 93%, which is somewhat lower than in France, but it signs longer-term leases at 9.7 year that brings stability to the overall portfolio. But the company needs to reduce the vacancies with redevelopment or by rotation.

Source: FDR IR
On the residential side, FDR is invested in the high-quality assets in prime cities. Totaling €3.6 billion and yielding 6%, the German portfolio is poised to outperform. Compared to other major European cities, the German real estates are overall cheap, and rents are affordable. The stability, diverse economy and high inflow of new residents make Germany an ideal place to own residential real estate.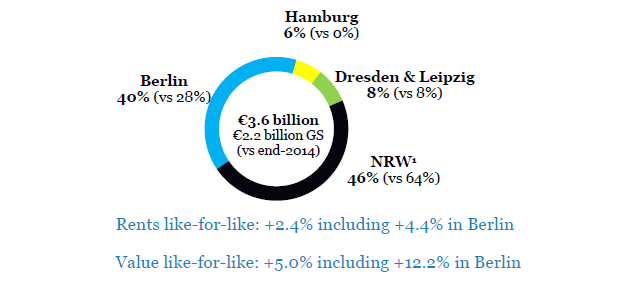 Source: FDR IR
The last significant part of FDR's portfolio is the hotels and services segment with €3.5 billion in assets that yield 5.9%. During 2015, the company increased its exposure to hotel assets from 9% to 13% of the total portfolio. In 2016, FDR is planning to invest €400 million to growth opportunities with existing and new partners. One of the largest clients is AccorHotels.
Fundamentals and Conclusions
FDR is priced currently above its EPRA NAV, which leaves little or no room to grow before updated Q2 figures. It is known to deliver stable growth figures that are projected to the stock price. But what investors are mainly looking in REITs is the steady stream of income. FDR has been and will most likely remain a stable dividend payer with moderate share price appreciation. During the past five years, FDR's yield has ranged from 5.2% to 8.47% while the dividend has remained between €4.2 and €4.3. Payout ratio was 88% in 2015, and it distributes it once a year, which is a bit old fashioned and should move to the quarterly dividend.
FDR is a great way to get exposure to the European real estate market, especially to the top cities like Paris, Milan and Berlin. But at the moment, the stock is priced to the max and will require either a pullback or new updated figures.

Disclosure: I/we have no positions in any stocks mentioned, and no plans to initiate any positions within the next 72 hours.
I wrote this article myself, and it expresses my own opinions. I am not receiving compensation for it (other than from Seeking Alpha). I have no business relationship with any company whose stock is mentioned in this article.
Editor's Note: This article discusses one or more securities that do not trade on a major U.S. exchange. Please be aware of the risks associated with these stocks.