Chemical Agricultural Sector
There is a general correlation between grain/soft commodity prices and the Chemical Agricultural sector as the chart that overlays weekly data of the ETF DBA (which has a broad basket of exposure to grain and soft commodities) with the stock Soc Quimica (Chemical & Mining Co. of Chile Inc.) (NYSE:SQM) shows. Whilst grain prices have rallied strongly this year, as have soft commodities such as Sugar, up to this week the response in the stocks had been muted. Whilst a delayed correlation is not unusual, it is clear that some stocks within the sector are reacting more positively than others, which is what prompted me to look at the sector more closely and see what opportunities were available.
My view is that with some stocks in the Sector breaking upwards, whilst others are basing and close to major support, the downside is limited and for some the upside potential is considerable, and so presents a favorable risk-reward over the summer months.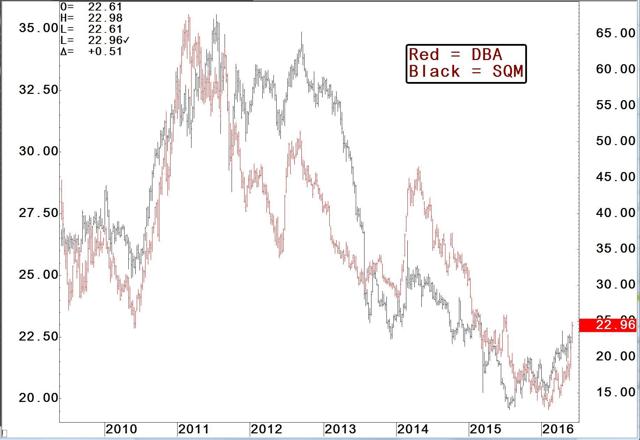 Very rarely will you read a report where it does not say where the support and resistance are. Unfortunately, the vast majority return to the old cliches of what that is. The most common form is to say that a previous price high in price is resistance and previous low is support. These highs or lows are commonly referred to as swing points or fractals.
But let's think about that. How many people do you think actually sold the exact high in price and how many people bought the exact low? The answer is hardly any. Normally the absolute high or low has almost no volume in relationship to all the other prices as it spent so little time there. Taking Google yesterday, on that day when over 1.6 million shares traded just 100 traded at the actual high of the day.
In my first book (Trading Time, New methods in Technical Analysis) I dedicated 2 of the 5 chapters purely on identifying correct methods for support and resistance. It represented two-thirds of the whole book, with one of the chapters covering over 100 pages. I won't lie and say that it's an easy read, but what it does show, is the vast amount of information that can be gleaned from creating methods that identify and qualify the power of support and resistance. If it is done correctly it has three major benefits.
1. Quantifying Risk and therefore trading with the correct volume.
2. It enables the creation of patterns that tell you when that support and resistance are more likely to mark the high or low of the trend.
3. This means that the market comes to you, you don't go to the market.
Fourth Dimension analyses each swing pattern or fractal and measures the range and the volume associated with each swing high or low. It then computes that against the average of previous movements and only if it is above a certain threshold will the swing high or low be deemed significant. This is computed over daily weekly and monthly data to create a multiple time frame picture in one image which is normally a daily chart. The power of this method means that only highs or lows of importance are referenced and those values held (often for a considerable period of time) until the next time the range and volume are of a high enough criteria to move the support or resistance level.
The multiple time frames are coded in colors with pink and red representing daily data, black weekly and blue monthly, the lines being thicker the higher the time frame they are representing. This is complemented by a variety of coded patterns that are a trigger point to action if they occur at any of these lines. The next chart is a daily continuation of Soybeans. Note how at the lows a multitude of signals appeared at what was the final support line.
Soybeans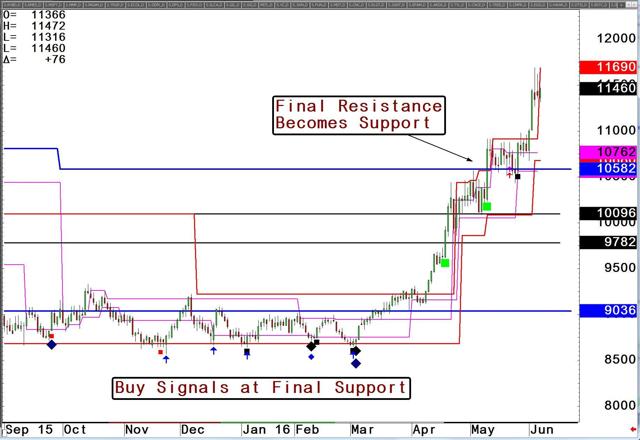 On the more detailed chart, the key moment comes at the end of March and the USDA report. Blue lines represent the monthly time frame and two things occur. Firstly, price had broken up above the monthly resistance ahead of the report and upon its release it held that level perfectly. Prior to that, the SplitC study, which measures momentum from daily up to yearly time frames, shows that at the end of the March all time frames up to Quarterly (blue line) had moved higher. This indicates a shift in momentum and allows the market time and space to rally as a greater and greater number of time frames switch from bearish to neutral and finally bullish.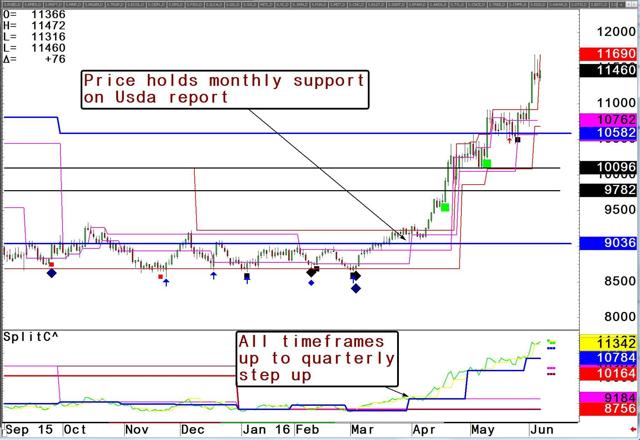 The necessity that time must be synchronized across a group of periods is shown by the performance of Soy meal. The chart shows some failed buy signals at support. They failed because the SplitC study shows time stepping down. By the time the final buy signal occurs time is stepping up, so now the market has the ability to move higher. I can't emphasize enough how important that is. All time frames up to the quarterly at least must be in alignment and if there are, then there must be space for price to move into.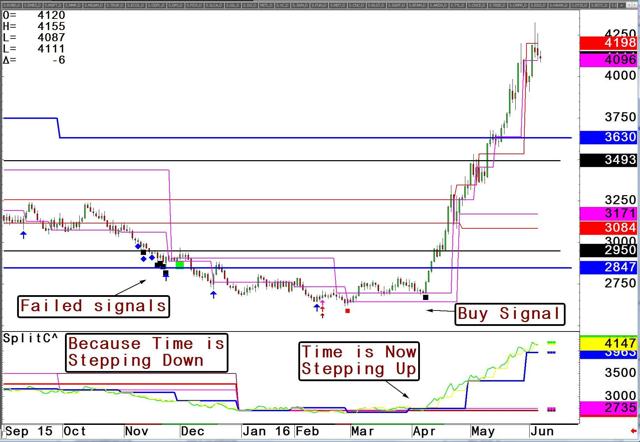 Now we turn our attention to the stocks. Within the Sector the strongest is SQM. This stock has been in an uptrend for some time, although the key moment was when price held the major monthly support (blue line) in early May. This week has seen price break above the final resistance, which is a weekly level (black line). The first target is distant at $28.30, but critically there is no current line above price meaning it has space to rally. Maximum momentum is achieved by price holding the breakout point at $23.65, it taking a close below $22.87 in order to signal that the breakout is false. This represents a stop loss of 10% with unlimited upside.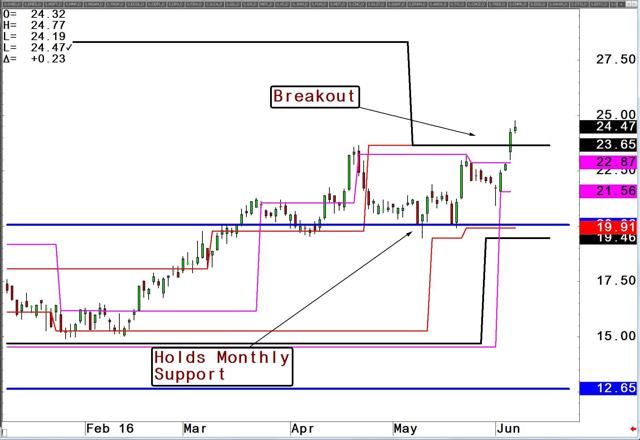 Stock of Terra Nitrogen (NYSE:TNH) was battered after its last set of results but there was no follow through after that day. The sideways churn led to weekly support rising to the low created on the company's reports, which creates a clear level where if price closes below it, it would lead to a move to the major support at $84.12. Thus far price has stalled at the resistance created at $110.30, whilst the SplitC study has a final level at $111.30. Note that on that study only that $110.30 quarterly line (pink) is above the current share price, so a close beyond this level signals a breakout, with a target of $127 at least and longer term level at $158.70. A close below $101 would be negative. Once again the stop loss is in the region of 10%, with an initial target of 15% and its ultimate destination at $158.70 indicating a rise of approximately 40%.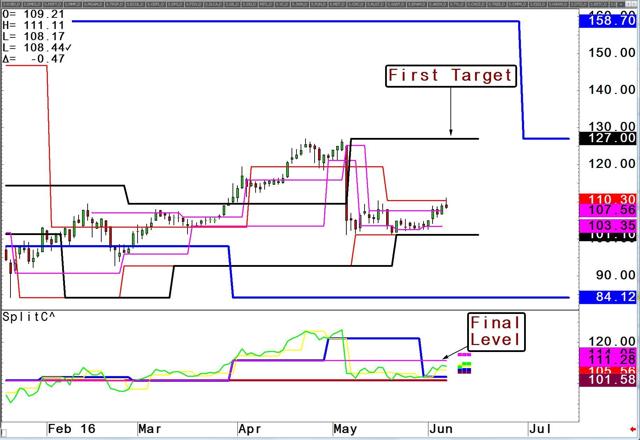 The next three stocks are important in that they have been in established downtrends for sometime, but critically major monthly supports have moved to the lows of that trend. This suggests that the downside is limited and present buying opportunities at supports or if they break out higher.
Code CF Industries (NYSE:CF) has seen a longstanding major resistance shift dramatically to the lows of the trend (as shown by the shaded boxes), which means that $26.10 represents a formidable base. Weekly resistance has been dropping consistently and now represents the final barrier at $35.84. A close above here would open up space for a huge rally that in the longer term would target $70.32 and a rise of nearly 100%.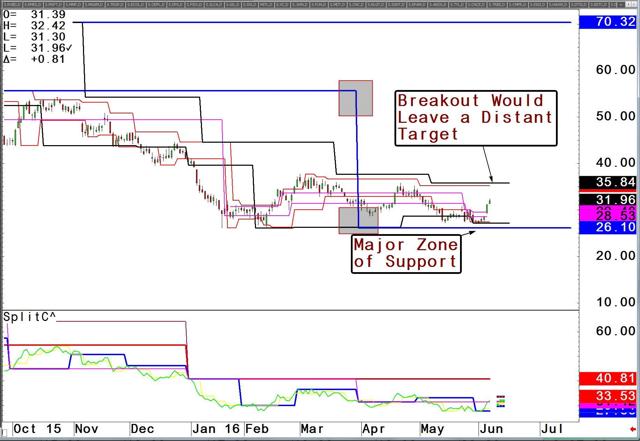 The next is Potash (POT) which is beginning to show a huge shift in momentum of seismic proportions. The chart shows the two monthly levels dropping dramatically, one creating a major base of support and the second lowering the point where a breakout is possible. The weekly line has done the same creating a powerful zone of resistance. A close above $19.38 would signal a breakout and leave room to move to $35.50.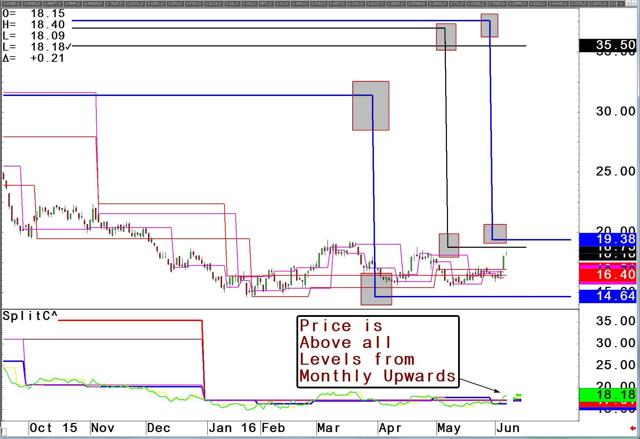 Final in the trio is code Mosaic (NYSE:MOS). This stock has also been in breakdown mode since the middle of last year but has recently stabilized. The pattern that has formed is similar to POT, in that major resistances have dropped to the year's lows and created a far closer level at which a breakout higher would be signaled. The zone above between $29.66 and $31.10 is strong and can expect to be repelled on its first visit. Subsequent to that, a close above that area would see a rally to $37.20 and weekly closes above that point would leave no resistance. The SplitC study shows that price is already in a breakout as all time frames from monthly upwards are below the current price.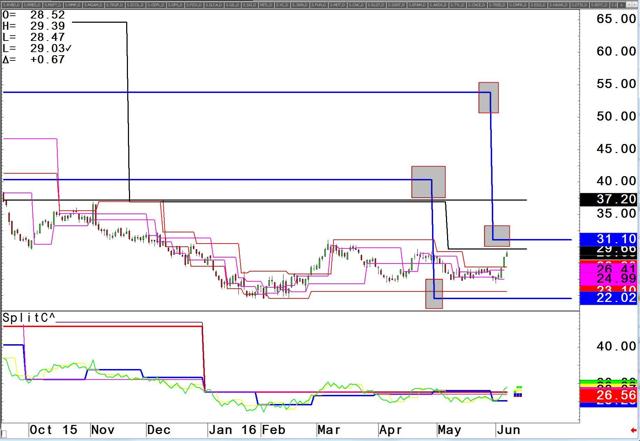 Finally, we look at Agrium (AGU). This week's price action has been particularly impressive breaching the monthly resistance at $92.94. There is one more hurdle at $99.99, but note that the SplitC study is clearly in breakout mode. Maximum bullishness sees $92.94 hold, price needing a close below $91.00 to indicate that the breakout is false and therefore is a tight stop.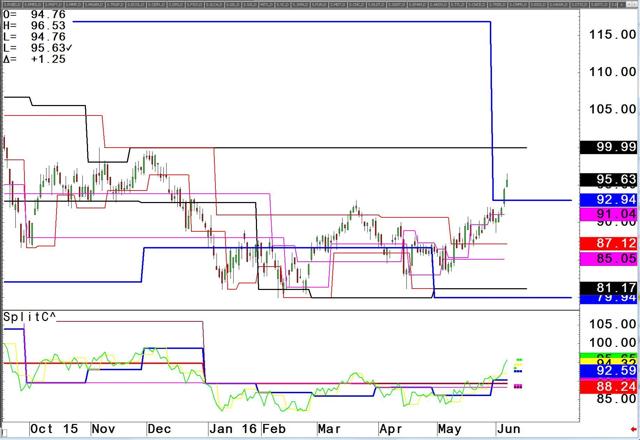 Moves and targets in excess of 100% may seem unrealistic so here is an example of a stock that was in a similar setup earlier this year. Southwestern Energy (NYSE:SWN) signaled that a move higher was imminent when the Monthly blue line moved to the lows from a much higher value in March, which created a major support. A few weeks' later Weekly black line resistance also dropped dramatically and in doing so lowered the point where a breakout was possible. Just prior to that the SplitC study stepped higher and left no resistances above either. There was space to rally from the breakout of $10 to a target of at least $16.19 which it is now close to reaching, with a longer term target nearly 200% higher at $29.61.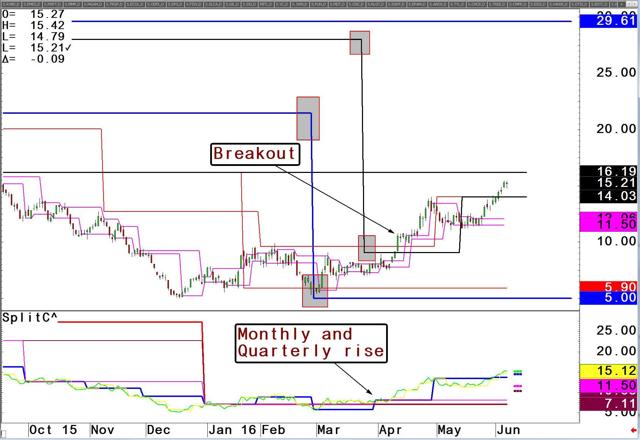 In conclusion, it is clear that some stocks in the sector are already leading the way and presenting buying opportunities, whilst patience is required on others as we await bullish breakouts.
Charts courtesy of CQG, Inc.
Disclosure: I/we have no positions in any stocks mentioned, and no plans to initiate any positions within the next 72 hours.
I wrote this article myself, and it expresses my own opinions. I am not receiving compensation for it (other than from Seeking Alpha). I have no business relationship with any company whose stock is mentioned in this article.