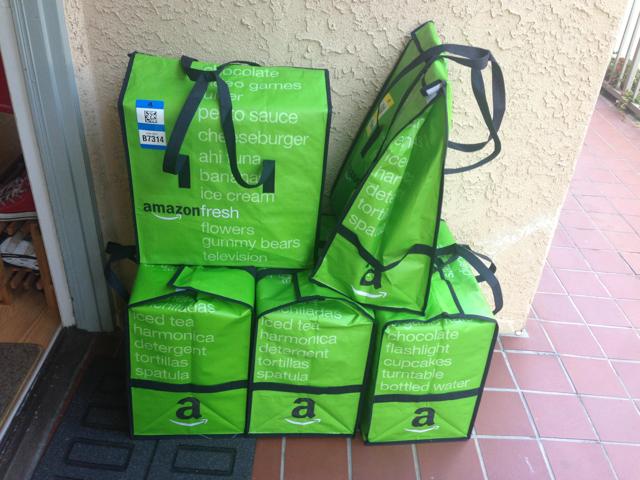 Amazon (NASDAQ:AMZN) has started UK fresh food delivery and upped its battle against supermarkets which until now have been relatively unscathed by the rising e-commerce penetration. The UK supermarket is already under pressure from e-commerce and discounters such as Aldi and Lidl, and AMZN's latest move will further pressure supermarkets' pricing power and revenue growth. AMZN's global expansion in grocery is another example of how internet and e-commerce are disrupting conventional business models. As our lives become increasingly digitized, consumers will likely gravitate towards the convenience of grocery e-commerce and this will further pressure offline supermarkets. I remain bullish on AMZN due to its exposure in North American and European e-commerce market and I will be cautious on US and UK-based grocery chains such as Wal-Mart (NYSE:WMT) (see - Wal-Mart Dips A Toe Into Last-Mile Grocery Delivery), Kroger (NYSE:KR), SUPERVALU (NYSE:SVU) in the US, Loblaws (OTCPK:LBLCF) and Metro Inc. in Canada, and Tesco and Ocado (OTCPK:OCDGF) in the UK.
All of UK's big four supermarkets have invested in online grocery on the back of a rising consumer demand, but where I think AMZN can differentiate lies in its efficiency, pricing, and its logistics network. Notably, AMZN will provide one-hour delivery to 69 postcodes in London with same-day delivery offered on orders before 1pm. Prices will be lower than the major grocers and I believe this will be a key selling point for consumers to 1) sign up for Prime to enjoy the benefit of unlimited two-day shipping as well as fast grocery shipping, and 2) experience AMZN grocery delivery to gauge its convenience and quality.
In the medium term, AMZN and its grocery partners could take more market share in UK's online grocery space. What matters the most is whether AMZN may strike similar deals in North America by partnering with chains such as KR, SVU, and ABS in the US, and Metro Inc. and Loblaws in Canada. Such a scenario will accelerate the e-commerce penetration of groceries and food items, drive long-term Prime ecosystem expansion and could potentially be a negative to sub-scale regional supermarket chains that lack superior e-commerce presence.
Consumers will ultimately benefit from the increased convenience while the e-commerce giant will benefit from a broader service and product diversification. In the UK, AMZN will offer more than 130k groceries to north and east London, including thousands of fresh produce, dairy, and bakery items that AMZN did not have previously in the UK. The service is available for AMZN Prime members only but for an additional GBP6.99/month fee consumers can get delivery on orders worth up to GBP40 or more.
To strengthen its Prime ecosystem, I believe that payment is another area where AMZN needs to focus on in order to provide a closed ecosystem for its users. This will certainly strengthen AMZN's Prime ecosystem by providing consumers with a holistic platform including shopping, payment, and delivery. Investors can look no further than Alibaba (NYSE:BABA) whose Alipay has been a critical component in maintaining the competitiveness of BABA's platform. AMZN also needs a similar payment service, in my view.
Overall, I see this to be a long-term positive for Amazon's Prime ecosystem and its logistics capability. I remain bullish on AMZN. While I acknowledge that the company's near-term investment in fulfilment and logistics will continue to weigh in on its near-term profitability, I also argue that these investments are necessary for AMZN to capture underpenetrated markets and counter the potential competitive risk from rival Alibaba that operates a much bigger logistics service and could potentially be a long-term threat to AMZN in the future.
Disclosure: I/we have no positions in any stocks mentioned, and no plans to initiate any positions within the next 72 hours.
I wrote this article myself, and it expresses my own opinions. I am not receiving compensation for it (other than from Seeking Alpha). I have no business relationship with any company whose stock is mentioned in this article.