Those who are following this takeover approach since it was announced on 18 May 2016 do not need a lot of information about Monsanto Co (NYSE:MON) and Bayer AG (OTCPK:BAYRY). Those who are jumping on the bandwagon at this point, see a brief description below or, if you wish, jump straight into the fire with our assessment of the takeover value, identification and probability of a catalyst, as we develop an antitrust analysis for our next article.
Monsanto Co.
Monsanto Company is first and foremost an agriculture enhancement company. Its offer includes seeds, biotechnology traits, herbicides and precision agriculture products that farmers use to increase seed yields and crop productivity.
With more than 25,000 employees worldwide, MON reported net sales of $15bn in FY15 (down 5% yoy). Sales in the US, Brazil and Argentina represent 75% of its global revenue, with the US representing 57% by itself, followed by Brazil with 11% (up from previous years).
The company reports revenue by two main business segments: (NYSE:I) seeds and genomics (68% of revenue, 63% contribution to EBIT), and (ii) agricultural productivity (32% of revenue and 37% EBIT contribution).
In general, the seeds and genomics unit is less cyclical than its productivity unit, and it is the recipient of most of a $1.6bn R&D spending that is focused on plant breeding, biotechnology, chemistry, biologicals and data science.
Table 1 - Monsanto's Select Financial Data 2015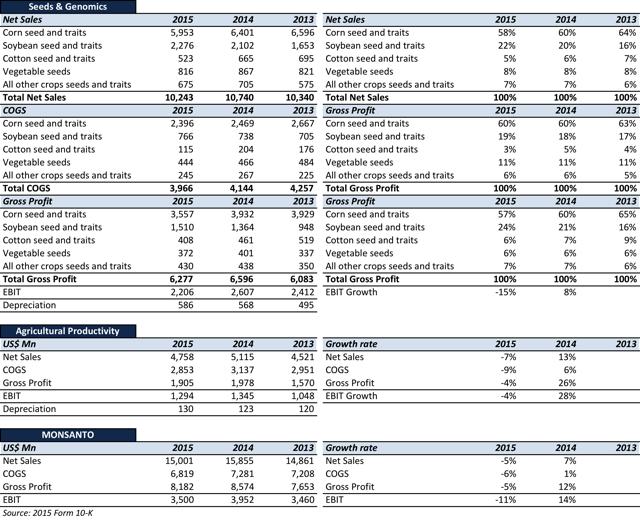 MON's glyphosate-based Roundup, reported under the agricultural productivity unit, is the world's most famous herbicide, as well as the most attacked by international environmental organizations on the grounds of its alleged carcinogenic content.
MON, infamous for co-inventing, alongside Dow Chemical, the lethal Agent Orange that the US military used during the Vietnam war, is recently known for applying cutting-edge science to create genetically modified organisms (GMOS) that enrich nutritional content and value in foods and feeds, as well as enhance plant protection against biological elements and weather adverse conditions.
We have left the ethical discussion around GMOs out of this article, and focused on the investment attributes of MON as a takeover target.
Valuation of Monsanto as a Takeover Target
In two words, we believe that the $62bn offer that Bayer AG made to MON is fair, as a $122 per share all cash transaction.
But things are more complex than a simple number. Our assessment also indicates that MON shareholders that are toying with the idea of an increased offer, alongside MON board of directors, do have room to negotiate. We believe that BAYRY may engage in conversations regarding an improved offer in exchange of board recommendation, particularly due to its interest in MON's sees and traits business.
Figure 1 - Monsanto's Valuation Field
Source: Proprietary model
Figure 1 above shows that the current offer price, at $122 per share, is above three of our six valuation metrics, and within range of the remaining three. This implies that the offer price is reasonable at worst and improvable at best.
We estimate that a standalone MON could be valued at $92-95 per share. Once $1.5bn of synergies have been included, taxed and capitalized, and a synergy share ratio of 75% taken into account, we find the reasonable takeover value to be at $113-117 per MON share, without valuing the R&D pipeline.
Valuing R&D pipeline efforts is extremely difficult given high uncertainty and (ii) dichotomous outcomes that could result in compound termination and write off. For this reason, some analysts evade risks by assigning a zero value to the research portfolio.
We are conscious of the uncertainty of R&D pipelines (for information on pass-through rates see 2011 McKinsey's report on value-driven drug development here), and nonetheless valued MON's pipeline at $3.6bn long-term, or $8.35 per share. We capitalize MON's R&D expenditure at a rate that is 25% that of ongoing operations and tax them at the corporate rate. Detailed information about MON's annual R&D pipeline review can be found here.
Post-pipeline, our estimation of MON as a takeover target is $121-125 per share.
This valuations is always contentious, bidders argue that the uncertainty of the pipeline impedes modeling future revenue, while targets refer precisely to this when they state that "the offer undervalues the company and its prospects". We believe that, as imperfect as it could be, including an approximation for the value of the pipeline gives a better representation of the value behind the company as an ongoing concern.
In our assessment of MON's value we have used the SOTP approach, compartmentalizing the seeds and genomics units and the agricultural productivity units, since these have different drivers, markets, R&D loads, regulation and prospects, and valuing them separately using segment data provided by MON.
Our valuation metrics (per share) are summarized here:
Standalone, $92-95
Takeover value ex-R&D pipeline, $113-117
Takeover value cum-R&D pipeline, $121-125
LTM high-low, $81-115
Precedent transactions, $80-136
Premium to undisturbed price, $116-136
Putting aside technicalities, we believe that BAYRY would need to improve the offer by 7-11% to bring the share offer within the $130-133 range, which would constitute a best and final offer that, in our view, appropriately considers the present and future value of the company.
This does not mean that BAYRY will actually do so; remember I do not sit on its management board. However, the technical discussion on value points on that direction, and the strong rationale of the enlarged company could help persuade them.
After all, an increased offer that maximizes the probability of directors' recommendation would cost BAYRY $3.9bn, and this is the right time to use banking facilities and debt capital markets, before interest rates start soaring.
Pricing issues can also be solved with a CVR or a share component in the case of limited access to finance, but we do not believe that BAYRY would need this option, given its financial headroom.
Transaction impact on Leverage
One this is clear. BAYRY leverage ratio, currently at 1.7x EBITDA will go up significantly. We estimate that a pro-forma ratio of 3.8x, with the effect of synergies and rights issue proceeds being slightly more than one turn pro-forma EBITDA, or a decrease in debt of $14.7bn (without these leverage would reach almost 5x EBITDA).
Table 2 - Leverage Analysis

BAYRY has aligned BofAML, Credit Suisse and, allegedly, Goldman Sachs and other lenders to arrange the financing of more than $50bn in cash for this transaction. In addition, BAYRY intends to issue new shares to finance up to 25% of the value of the transaction, or roughly $13bn. We do not believe that financing will be an issue, and in fact, any firm offer for MON would not be subject to financing conditions.
We have calculated the enlarged entity's leverage at 3.8x with the current offer of $122 per share, and estimate a leverage increase by 0.1x to 3.9x in the event of the offer being increased to $133 per share.
These are levels similar to those reached by BAYRY immediately after its acquisition of Aventis CropScience and Schering in 2002 and 2006 respectively. In both occasions, BAYRY directors and shareholders accommodated to a temporary increase in leverage under the promised of returning to more manageable levels in the future, as it effectively occurred 3-4 years into the integration of previous acquisitions.
Figure 2 - Bayer Net Debt / LTM EBITDA Multiple (Select acquisitions)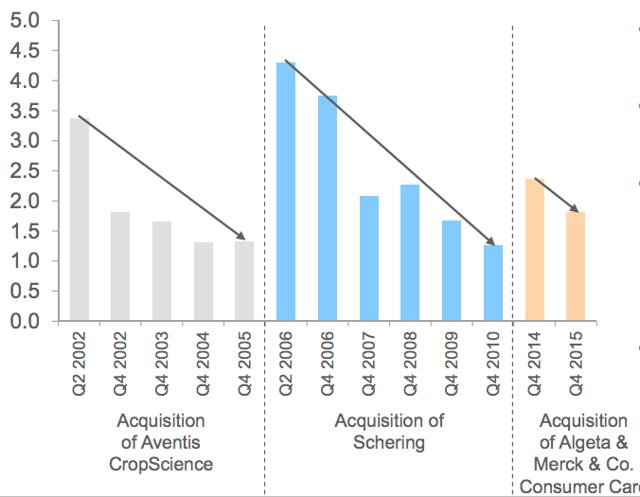 Source: Investor conference call presentation, 23 May 2016
Even after borrowing about $50bn for this acquisition, BAYRY would remain within reasonable interest coverage, which we estimate would decrease from 8.0x now to 3.6x upon completion of the transaction, prior to any voluntary or required divestments. At 3.6x net interest, we do not believe that leverage raises any alarms in the current situation, particularly in the current ultra-low interest rate environment.
The subject of possible regulatory driven divestments will be addressed in our next article.
Final Thoughts
Even though MON board of directors has rejected the offer, it has signaled its agreement with the rationale of this consolidation, and only made remarks on the valuation and regulatory risk.
In this article we have laid out our conviction that the $62bn offer for MON values the company fairly, if only disregards full value of its R&D pipeline.
This is reasonable, given the huge uncertainty that surrounds the advancement of compounds from discovery to commercialization; nonetheless, we believe that MON will negotiate hard on this matter.
Hence, we believe that, if a tender offer is to be announced, it will include a richer offer, closer to $130 per share, providing an 19% upside potential (cum-dividend) from current market price.
BAYRY is able to improve its offer, given its cash position, lending facilities and a planned rights issue worth €11.7bn, which could keep it within the single A credit rating class.
More importantly, BAYRY has within its corporate culture the flexibility to accommodate to higher leverage in the short term in order to advance its global position in the seeds and traits market and crop protection, where it would lead the market ahead of Syngenta/ChemChina, DuPont/Dow, and BASF.
MON has a prime brand and position in high-growth markets in NorthAm and LatAm, although some of these markets come with currency devaluation concerns but still with demographics that favor agriculture productivity and GMOs. Europe paints a different picture due to its lower population growth rate and its historic reticence, if not outright opposition, to GMOs, which actually makes this acquisition much more important to BAYRY than to MON. On this basis, we believe that pricing negotiations could lead to an improved offer in exchange of board recommendation.
We believe that the stock price will react in the very short-term when the MON directors announce the authorization to BAYRY to conduct exploratory due diligence in order to better assess the value of the company. This type of catalyst usually brings a 3%-4% pop in the very short-term.
We will cover market definition and product definition for the purpose of antitrust and regulatory approvals in our next article.
Supporting Documents
Disclosure: I/we have no positions in any stocks mentioned, and no plans to initiate any positions within the next 72 hours.
I wrote this article myself, and it expresses my own opinions. I am not receiving compensation for it (other than from Seeking Alpha). I have no business relationship with any company whose stock is mentioned in this article.
Editor's Note: This article discusses one or more securities that do not trade on a major U.S. exchange. Please be aware of the risks associated with these stocks.