Earlier this week, VeriFone (NYSE:PAY) shocked investors and analysts when it reported disappointing Q2 earnings results and provided far lower-than-expected guidance.
The press release can be found here and the conference call here. I won't rehash it all, but there are some notable talking points.
It's amazing how much can change in just a few months. Last week, I made the bullish case for VeriFone, which centered around a few catalysts:
The company was working to transition "from a box shipper to a services provider," leading to higher margins.
In Visa's (NYSE:V) most recent quarter, the company said it expects 50% of U.S. merchants to be EMV-enabled by the end of 2016, up from just 20% at the time.
VeriFone itself issued EPS and revenue guidance of $2.21 to $2.25 per share on $2.15 billion in sales. This guidance was far above analysts' expectations at the time.
Other catalysts included a credit upgrade from Moody's, an indication that its China unit was back online and had reasonable upside. The stock was trading really well, holding support near $26 and breaking out into earnings. The valuation - at just 10x projected earnings - was also very low, given the expected earnings growth.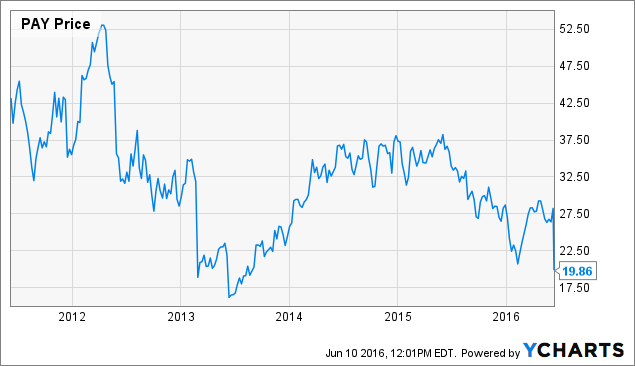 So Much Change, So Little Time
Investors went from hearing how great the company was doing and would do going forward, to hearing how constrained the business has become and that expectations should now be lowered.
Wait, what?
How can so much change in just three months? Perhaps even less than that, given when VeriFone reported Q1 results on March 10th, the company was almost halfway through Q2, which ended April 30th.
Whether calling management's judgment into question is fair or not, it's not really the point. The story at VeriFone has changed considerably from Q1 to Q2 and investors now have to adjust as well.
Keep in mind this is only a $2.4 billion market cap company, so volatility should come as little surprise.
Still, it was a shock when the company took its guidance down to EPS of $1.85 on revenues of $2.1 billion. You may notice the big drop in earnings projections (some 17%), but only a subtle reduction in revenue expectations (roughly 2%). That's because the company is seeing a reduction in its higher margin business, while also seeing an uptick in its lower margin business. The result means similar sales figures, but less profit.
Dissecting the Quarter and the Stock
The company plans to restructure some of its operations and cut loose roughly 5% of its staff. Management expects this to "drive savings" in Q4 and in 2017 as well.
At the core of the company's problems is EMV adoption. From the call:
"The EMV bottleneck in the U.S., driven by integration and certification complexity and testing delays, is beginning to take a far more pronounced toll on the speed of sales and deployment of EMV revenue devices."
This bottleneck, when coupled with pricing pressures in Latin America and Asia and "significantly slower" media sales, all contributed to the downtrodden report that was Q2. Making matters worse is services. Services, the unit that's supposed to make for a more consistent earnings and revenue landscape, as well as higher margins for VeriFone, can't bill clients for its services until its EMV terminals are hooked up. From the call:
"In addition to having wanting to accept chip cards, [merchants] are also smartly doing encryption and they are doing tokenization and they are taking advantage of the point payment-as-a-service offering…they have signed up and contracted for that. We can't recognize revenue from any of that until they are fully certified and are now accepting chip cards."
The Bad, The Ugly and…Oh, There's Good?
Despite a number of negatives from the quarter, as well as a near 30% plunking of the stock, there were some good takeaways from the quarter. But investors have to be focused long-term to find the silver lining.
Speaking on the EMV bottleneck issue, CEO Paul Galant said, "We expect this resource intensity and slowdown to work its way through and will begin to reverse over several quarters starting in Q4. So this is a delay and a push-put of business, not a reduction in the U.S. EMV revenue opportunity."
Galant also said it's not a "VeriFone-only" issue. It's good to know that the business isn't going anywhere, it's just delayed. At least it's not going to someone else.
Other good news centers around the services business. We know that the services business is being hindered by the EMV business, since the former cannot realize revenues until the latter picks up pace.
But management expects that business to accelerate once the EMV business works through its bottleneck issues, saying, "VeriFone's higher margin, next-generation products and services begin to scale in a meaningful way in FY 2017."
So What Now?
As it stands, Q4 is setting up to be a quarter where (hopefully) these issues will bottom and results will start to move higher. If investors are lucky, it will be a "turn quarter," where the bottom is in and business is on the rise. According to management, 2017 is setting up to be a good year.
Then again, this is the same management that just one quarter ago gave us a great, peachy outlook and told us that things are swell. While I do believe VeriFone does have bright prospects, lots of potential in 2017 and looks semi-attractive down here near $20, there's also the "fool me once" mentality at play here.
I listened to management before and got toasted. Why should I trust them now? They say things should improve shortly, but the road to transformation is bumpy. I accept that, and for all intents and purposes, believe them.
But for me, VeriFone is in the penalty box. As for what you should do, that depends on what type of investor you are. The story here is not the same as it was a few months ago. Well, it is, but it's taking much longer than expected to develop.
If that means cutting your losses and moving on, then there's nothing wrong with admitted being wrong and cutting your losses. For me, I initially bought in the mid-$26s, and added near $20 to average around $23-and-change. I don't love the position, and quite frankly will probably cut it loose if we get either a decent rally back towards break-even, or start to see the stock break below my second add (near $20).
Disclosure: I am/we are long PAY, V.
I wrote this article myself, and it expresses my own opinions. I am not receiving compensation for it (other than from Seeking Alpha). I have no business relationship with any company whose stock is mentioned in this article.