Retail stocks are a perfect way to profit from the consumer. I've traded many retail stocks over the years. Most of them were ratio spread trades. Some of them were outright long or short trades.
In this article, I want to discuss the outlook for retail stocks by showing you important leading and coincident indicators.
People who read my articles on a frequent basis know that I use the ISM index a lot. It is just an indicator you have to use when you want to analyze industries, stocks and the entire economy.
The graph below shows the ISM retail sentiment. The interesting thing is that the slowdown of the economy is perfectly displayed in the retail outlook as well. Retail sentiment has weakened significantly after the third quarter of 2014.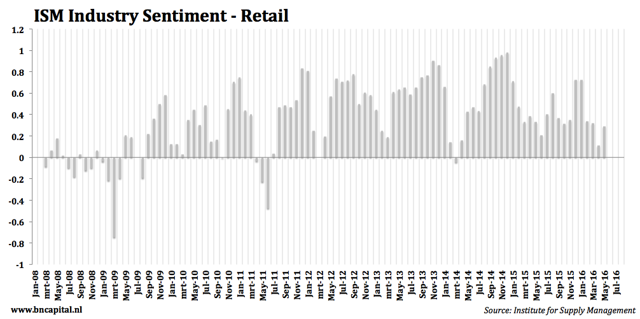 In addition to retail sentiment, I often use apparel, leather & allied products sentiment too. About 22% of the SPDR Retail Select Sector ETF (NYSEARCA:XRT) consists of apparel stocks.
Apparel sentiment has been a total nightmare. This industry is among the worst performers since 2014 and has not shown any signs of strength. This is one of the reasons why so many apparel companies are breaking down.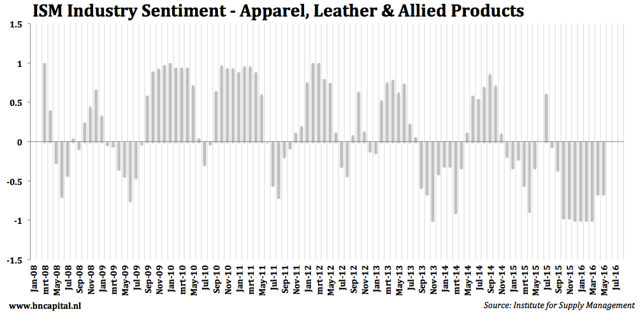 Retail stocks had their best performance between 2011 and 2014. Sentiment has been consistently at high levels paving the way for an almost uncorrected retail stock rally.
Retail stocks have been a huge disappointment after the third quarter of 2014. There has not been a clear uptrend and downward pressure is high.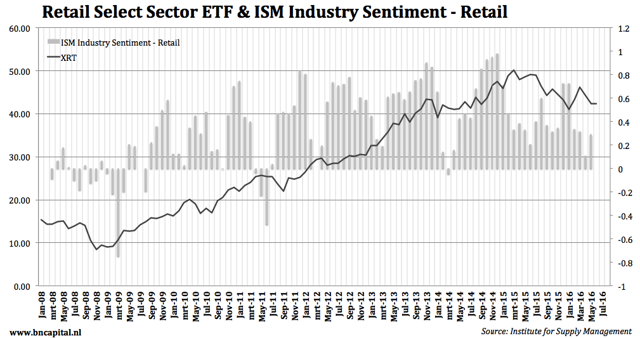 Official retail sales confirm the outlook given by leading indicators. The December 2015/January 2016 spike in the ISM retail outlook can be seen in the recent retail sales spike. Overall, growth in the retail business had declined to about 2%.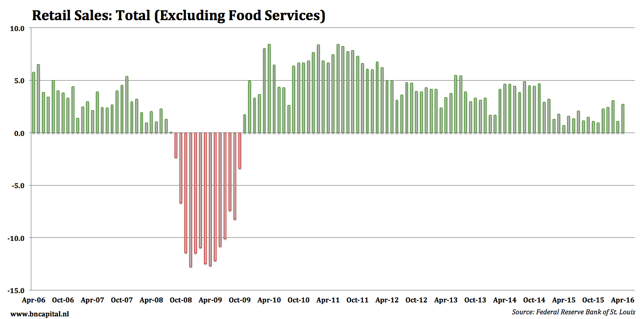 Moreover, inventories are outperforming sales. The decreasing retail outlook denies that inventories are soaring because of higher sales expectations. In my opinion, sales are much weaker than companies expected.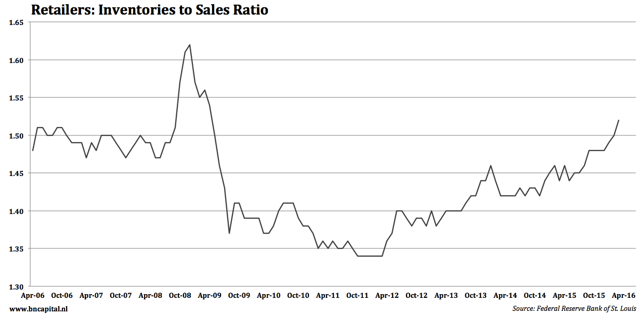 I advise portfolio managers to short retail stocks and hedge the trade with a long position in utilities (Utilities Select Sector Fund (NYSEARCA:XLU)). This trade makes money if retail sales keep underperforming utilities.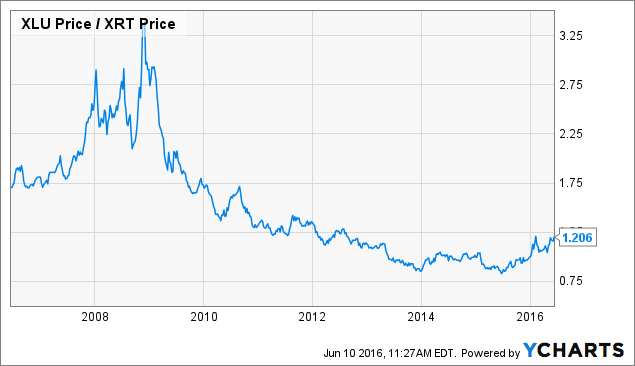 Fundamental Chart data by YCharts
I expect that this spread is about to soar further over the next few months. The reverse is likely to happen when the retail outlook is brightening again.
Disclosure: I/we have no positions in any stocks mentioned, and no plans to initiate any positions within the next 72 hours.
I wrote this article myself, and it expresses my own opinions. I am not receiving compensation for it (other than from Seeking Alpha). I have no business relationship with any company whose stock is mentioned in this article.