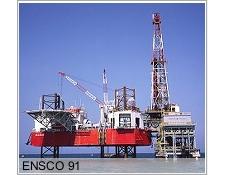 Picture: Jackup Ensco 91 - Rigzone.
Ensco PLC (NYSE:ESV)
This article is an update of my preceding article on ESV on April 12, 2016, about the most recent fleet status.
On June 9, 2016, We learned from Upstream the following:
Rig giant Ensco has sold a pair of jack-ups that have been cold stacked in the Middle East in a poor drilling market.
A quick look at the company rigs held for sale and stacked:
Rigs: Classified as Cold stacked, Ready stacked or available.
#
Rig name
Year Built
Status
End contract
Location
Floaters
1
1999
Cold Stacked
Spain
2
2010
Ready Stacked
Early termination - $148 million lump sum paid
Us GoM
3
Ensco DS-5
2011
Stacked
Dispute with Petrobras and Shipyard.
Brazil
4
Ensco DS-9
2015
Ready Stacked
Early Termination - 2Y paid/$550k/d minus stacking fee ~500K/d est.
Asia
5
Ensco 5005
1982/1997
Cold Stacked
Singapore
6
Ensco 8500
2008
Cold Stacked preparation
10/15
US GoM
7
Ensco 8501
2008
Cold Stacked
US GoM
8
Ensco 8502
2010
Cold Stacked
US GoM
9
Ensco 8506
2012
Ready stacked
US GoM
Jackups
1
Ensco 81
1979/2003
Cold Stacked
US GoM
2
Ensco 82
1979/2003
Cold Stacked
US GoM
3
Ensco 86
1981/2006
Cold Stacked
US GoM
4
Ensco 87
1982/2006
Ready Stacked
9/15
US GoM
5
Ensco 99
1985/2005
Cold Stacked
US GoM
6
Ensco 70
1981/1996
Cold Stacked
UK
7
Ensco 102
2002
Ready Stacked
UK
8
Ensco 56
1982/2006
Cold Stacked
Malaysia
9
Ensco 67
1976/2005
Ready Stacked
Malaysia
10
Ensco 105
2002/2010
Cold Stacked
Singapore
11
Ensco 106
2005
Ready Stacked
Malaysia
12
Ensco 84
1981/2013
Ready stacked
11/15
Bahrain
13
Ensco 107
2006
Ready Stacked
Singapore
Rigs: Held for Sale/Discontinued operations.
| | | |
| --- | --- | --- |
| Ensco DS-2 | Cold stacked | Spain |
| Ensco 7500 | Cold stacked | Spain |
| Ensco 6000 | SOLD $1m | Spain |
| Ensco 90 | Cold stacked | GOM |
| Ensco 58 | Cold stacked | Bahrain |
| Ensco 91 | Cold Stacked | Bahrain |
The two jackups cold stacked in Bahrain, Middle East, are the Ensco 58 and the Ensco 91, both classified as retired per Rigzone. The sale amount is not known but I presume a very low amount.
Furthermore, the Jackup segment is getting much worse for Ensco, and I counted 11 Jackups that are or will roll off contract in 2016 with little chance to get a contract extension.
Ensco 121 - 6/16 Wintershall - New Zealand.
Ensco 120 - 8/16 Nexen - UK
Ensco 110 - 11/16 NDC - UAE
Ensco 102 - 5/16 GDF - UK
Ensco 101 - 7/16 BP - UK
Ensco 94 - 5/16 Saudi Aramco - Saudi Arabia
Ensco 88 - 11/16 Saudi Aramco - Saudi Arabia
Ensco 75 - 6/16 Fieldwood - GoM
Ensco 72 - 9/16 Maersk - Denmark
Ensco 68 - 5/16 Chevron - GoM
Ensco 53 - 4/16 NDC - UAE
The situation of the four Jackups working for Saudi Aramco or NDC is unclear, at the moment. We will have to wait for the next FSR.
Conclusion:
Ensco Plc., is the perfect model of an offshore driller caught in an ambiguous situation. The contract backlog is shrinking at a firm pace, whereas, the oil price positive momentum is supporting the stock price above $10.
The tendering activity has totally dried out and rigs are being stacked at a record pace. The facts contrast clearly with the street euphoria that we have seen lately.
M. Carl Trowell, CEO, explained in the last conference call that opportunities for distress acquisitions and M&A are increasing very fast, particularly the last three months.
Unfortunately, ESV is not seeing a quick recovery this year; however, the company believes that the market may change course slowly next year. The shallow drilling sector will be the first.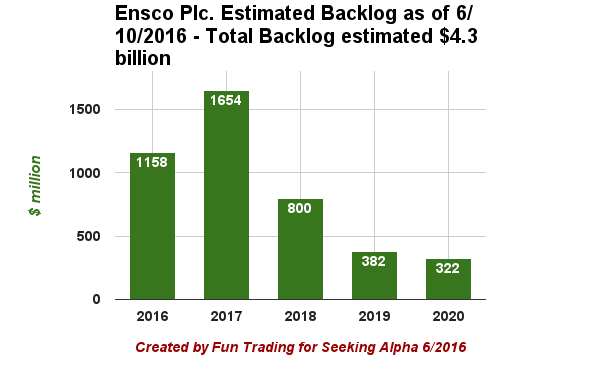 The stock price seems to have stabilized lately at approximately $9.75 - $10.50.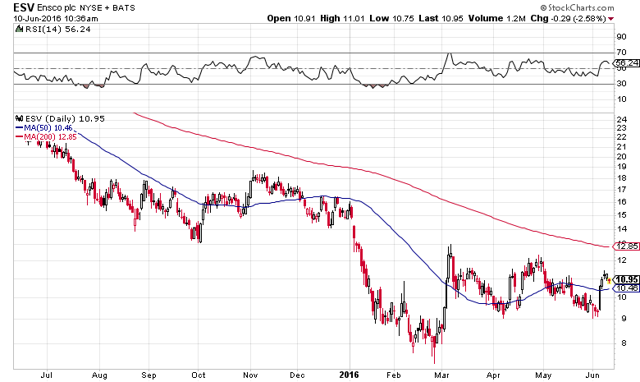 Ensco financial position is solid compared to a few of its peers. The market realist is showing an EV/EBITDA of x5.19 for ESV.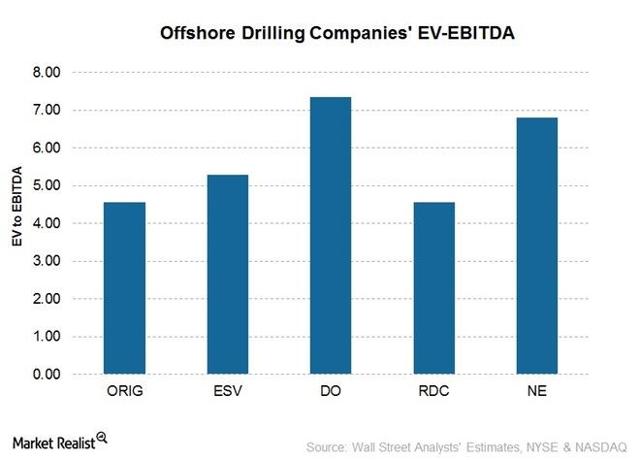 ESV's pro forma balance sheet as of 31 March 2016:
$1.3 billion of cash and short-term investments
$2.25 billion fully available revolving credit facility
No debt maturities until second quarter 2019
$5.0 billion of long-term debt
$7.5 billion of Ensco shareholders' equity
33% net debt-to-capital ratio (net of $1.3 billion of cash and short-term investments)
301.3 million ordinary shares outstanding inclusive of 65.6 million ordinary shares issued as part of the equity offering (The company reduced debt by $860 million at a 28% discount - a gain of $239 million - and added $586 million through the sale of 65.6 million shares, strengthening liquidity.)
One positive with ESV is that the company is still holding a healthy backlog until 2017, at which point the offshore industry could eventually experience a timid recovery.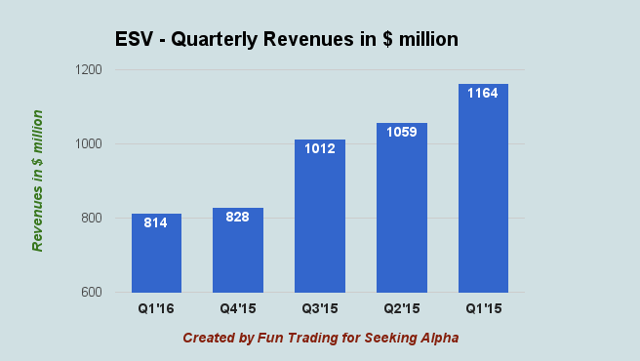 Overall, I am still optimistic for the mid and long-term horizon. ESV has a solid balance sheet and I will probably add to my long position on any significant weakness. Meanwhile, I recommend a Hold on ESV unless the stock trades below $9.50.
Important Note: Do not forget to be one of my followers on ESV and get updated on the most recent ESV news (contracts, sales and earnings results).
Disclosure: I am/we are long ESV.
I wrote this article myself, and it expresses my own opinions. I am not receiving compensation for it (other than from Seeking Alpha). I have no business relationship with any company whose stock is mentioned in this article.
Additional disclosure: I trade the stock often.