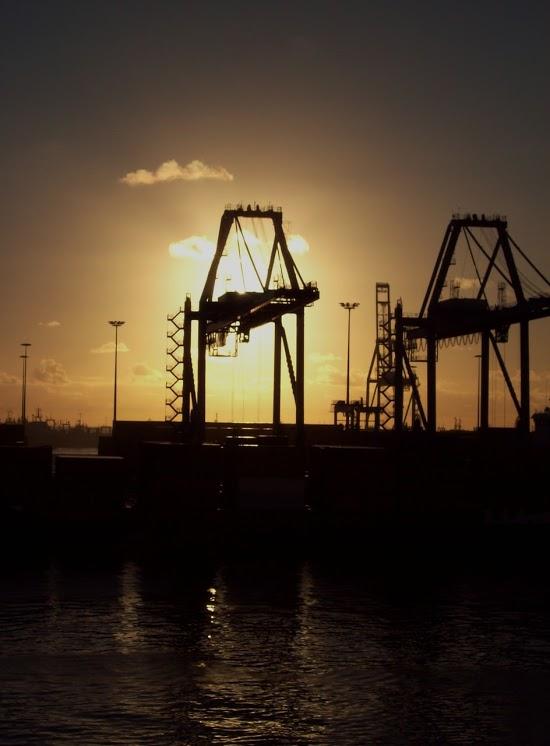 source: Stock Photo
One of the deciding factors in determining whether or not to invest in an oil producer is whether or not it can generate a profit if the price of oil is low or high. If it can't at a lower price, it is completed dependent on something it has no control over.
Diamondback Energy (NASDAQ:FANG) has proven it is able to make money on both ends of the pricing spectrum, providing them a competitive advantage only a relatively small number of its peers can come close to matching.
One concern in the short term is Diamondback recently hit a 1-year high of $94.44 after starting a big run in early January 2016. Interestingly, it began to jump before oil began its rally in February, suggesting its strengths were seen by the market which was anticipating some type of price bounce in the near future. A month later it started to get it.
Under these volatile market conditions, Diamondback Energy and its competitors have had to find ways to improve in four major areas in order to not only avoid bankruptcy, but position themselves to increase earnings under difficult circumstances. Those areas are the ability to generate profits in a low-price environment, decrease debt to manageable levels, widen margins, and have a strong cash position.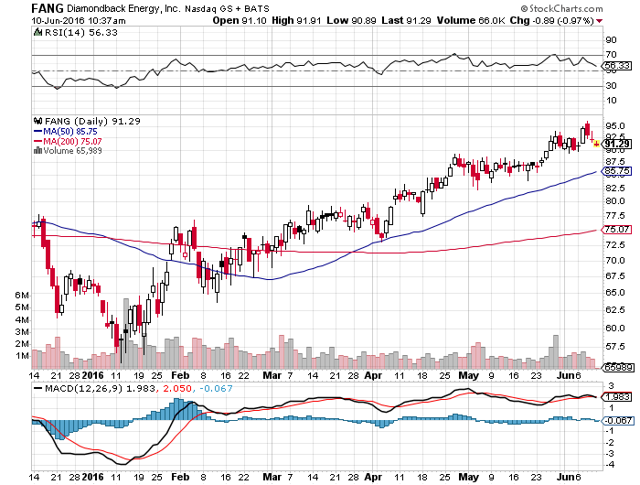 source: StockCharts.com
Cash, debt and outlook for 2016
In the four vital areas mentioned above Diamondback has been excelling. At the end of March it had cash or cash equivalents of $236 million, with a total debt load of $486 million. Net debt at the end of the quarter was $250 million. Those are good numbers no matter how you look at it.
Diamondback is also one of the lowest cost producers in the U.S., which is allowing it to confidently increase its production by about 9 percent year-over-year, while at the same time reducing capital expenditure by about 40 percent. Consequently, since the end of 2013 it has been able to boost production by a little over 370 percent while debt was up a relatively miniscule 6 percent. This is while it spent about $2.5 billion to raise production.
The company did this by issuing more equity and tapping into its operating cash flow. From the beginning of 2014 it has increased overall shareholder equity by $1.4 billion to $2.3 billion. That of course has resulted in some dilution, but at this time it's being shrugged off by shareholders because of the 6-month upward move its share price.
Because of the way it chose to finance spending it has brought down its overall debt-to-equity ratio over the last 42 months from 54 percent to 21 percent as of the end of last quarter. That is among the market leaders in the industry. That of course means it's less risky than many of its peers.
Based upon its balance sheet and production strategy, Diamondback us positioned to do well in the market at a low or high price for oil. If investors want to take a position in oil, they could do a lot worse than Diamondback.
Production costs and profit margins
The top shale producers have been feverishly and successfully cutting production costs during the period of time the price of oil plummeted, and now that it is starting to rebound, they are ready to reap the benefits of those leaner but meaner strategies.
One of the major competitive advantage Diamondback and some of its peers have is the decision to acquire assets in the Permian Basin, which because of the quality of the basin allows oil to be produced at a lower cost than other formations. That and a commitment to lowering production costs as allowed it to drive down the break even point.
At the end of the first quarter total production cost was a little under $27 per barrel, which was a decline of 33 percent when measured against the prior quarter. This is one the lowest among shale producers.
Among other things, one of the reasons it is doing so well is its lease operating expenses of $5.23 per barrel of oil equivalent, which beat out peers like EOG Resources (NYSE:EOG) which had lease operating expenses of $8.62 per barrel of oil equivalent, and Pioneer Natural Resources (NYSE:PXD) which had lease operating expenses of $12.04 per barrel of oil equivalent in the first quarter. For 2016 it has a LOE guidance range of $5.50 to $6.50 per BOE, up from the prior range of $6 to $7.
When looking at the profit margin during the first quarter, it was close to being flat. When considering the price of oil during the quarter, it bodes well if prices remain close to where they are now, or maybe even a little higher.
Based upon a realized price of $26.56 per BOE, the cash margin in the first quarter was $16.92 per BOE.
The company is looking for total production costs in 2016 to be in a range of $26.75-$33.25.
In the first quarter crude oil represented 76 percent of its production mix.
Production growth and margins
Production at Diamondback Energy for the last 36 months increased at a compounded annual growth rate of 127 percent. In 2014 production levels were at about 19.5 Mboe per day, and in 2015 that soared to 33.1 Mboe per day. That is among the market leaders among energy producers. It's also impressive that much of that growth was performed during about 24 months of downward price pressure.
For that reason it wasn't surprising to see Diamondback Energy raise its 2016 production estimate by 9 percent over 2015. And as mentioned earlier, it'll be doing that with about 40 percent less in capital expenditure.
What's a moat for Diamondback against most of its competitors is the flexibility its low-cost, high production position allows it to operate under. It can ramp up production quicker than the majority of its peers without fear of having its balance sheet coming under pressure.
Along with its $230 million in cash, it also has another $500 million in undrawn revolver capacity if it needs to access it. I think it won't go to its credit facility in a big way until the price of oil climbs more and reduces the risk associated with higher debt.
Conclusion
Under the current and unpredictable market conditions, where the price of oil will remain suspect and unpredictable, Diamondback is positioned well to endure a prolonged period of low prices, or to take advantage of a sustained oil rally.
It is able to do that because of its being able to generate a profit with lower oil prices, strong margins, low debt and a solid cash position. It is also prepared to increase production quickly if the price environment continues to improve.
A large number of its competitors, even now, can't afford to boost production because of their higher costs, hefty debt levels, and lower margins. This gives Diamondback a strong competitive position and advantage.
While I'm not yet convinced oil has decoupled itself from the gravity of market conditions that could easily push the price of oil down again, Diamondback is among a small group of companies that are among the safest in the energy sector, which also have the potential to bring solid gains to shareholders in the years ahead.
Disclosure: I/we have no positions in any stocks mentioned, and no plans to initiate any positions within the next 72 hours.
I wrote this article myself, and it expresses my own opinions. I am not receiving compensation for it (other than from Seeking Alpha). I have no business relationship with any company whose stock is mentioned in this article.