High-yield income investors love utility stocks such as Dominion Resources (NYSE:D) and Exelon Corporation (NYSE:EXC) for their consistent, albeit usually slow growing dividends. However, I would like to call your attention to one utility stock that's much more deserving of a spot in your diversified dividend portfolio. Learn three reasons why Brookfield Infrastructure Partners (NYSE:BIP) offers all the benefits of traditional utilities and so much more.
1. Superior diversification in numerous sectors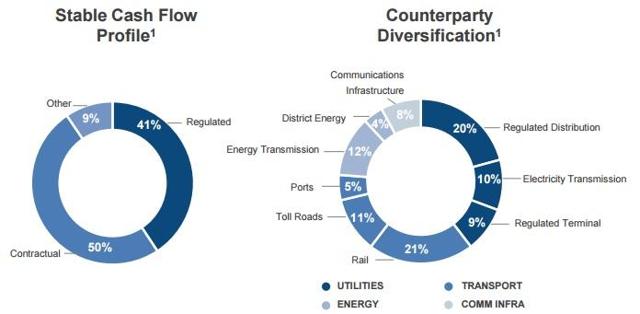 Source: Brookfield Infrastructure Partners investor presentation.
Brookfield Infrastructure Partners is a global utility with 30 assets spread across five continents including fast growing emerging markets such as South America and India. Meanwhile Dominion Resources is limited to supplying natural gas and power to 5 million customers in 14 states, and Exelon only operates as an electricity and wholesale natural gas distributor in Illinois, Pennsylvania, and Maryland.
In comparison Brookfield Infrastructure operates across a more diverse range of assets including: toll roads, rail roads, telecommunication towers, natural gas pipelines, electricity distribution, and ports on two continents. Because of this global exposure to some of the world's fastest growing economies Brookfield's growth prospects are far better than either Dominion Resources, or Exelon's.
For example, Dominion Resources, despite $11.25 billion in planned growth capital spending over the next three years, will probably struggle to match the 5.6% CAGR dividend growth rate of the past three years. Similarly, Exelon, America's largest diversified utility with 10 million customers, will have a hard time growing its payout at all despite $23 billion in planned capital spending through 2018.
These larger utilities are simply more mature and slower growing businesses.
Which brings me to perhaps the biggest reason to own Brookfield Infrastructure Partners.
2. One of the best payout profiles in the industry
Sources: Yahoo Finance, Morningstar, Fastgraphs, management guidance, investor presentation.
| | | | |
| --- | --- | --- | --- |
| Utility | Forward Yield | Q1 2016 Dividend Payout Ratio | Long-Term Projected Payout Growth Rate |
| Brookfield Infrastructure Partners | 5.1% | 62.8% | 5% to 9% |
| Dominion Resources | 3.8% | 79.6% | 4.7% |
| Exelon Corp. | 3.7% | 166% | 1.6% |
Like Dominion Resources and Exelon, the vast majority of Brookfield's cash flows are guaranteed, either via regulated prices, or long-term contracted fixed-fees. This allows it to not just pay a higher quarterly distribution, but one that is also more secure and likely to grow much faster over the long-term than its peers.
The combination of higher yield and faster payout growth is why management is targeting long-term total investor returns of 12% to 15% annually. Under the rule of thumb that total returns = yield + long-term dividend growth those returns appear realistic.
3. More profitable growth opportunities
Source: Gurufocus
| | | | |
| --- | --- | --- | --- |
| Utility | Return on Investor Capital (NASDAQ:ROIC) | Weighted Average Cost of Capital (OTC:WACC) | Net ROIC (ROIC_WACC) |
| Brookfield Infrastructure Partners | 10.65% | 5.81% | 4.84% |
| Dominion Resources | 6.07% | 3.45% | 2.62% |
| Exelon Corp. | 4.84% | 3.14% | 1.70% |
The secret sauce that powers Brookfield Infrastructure's superior distribution profile is the fact that its superb management team. Brookfield Asset Management (NYSE:BAM) serves as Brookfield Infrastructure's sponsor, general partner, and management. It has over 100 years of experience managing global real estate, infrastructure, and utility assets worth $240 billion. This experience and scale allows it to broker large, needle moving deals that help Brookfield Infrastructure Partners generate very impressive returns on investor capital.
That's because Brookfield Infrastructure is able to invest in quality, cash rich assets at very attractive prices wherever in the world an economy is experiencing a downturn. For example, when the Greek debt crisis brought Europe's economies grinding to a halt, Brookfield snapped up 7,000 telecom towers and 5,000 km of fiber optic cables for just $453 million. That investment is currently generating an outstanding 49% EBITDA margin.


Source: Brookfield Infrastructure Partners investor presentation.
In fact, as you can see Brookfield's EBITDA margin has been improving over the years and is higher than Dominion Resources and Exelon's respective EBITDA margin of 47.2% and 27.4%. What's more, because Brookfield is retaining a substantial share of its cash flow, over time its reliance on external funding sources should decline. This could potentially raise its profitability even more further driving strong payout growth for years to come.
Risks to be aware of
No stock is without some risks and in the case of Brookfield Infrastructure there are three you should be aware of. First, Brookfield Infrastructure's business model is similar to MLPs and REITs in that it relies on debt and equity markets to fund the majority of its growth. That means that it will periodically sell additional units which can result in sharp, short-term price drops.
In addition, because its assets are global Brookfield Infrastructure has exposure to currency volatility. Brookfield has hedged 75% of its cash flows over the next two years to minimize this risk. However, should US interest rates rise then the US dollar is likely to strengthen and Brookfield's cash flows may come in lower than expected. That could potentially put a crimp in management's distribution growth plans.
Finally, because of the above two risks Brookfield Infrastructure is more volatile than competitors such as Dominion Resources and Exelon as seen by its respective Beta.
Brookfield Infrastructure Partners: 1.30
Dominion Resources: 0.31
Exelon Corp. 0.18
While long-term investors can actually benefit from this higher volatility, (by accumulating on dips), risk averse investors wanting to avoid larger short-term draw downs might want to avoid this stock.
Bottom line: a true "sleep well at night" utility that deserves a spot in your portfolio
Don't get me wrong, I'm not saying that investors in traditional utilities such as Dominion Resources or Exelon should necessarily sell their shares. However, due to its: global, world class assets, stronger growth prospects, and top notch management team, Brookfield Infrastructure Partners represents a better long-term income investment for those seeking to add to their utility holdings.
Disclosure: I/we have no positions in any stocks mentioned, and no plans to initiate any positions within the next 72 hours.
I wrote this article myself, and it expresses my own opinions. I am not receiving compensation for it (other than from Seeking Alpha). I have no business relationship with any company whose stock is mentioned in this article.