Weekly crude oil inventory changes gyrate both headlines and sentiment, as well as the price of oil.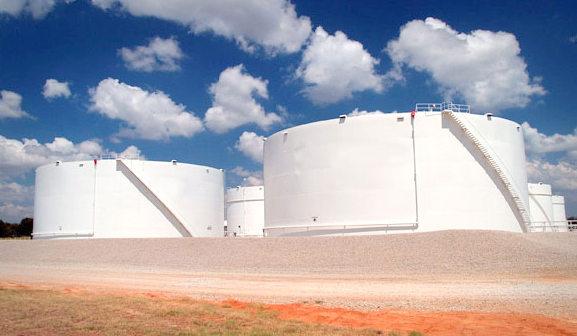 Perhaps escaping the small picture viewpoint is the underlying worry about crude oil inventories.
Are we building up or drawing down relative to what we expect?
Since weekly oil stock drawdowns and build ups don't mean much, we need to contextualize the situation with a big picture view.
So, what should we expect?
Since we know that summer driving season, from May to September, leads to seasonal draws, we should compare with the average draws for this season to see how we're doing relative to recent historical data.
Here's the current average summer draw down relative the 3- and 5-year averages obtained from EIA oil-stocks data. For 2016, this includes all of May and the first report of June.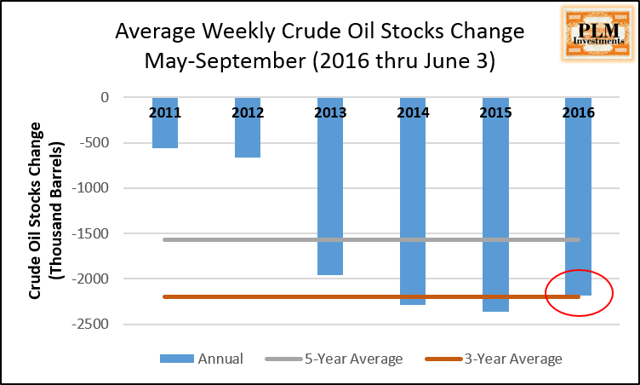 The last three years are a good indicator of what to expect in 2016, since this time frame more heavily weights the recent low gas price period when more driving miles were being accrued.
The 3-year average weekly summer inventory change is nearly identical to that of 2016 so far. We are right in line with the average. If these drawdowns persist at the same average level, the inventory relative to the 3-year average won't significantly change.
Note that the summer seasonal drawdowns of 2014-2015 occurred during the great oil glut buildup. Those summer drawdowns didn't counter the years' long accumulation of excess inventory.
This means, relatively speaking, we're holding steady at historically high inventory levels this summer. The weekly crude stock changes that we've been following do not indicate any significant deviation from the oil glut we've seen to date.
Keep an eye on the big picture.
Disclosure: I/we have no positions in any stocks mentioned, and no plans to initiate any positions within the next 72 hours.
I wrote this article myself, and it expresses my own opinions. I am not receiving compensation for it (other than from Seeking Alpha). I have no business relationship with any company whose stock is mentioned in this article.