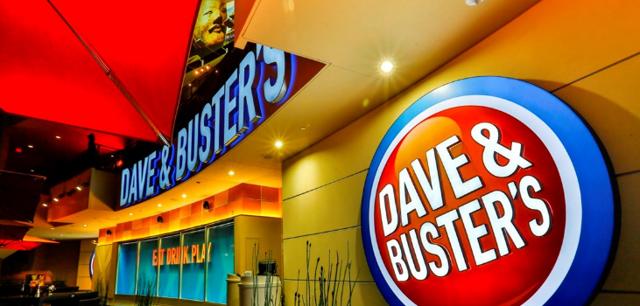 Dave & Buster's (NASDAQ:PLAY) has absolutely been on fire since it came public almost two years ago. Since that time, the stock has tripled, and after the recent Q1 report, shares are at a new all-time high. The company's unique blend of food, drink and games for adults and kids alike is a terrific model and has proven to work on a large scale. After Q4, I cited PLAY's margins as a source of growth, and since that time, shares are up about seven bucks. So after the blowout Q1, is there still more left in this one or might it be time to take profits?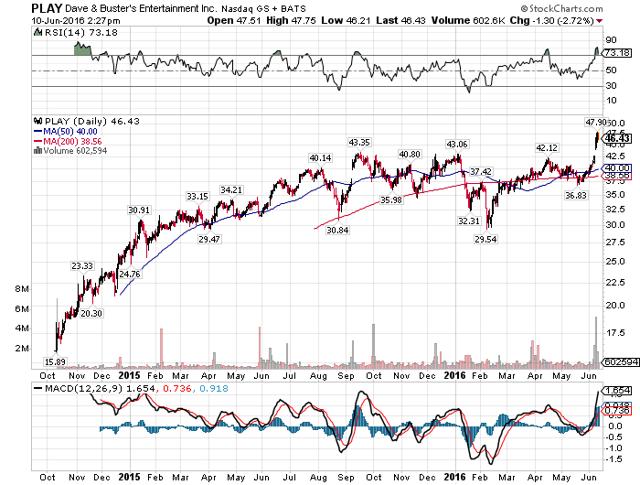 PLAY hasn't always been this good, and that is why the stock opened at $15 instead of $30 or $40. We all know how excited investors get when a unicorn goes public, but PLAY was hardly such. But a couple of years of amazing execution has elevated PLAY into the stratosphere of food/entertainment stocks and with good cause. Margin expansion has been the key, but revenue growth is no slouch either.
In Q1, PLAY's total revenue was up a very impressive 18% as 10 new stores were opened in the past year. PLAY is going to continue to see strong revenue growth for the foreseeable future as it expands its footprint and why not? The company is having tremendous success, so certainly investors are all for it. But there's more to it than that PLAY's comps continue to stack gains on top of each other as well. Comps were up 3.6% in Q1, which is nice on its own but, in light of last year's +9.9% number, it is tremendous. A ~14% two-year stacked comp is almost unheard of in today's restaurant sector, and while PLAY is not a pure food vendor, it is still in that realm. And the way it continues to get people in the door and entice them to spend money is really something to behold.
Operating income also was up a staggering 340bps in Q1 to 19.5% as, among other things, PLAY continues to see a mix shift more toward entertainment and away from food. This is a win-win for PLAY, and something I called out earlier this year as a reason to be bullish. The company's food revenue necessarily carries lower margins than its gaming revenue, so the more revenue that shifts toward the latter, the better it is for overall margins. Of course, higher overall sales means positive leverage on fixed costs and that is certainly in play as well, but the mix shift is very favorable, and so long as it continues, PLAY's operating margins will continue their trek upwards.
Analysts have been busy raising their respective targets for PLAY in recent weeks as investors are digesting the terrific news that continues to be reported. PLAY's EPS growth rates for this year and next year, respectively, are 29% and 16%. That kind of growth is very difficult to achieve, but PLAY is doing it through a combination of revenue and margin growth. It also authorized a $100 million repurchase program, good for about 5% of the current float. That will provide a small lift in excess of mopping up dilution related to executive compensation. But the real story here is margin growth.
We know PLAY will hit mid-teens growth in revenue because it is still very busy opening new stores and its comps continue to be tremendous. And if you're wondering why PLAY's shares are up so much since coming public, this chart of its profitability should clear things up.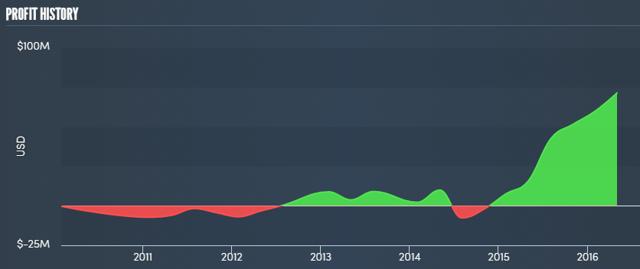 Source: Simply Wall St.
Analysts have the good times rolling in a similar trajectory for the next couple of years, and while it will be tough to live up to, the pieces are in place to be sure.
PLAY took the occasion to bump its guidance for just about everything after the report and by substantial magnitudes as well. With revenue, comps, EBITDA and the share count all moving favorably, analysts are trying to keep up with PLAY's success. And even with the move up in estimates, PLAY is still going for 24 times this year's earnings. That's steep, but in rare cases, one can justify paying that sort of premium for a truly great company. PLAY is one of those companies.
In fact, given the enormous rate at which PLAY is slated to grow earnings in the coming years, I'd say 24 times earnings is a borderline bargain. We're going to see double-digit revenue growth for a long time to come as PLAY continues to expand into new markets, including entire states where it currently has no stores. In addition, its mix shift is a big driver of earnings growth as its entertainment revenue continues to outpace food sales growth. And with the new repurchase program, PLAY will likely get another 2% or so in EPS growth annually depending upon timing of purchases. Either way, I think PLAY - despite the fact that it is near its highs - is still a buy here.
Disclosure: I am/we are long PLAY.
I wrote this article myself, and it expresses my own opinions. I am not receiving compensation for it (other than from Seeking Alpha). I have no business relationship with any company whose stock is mentioned in this article.