Realty Income Corporation (NYSE:O) is a great triple net lease REIT. My investing philosophy is to focus on two major types of investments. One is finding exceptional companies at a fair price or better and buying into them as a long-term holding. The other is trading in the less efficient names within the mREIT sector because a lack of understanding can lead to material disconnections between price and value.
Top Quality Choices
Within the triple net lease sector, there were four REITs that caught my eye as excellent candidates for my portfolio. Other than Realty Income Corporation, the list includes National Retail Properties (NYSE:NNN), STORE Capital (NYSE:STOR) and EPR Properties (NYSE:EPR). I have positions in NNN and STOR.
I wanted to put in a position on EPR when I began covering them but needed more time to do the due diligence and the price started climbing quite materially before I felt my research was sufficient. It wasn't all a loss as I found an attractive play in the preferred shares and was able to build some EPR into my portfolio that way.
The Yield Spread
A system that is too complex won't be updated frequently enough unless the updates can be automated. Therefore, the technique needs to be simple to update. The objective here was to make a system that is fairly simple but remains actionable.
The following chart uses those dividends for the last 12 months to project a rough version of the dividend yield. This gives us an idea of the price on the shares relative to the dividends that would be paid.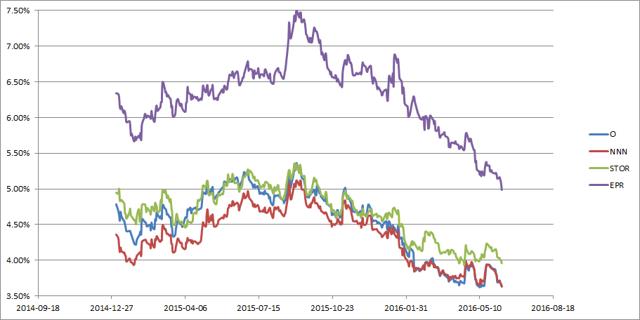 For most of the period, EPR traded at a massively higher yield but the spread between the yields on EPR and O has been shrinking as EPR had an exceptional run. Keep in mind that the yield on EPR also falls faster as prices climb. Each time a price doubles with no change in the dividend, it would result in the yield being cut in half. The same principal applies here, so a given percentage increase in share price for EPR drives down the yield faster.
To make it simpler, I have another chart that compares the yield on EPR, STOR, and NNN relative to the yield on O.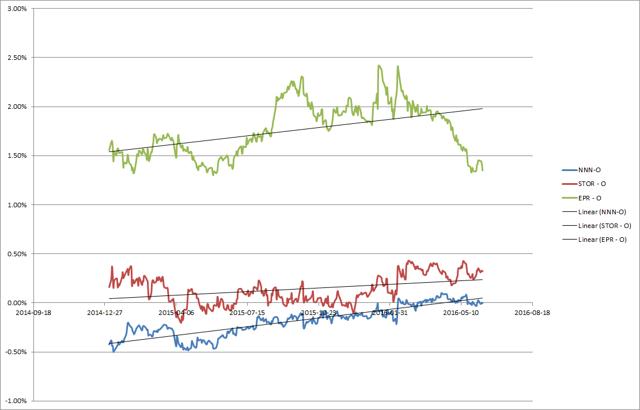 In each case, the trend line suggested that O was climbing faster as the peers moved to offer a larger yield relative to O. At the start of the measurement period, NNN would've demonstrated a lower yield and it suffered for that with weaker price appreciation.
The chart for EPR here looks fairly funny because the trend line points higher, but over the last couple months, EPR's yield advantage is disappearing. If the strong pricing of EPR holds up for a few more months, the little gray line will have to change directions.
Looking at STORE Capital
If an investor wants to outperform Realty Income Corporation in this environment, then STORE Capital would be a reasonable bet. While money poured into the high quality triple net lease REITs, it didn't pour into STORE Capital quite as fast. STOR is a smaller triple net lease REIT but they have an exceptional management team and a great strategy for working with smaller businesses where they can get higher capitalization rates and where they have access to store-level operating numbers to run their credit assessment before signing a tenant to a lease.
I see STORE as a great option here to aim for a little more yield and expect them to grow dividends well over the next several years.
Conclusion
I was getting pretty keen on the business model for EPR as a way to get access to recreational properties in a REIT format with a strong dividend yield, but the rapid share price appreciation pushed me away from the common shares and into the convertible preferred shares.
I picked STORE Capital as another great triple net lease REIT. They've fallen behind O on price appreciation over the last several months but the stronger yield still looks like a positive and I would look to add to my position on any significant weakness in share prices.
If O comes back down towards the yield level on STOR, I would be happy to buy it and complete the batch of equity exposure to the top triple net lease REITs.
Disclosure: I am/we are long STOR, NNN, PREF SHARES OF EPR.
I wrote this article myself, and it expresses my own opinions. I am not receiving compensation for it (other than from Seeking Alpha). I have no business relationship with any company whose stock is mentioned in this article.
Additional disclosure: Information in this article represents the opinion of the analyst. All statements are represented as opinions, rather than facts, and should not be construed as advice to buy or sell a security. This article is prepared solely for publication on Seeking Alpha and any reproduction of it on other sites is unauthorized. Ratings of "outperform" and "underperform" reflect the analyst's estimation of a divergence between the market value for a security and the price that would be appropriate given the potential for risks and returns relative to other securities. The analyst does not know your particular objectives for returns or constraints upon investing. All investors are encouraged to do their own research before making any investment decision. Information is regularly obtained from Yahoo Finance, Google Finance, and SEC Database. If Yahoo, Google, or the SEC database contained faulty or old information it could be incorporated into my analysis.