The defense sector seems to have held up rather well over the course of the last few years despite U.S. defense spending dropping by 25% from 2008-2015. Much of this can be attributed to multiple expansion, just like much of the overall market.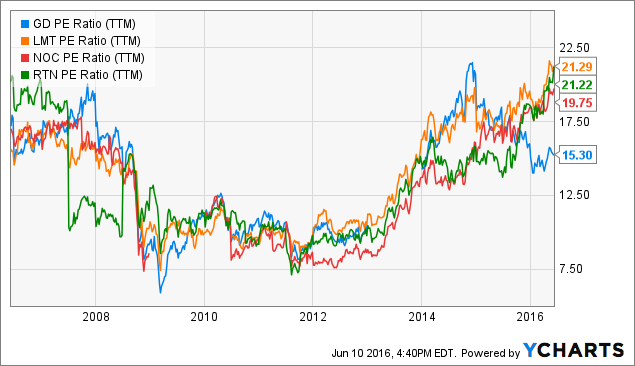 GD PE Ratio (TTM) data by YCharts
General Dynamics (NYSE:GD), however, seems to have dislocated from its peers Lockheed Martin (NYSE:LMT), Northrop Grumman (NYSE:NOC) and Raytheon (NYSE:RTN). This is what initially grabbed my attention, which led me to ask myself "why?"
Not exactly struggling...
I've owned General Dynamics in the past, but only loosely follow the company now. While 15 times earnings probably isn't a screaming bargain on an absolute basis (more on that later), the discount to its peers struck me as a little strange.
First off, the company's backlog has significantly improved since its record low in 2013 - now comfortably sitting at almost $65 billion as of its first quarter in 2016.
General Dynamics has four segments:
Aerospace (accounted for 28% of FY2015 sales)
Combat Systems (18% of FY2015 sales)
Marine Systems (25% of FY2015 sales)
Information Systems and Technology, or IS&T (28% of FY2015 sales).
Its Gulfstream business supplies lots of corporate jets, and the company controls about half of the large-cabin aircraft market, according to Morningstar. Its overall Aerospace market share is around 30% ex-light aircraft.
Its Marine Systems segment makes things like ships and submarines in a duopolistic US market. Not a lot of competition there. The Combat Systems segment makes Abrams Tanks which currently have an installed base of around 4,000, which often lead to spare parts and service sales. General Dynamics also is one of the few defense companies still pushing into the Federal IT services market, which it recently said was improving.
According to CEO Phebe Novakovic, as much of 70% of the firm's IT services business is related to the Defense Department and intelligence customers. She also noted that the IT services unit is very disciplined, staying away from commodity contracts that drag down margins. She elaborated that because of low capex requirements (as opposed to say, shipbuilding), the unit earns "terrific return on invested capital."
I think all the company's business segments either exhibit solid moats and/or attractive returns. Summing the four segments into one whole, I think the numbers back this up as well.
The moat in numbers
Looking at General Dynamics in relation to its more highly-valued peers, the discount continues to look unwarranted.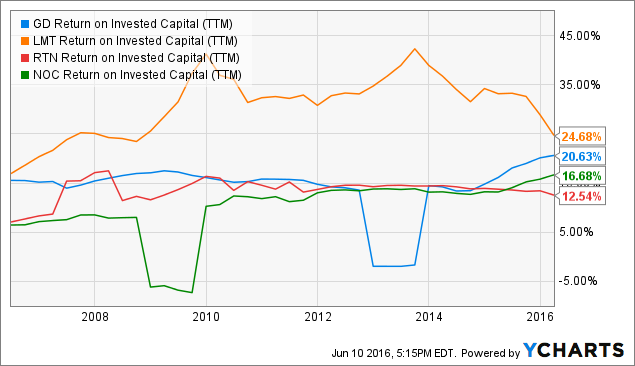 GD Return on Invested Capital (TTM) data by YCharts
With the exception of Lockheed Martin, General Dynamics looks best-in-class. Lockheed also has a finance unit and operates with significantly more return-magnifying leverage, however, which I think can be demonstrated better with the below chart.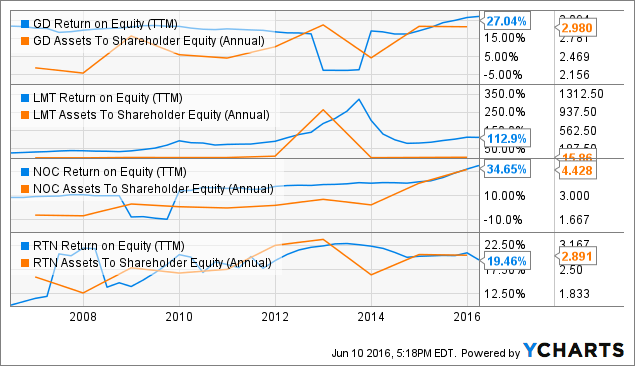 GD Return on Equity (TTM) data by YCharts
Examining returns from an equity holder's perspective, General Dynamics falls behind in return on equity, but as previously mentioned, operates with much less leverage. Lockheed's leverage is at a whopping 15.86X. More leverage equals more magnification of returns. To put things in perspective, if you adjusted Lockheed's leverage down to equal terms with General Dynamics (2.98X), its ROE would be more in the low to mid 20% range.
It appears General Dynamics is more conservatively financed than its peers, which somewhat helps to explain the lower numbers. It should be noted that ROIC and ROE both hitting 20% or more with limited leverage is impressive in its own right.
Strong balance sheet paves the way for more dividend growth
Turning to the balance sheet, it becomes clear that General Dynamics is the most conservatively financed with a less debt-heavy capital structure than that of its other competitors.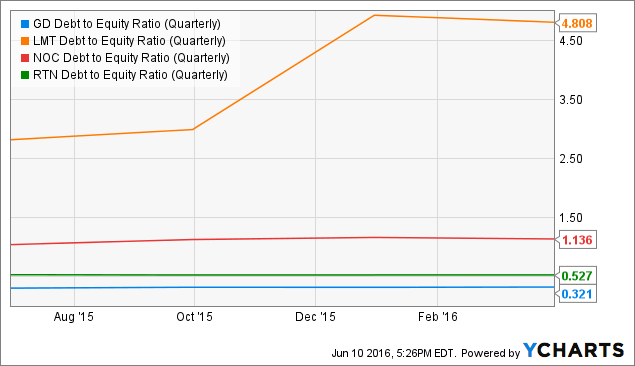 GD Debt to Equity Ratio (Quarterly) data by YCharts
General Dynamics, judging by its returns on both equity and invested capital, appears to be an excellent value creator for shareholders, all while keeping the balance sheet in check. Doing this for over a decade indicates a very wide moat and very competent management in my opinion.
A strong balance sheet also has supported strong dividend growth with increases for almost two decades. The last three annual increases were each in the ballpark of around 10%, too. Despite the rate of increases, the payout ratio still sat at a comfortable 37.3% at the end of its fiscal 2015.
If we take the amount of earnings not paid out (the retention ratio), or roughly 62.7%, and multiply it by the company's return on equity of 27.04%, we can calculate the sustainable growth rate, which is basically the potential growth the company can generate internally at its current level of profitability.
General Dynamics' sustainable growth comes in at a healthy 17%, which coupled with the company's wide moat, strong balance sheet and respectable cash flows, leads me to believe that it will have lots of wiggle room to continue to bump its dividend annually going forward.
Conclusion
Looking at General Dynamics in relation to its peers leaves me scratching my head. I can't seem to find a reason for such a wide discount to its peers. It's cheaper on a forward basis as well, trading at just 14 times forward earnings, versus forward P/Es in the 17 to 18 times range for peers.
While I don't think shares of General Dynamics are necessarily a screaming bargain (considering its average five and 10-year multiples run closer to 13.5 to 14 times earnings), it looks steeply discounted versus its peers, despite its arguably stronger balance sheet, dividend growth prospects, and industry-leading capital allocation metrics. I'm currently considering adding General Dynamics back into my portfolio. Fairly valued quality is getting harder and harder to come by nowadays.
What do you think? Please share your thoughts in the comments section below.
If you enjoyed this article and would like to receive further updates and articles in the future, please feel free to hit the "Follow" button at the top of the page by the author's name.
Disclosure: I/we have no positions in any stocks mentioned, but may initiate a long position in GD over the next 72 hours.
I wrote this article myself, and it expresses my own opinions. I am not receiving compensation for it (other than from Seeking Alpha). I have no business relationship with any company whose stock is mentioned in this article.
Additional disclosure: Articles I write for Seeking Alpha represent my own personal opinion and should not be taken as professional investment advice. I am not a registered financial adviser. Due diligence and/or consultation with your investment adviser should be undertaken before making any financial decisions, as these decisions are an individual's personal responsibility.