By FS Staff
The following is a summary of our recent interview with Dr. Robert Eisenbeis of Cumberland Advisors, which can be accessed on our site here or on iTunes here.
Even with the very poor jobs number last Friday, showing only 38,000 jobs were added for the month of May, Cumberland Advisors' Chief Monetary Economist, Bob Eisenbeis, says the US jobs market is even worse than people realize.
Here's what the former Executive Vice President at the Federal Reserve Bank of Atlanta told Financial Sense listeners on Wednesday:
"The economy in the first quarter was dismal in terms of the growth relative to what people had hoped for. Then we got this jobs number and there's been a significant decline in the number of jobs created in the last four or five months on average relative to what we saw the previous year."
But here's the problem:
"[P]eople tend to make a mistake when they look at those jobs numbers because they don't GDP adjust them. An economy that's much larger should be creating more jobs than an economy that's smaller. Well, we're just looking at raw numbers in terms of jobs that are being created by the economy so a number on the order of 180,000-190,000 today is a much weaker number than 180,000 in 2005, 2006, or even in 2010 because the economy has grown (in total size since then). So you need to GDP adjust those numbers and so the jobs numbers are really not as robust as people think they are."
If that's true, what does that mean for the Fed's own broad measure of labor market strength, which is now back at 2008-2009 recessionary levels!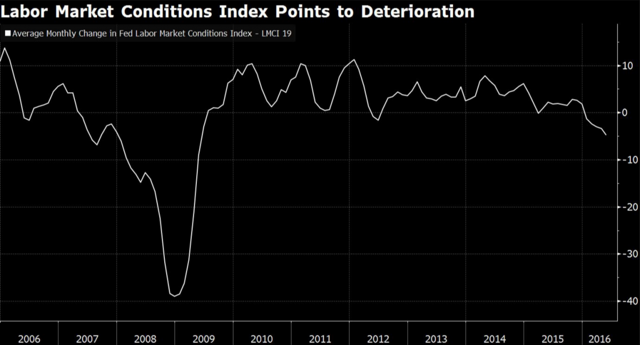 Source: Bloomberg
Eisenbeis also enlightened our audience with another interesting piece to this puzzle. Here's what he had to say:
"Now there's a second issue and that's the fact that in an economy like we're experiencing right now-coming out of a Great Recession-it's one that we haven't experienced before. The closest thing was the Great Depression...and so when you have an economy that's essentially in unchartered waters, that makes the forecast errors even bigger."
As we've noted many times before, that's why it's important to also look at non-government data sources as well for determining economic trends.
Given the above and the "litany of uncertainties that Chair Yellen ticked off in her [recent] speech," Eisenbeis said, "September is the first real meeting where they can justify a rate increase."
Of course, if the labor market continues to deteriorate and recessionary fears pick up again, expect more easing before another rate hike.