"The markets do whatever they have to do to frustrate the most people." - Unknown
Thanks to a bad employment number and the continuing roller coaster of up, down economic data, investors are left to sit and ponder just what they should do now. For sure, the data is painting a mixed picture. We watched the market negotiate the "Sell in May" story and were immediately hit with the "June Swoon" talk, but the S&P grinds higher.

Perhaps it may be time for a pause. Because of where the market stood entering this week, I give this 'talk" a little more credibility. Those that are looking for new highs to be made in short order may have to wait a bit, as I can see a couple of headwinds that might slow down this latest move.
Perhaps I need to clarify that. There are tailwinds responsible for this rally that I feel may not be as strong as they have been. If and when they start to slow, it could also signal a pause just when the S&P is a stone's throw from new highs.
Crude oil has rallied 96% off the February lows, that is no small feat. Sideways or weaker price action on this front in what would be described as a cooling off period, could easily spill over to the general market.
In addition, the high yield market has been a tailwind for investors during the rally, as fears were calmed when WTI showed strength. This eased the angst over energy defaults to some degree, and that led to a nice push to higher prices in the high yield market. That trend may wane somewhat and the tailwind effect will not be as strong as it has been.
I also note the technical picture that is sending a message which indicates the overall market is in an overbought condition, while the VIX sits at an extremely oversold state. In the past that setup has led to pullbacks in the S&P. The exact opposite was true when the tailwinds took over adding support for the rally to this level. Let me be clear, neither of the issues I mention seem to be a threat to the long term view of the market. However, a pause that refreshes can do wonders for that trend.
An offset to those concerns may be what we just witnessed in the market after the jobs report was released. An initial negative reaction, followed by a strong countertrend rally. The average Russell 1000 stock gets 27% of its revenues internationally, with larger cap stocks even more of a dependency on the USD remaining weaker.
Investors have to now weigh the growth perspective that the data from the jobs report brings to the table, versus the combination of lower interest rates and a lower USD. Interest rates for 2016 are much less likely to rise dramatically than previously thought by the majority of analysts. That's bad for the dollar and good for stocks.
While the equity market is grinding its way higher, the good news for the Bulls is that the market isn't showing signs of rolling over from a lower high, like it did in earlier attempts at new highs. The S&P rallied to within 1% of its all time highs. This is where every rally in the past 16 months has failed.
However, I do see differences in the market internals, which are much better. The S&P 500 total return index is at all time highs, as are breadth measures like the cumulative advance/decline line for both the NYSE and the S&P. I interpret that as a positive for the long term health of the market, but breadth of that magnitude can also suggest a pullback is near.
When I think about that new high on the total return index, it reminds me of the importance of dividends and dividend reinvestment. The S&P 500 is up over 100% from the start of 2006 with dividends reinvested, but not even 70% on price changes only.
That 30+% makes a huge difference, and in my view squelches all of this talk about investors having no returns on their portfolios because the S&P has gone nowhere. Those comments typically come from a mindset that has not grasped the entire investment picture. Instead focusing on a small subset of all of the factors that make up "investing".

Economy
Overall, a light week on the U.S economic front regarding data releases.
The JOLTS report released this week was unique, in that total job openings tied the July 2015 numbers for the largest on record during the recovery. More than 100,000 openings were added, bringing the total to 5 straight months of adds. However, total hires for April fell to 5.1 million down from 5.3 million the month before.
It appears that the disconnect between total openings and the lower hires is corporations are having a hard time matching skill sets to their open positions. So from that standpoint there are plenty of jobs out there, but not many qualified to fill them. Therefore, I don't see this as a reflection of a weakening economy as some are suggesting.
Bespoke Investment Group adds an interesting view to the situation.
"Back in 2009 when there were 120 people on payrolls for everyone available job opening in the Manufacturing industry. Now, however, the balance has shifted dramatically. As of April, there were less than 30 people on payrolls in the Manufacturing sector for every one opening; that's the lowest on record. In other words, employers are having a very hard time filling positions."

Global Economy
A Reuters report cites the results of a telephone poll that has the Brits leaving the European Union.
Another poll with the same results that the Reuters report indicated was floated out on Friday. That squelched any rally attempt and sent stocks to their lows for the day. This issue will now dominate the headlines until the actual vote on June 23rd.
Former Prime Minister Tony Blair weighed in with this views on "Brexit", as he envisions the final vote rejecting a British secession.
Industrial Production in Germany increased in April up 0.8% month-over-month, which was better than expectations looking for a 0.7% gain. Separately, 1Q GDP for the Eurozone was revised up to +1.7% from a preliminary reading of 1.5%.
The World Bank slashed its 2016 global growth forecast on Wednesday to 2.4 percent from the 2.9 percent growth rate forecasted in January.

The High Yield Credit Market has been discussed for a while as it was presented by many to be the next Achilles heel for the equity market. Massive energy debt defaults and the like were being bandied about as issues that would surely bring about another 2008.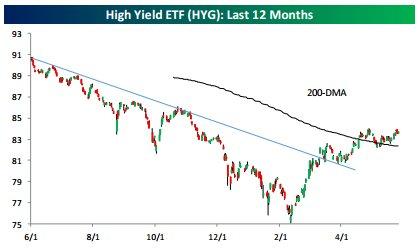 Source: Bespoke
Back in March, HYG broke its long downtrend. Now it seems that Investors in the high yield sector are realizing that the concerns that were magnified in late 2015 and early 2016 were overstated.
The improvement in both sentiment and price action is directly attributable to high yield Energy sector debt. The levels that we saw during their fear event were similar to the levels that were experienced in the High yield market during the Financial crisis, when it appeared the entire U.S. banking system would fail. Fear at extremes.
Last October, I spoke to the energy debt situation, and then turned my attention in November to the High yield market. Each time I voiced an opinion that this entire issue was overblown.
While the index did not signal Armageddon like many thought, it would appear that this move could slow down somewhat and not be the huge tailwind it once was.

Earnings
My optimistic market outlook has been predicated on the earnings trough we have experienced coming to an end. Looking over the latest internals in the Thomson Reuters reports, I find that 4th quarter energy earnings estimates have now increased from +7.9% about two weeks ago, to +12.7% this week. That drag on total earnings is lessening.
Thomson Reuters data:
Forward 4 quarter EPS estimate for the S&P 500 rose to $123.29, vs. last week's $123.26. This was the 4th consecutive week where the "forward 4 quarter" estimate rose sequentially.

PE ratio: 17(x)

S&P 500 earnings yield: 5.87%, same as last week.

Year over year growth rate of the forward estimate: +0.96%, same as last week.

The Political Scene
Strategas Research reports:
"During an election year, seasonality has tended to peak in early June, with the worst performance coming in open election years such as this one. The S&P 500 has correctly predicted 19 of the past 22 presidential elections going back to 1928 and every election since 1984. If stocks are higher in the 3 month period before the election, the incumbent party wins and vice versa."
That may be the case, but I am more in the "uncertain" camp and the role that it will play this time around. The candidates presented to us would seem to favor that view.
Washington Analysis gives us a peek into what happens after the election:
"Dating back to 1933, S&P performance has been strongest under a Republican president and Congress, which seems virtually certain if Trump wins. Annual returns averaged 15.1% in those cases. The lowest returns, 4.9%, occurred under a Republican president and Democratic Congress, while a Democratic president and Republican Congress had a 13.3% return.
Although the election is within sight, it is such an unknown that I don't contemplate changing strategy over this now. An example of what I am referring to. Everyone shudders over Trumps rhetoric on the global trade issue. Imagine what a lower corporate tax rate along with a lower rate or a tax holiday for the trillions that are now held in foreign accounts, would do. All of it, some of it, or a completely different scenario could play out. Therefore, inaction on this topic is the course I plan to follow for now.

The Fed
The Fed has an unofficial blackout period a week before and after the FOMC meeting, when officials go quiet. Just ahead of this blackout period, this past Monday, the Fed Chair spoke on the economic and monetary policy outlook.
In recent decades, the Federal Reserve has become much more open. However, Fed communications have not always been received clearly by financial market participants. That has become problematic on a number of levels.
Prior to 1994, the Fed did not even announce changes to the federal funds target rate. The Fed now issues a policy statement describing the economic outlook and the reasoning behind policy decisions. Detailed minutes are released three weeks after policy meetings. The Fed chair now conducts press conferences four times per year, explaining in some detail how decisions are reached and taking question from the press. And yet, market participants are often confused by the Fed, unsure of what the central bank is doing.
Currently, the Fed's main directive is that policy decisions will be data dependent, centered on improvement in labor market conditions and the inflation outlook. However, it's still going to be a judgment call. Fed policymakers will consider a wide range of economic information, including anecdotal information. Yet, data are bound to be mixed. So while the Fed is in the crosshairs of most investors' angst, one needs to step back and realize this isn't a black and white situation. Chair Yellen stated that very clearly in her commentary this past week.
Ms. Yellen described her message on the economy "largely favorable" but noted;
"Recent developments have been mixed, recent signs of a slowdown in job creation bear close watching, and that last Friday's labor market report was disappointing."
Yellen said she was "cautiously optimistic" and she believed "that the federal funds rate will probably need to rise gradually over time." However, in addition to voicing her concern about the "disappointing" jobs report, she also cited other areas of concern.
"Business investment has been weak in the past six months or so, even beyond the energy sector, and investment in capital equipment is reported to have declined in the last quarter of 2015 and first quarter of this year."
She also cited as a potential uncertainty, one that might impact the economic outlook, the upcoming referendum in the United Kingdom.
While it is nice to discuss all of the issues surrounding the Fed, there is only one thought that needs to be kept center stage. Raising rates from these levels is not a negative.
Sentiment

Two weeks ago the American Association of Individual Investors reported that bulls saw a sharp bounce, rising to 30.1% from 17.7%. The increase was the largest one week surge in bullish sentiment since November 2013.
That was short-lived as this week's number rolled in at 27.8%. That makes 32 straight weeks where bullish sentiment is under 40%. Bearish sentiment saw a similar decline this week, falling from 29% last week. With both bulls and bears declining, neutrals increased back up to 44.3%. That seems to be the trend each time the S&P flirts with new highs.
Bank of America Merrill Lynch's "sell side" indicator shows Wall Street strategists recommended stock allocations fell to a lower level than at the March 2009 lows.
Urban Carmel chimes in with his view of investor positioning;
"Looking at small investor opening put/call transactions, gives a cleaner view of how retail investors are getting positioned by excluding the hedging transactions of large investors. Retail investors remain skeptical; their relative put buying is excessive, and this is mostly associated with higher future prices in SPY. Near term tops in SPY have only arrived when call buying has dominated. That's not the case at present."
And he provides this chart to further bolster his thoughts.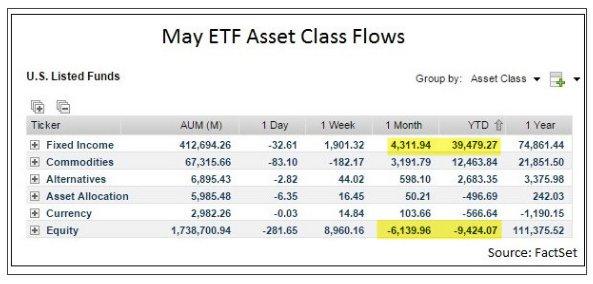 Jason Goepfert (SentimenTrader) added his comments in a Barron's article recently:
"Examining data beginning in 1928 shows that in 12 out of 14 years in which the SPX posted three consecutive months of gains following a 12 month low (like now), the market rallied for the next three months. If the fourth month rose as well, future gains in the months ahead were even better, except for 1930 and 1940."

Crude Oil and the USD
The price action this week saw crude oil take out its highs from last October and is trading at its best levels since last July. A solid rally that has now taken prices to a near double off their lows in February.
I shared my concern earlier that this tailwind might subside if the financial markets become concerned that prices have risen too high, too fast. Then again, the oil market just might decide to play the frustration game with investors. Those looking for a pullback here may now watch WTI on its way to the $55- $60 level. It's just a difficult call for anyone to make with certainty.
Crude oil production here in the U.S. is now down to 8.74mm barrels per day, and the trend to the downside seems firmly in place. Combine that with the recent draws we have seen in inventories and it explains why the price of WTI continues to be firm. For the week WTI closed at $48.99, up $0.22.
After the bombshell jobs report earlier in the month, the USD was crushed. So from a technical view, the mini rally from the April lows looks to be over. A small reversal from that dramatic down move is possible, but I don't see the USD giving bullish investors headaches as I look out to the next quarter or so.
The Technical Picture
The rally from the February lows is one that has demonstrated good internals. Sixty five percent of stocks in the S&P 500 are trading above their 50 day Moving averages, a very solid reading. Breadth is strongest in Energy, Financials and Healthcare. The Financial sector still has a stronger reading than the S&P 500 as a whole. With rate hikes seemingly pushed out, they may not play a large part in any rally from here. Therefore the sector may become one of the issues I see that could add to a market pullback.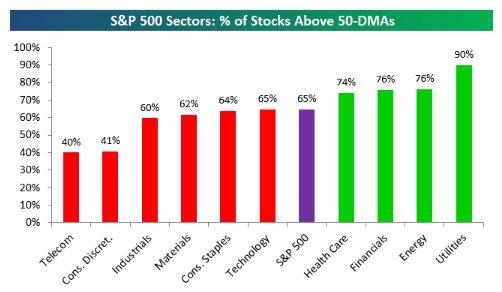 Source: Bespoke
The recent talk that has some investors concerned has been about a "head and shoulders" topping formation that many see developing for the S&P. This pattern is one of the most respected in terms of accuracy and direction. The skeptics looked at this development as the S&P approached new highs and sounded their warnings.
According to Investopedia;
"A head and shoulders pattern is a technical analysis term used to describe a chart formation in which a stock's price: 1) Rises to a peak and subsequently declines; 2) Then, the price rises above the former peak and again declines; 3) And finally, rises again, but not to the second peak, and declines once more. The first and third peaks are shoulders, and the second peak forms the head."
Looking at a short term chart it was a possibility that a negative pattern could be traced out. However, when the index broke above not only its downtrend line, but its May 10th reaction high, the pattern was broken.
What may be developing now indicates that the S&P may be tracing out a giant reverse "Head and Shoulders" bottom chart formation, which is highly bullish. It's telling that no one has mentioned that. If this does occur, it portends higher prices sometime between now and year end. Or if you prefer I put it another way, the chance for a market crash happening in 2016 is off the table, despite all of the talk proclaiming this market dead to all.
While the potential "Head and Shoulders" pattern was being discussed, not a word was ever heard about the classic double bottom pattern that was very obvious back in February. The January low, then a rally, followed by a retest of that low which held. Yet all that we heard at that time was the market was ready to crash, and anyone staying in the market would be looking at huge losses. The attention being paid to the negatives during this bull market have been astonishing.
The daily chart of the S&P 500 shows that the index has cleared just about every technical hurdle posted. The next true resistance point is the June closing high of 2132.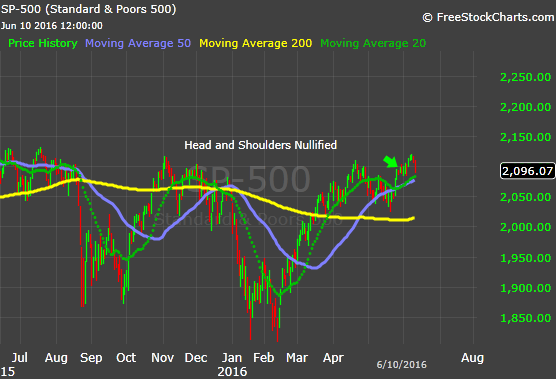 Chart courtesy of Freestockcharts.com
Short term support is at the 2085 and 2070 pivots, with resistance at the 2131 pivot.
Throughout the entire bull market and more importantly when investors' wills were severely tested, I maintained that while the long term trend is in place there is no need for "investors" to make any drastic changes. A contradictory message that the" top is here" has been in vogue for that same period of time. Enough already.
Without going into another 3 paragraphs to explain what has, and is taking place in the equity market, this picture of the monthly chart for the S&P confirms my thoughts and the market strategy I have deployed.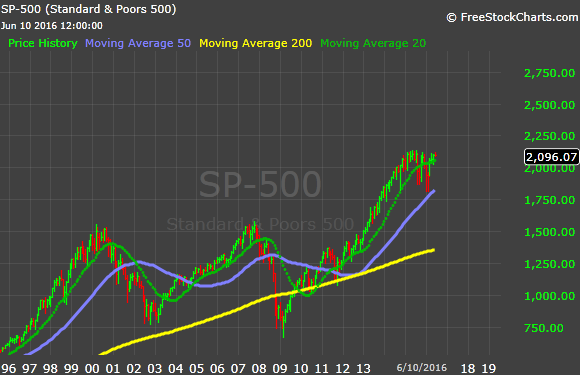 Chart courtesy of Freestockcharts.com
If anyone can point out where the Long Term trend has been violated and is not in place, please speak up. This chart didn't just pop out of the sky; it's been there for a while, presenting the same picture.
Followers know that I respect this monthly chart. When I saw a temporary break in the trend I noted the cautionary signal, suggesting a "wait and see" rather than "panic" approach. Since then the price action reconfirmed what has been in place since 2010. It's simple - when that trend rolls over and changes, so does the strategy, not before.

Individual Stocks and Sectors
Buying solid fundamentals and growth while it is out of favor is a cornerstone to my investment strategy. Healthcare was a modest outperformer in May (S&P 500 Healthcare index +2.2% m/m), although it remains the worst performing sector in the S&P 500 this year and the only sector in the red (-0.6% YTD).
There is an ongoing disconnect between solid healthcare fundamentals and sluggish stock performance. Calendar 1Q earnings season was solid. More importantly, 2016-17 earnings growth projections for the sector are still well ahead of the broader market, yet sentiment towards these stocks remained mostly unchanged in May.
Over 80% of companies within the S&P Healthcare index exceeded first quarter street EPS estimates. Earnings growth estimates for 2016 remain unchanged at approximately 9%.
There are a couple of issues at work. Five straight years of sector outperformance has brought the need for consolidation. The present mindset of investors reveals an aversion to healthcare given the uncertainty surrounding the U.S. presidential election.
As always, stock selection within this or any other sector is key. There is value here given the growth prospects and the issues that face the sector are short term oriented. A perfect set up for the long term investor.

Many market participants take out their frustration on the Fed and the present interest rate environment. That frustration comes from interpreting the Fed and the market incorrectly. The initial goal when the Fed embarked on QE was to improve the economy by what is termed the Wealth Effect: higher asset prices, creating more consumer spending, that would eventually trickle down to the rest of the economy.
Scott Grannis supports that view with his timely missive on U S. Household net worth.
I mentioned in a previous article that this was one of the clearest signals that we might ever see in our lifetimes. It told investors where they had to place their money. The result has been one of the best bull markets that many of us have ever, or will ever experience.
So many investors express their anger and decided to grind their axes for years now over this issue. Market participants need to realize that they can't change the Fed's decision, so it's a simple solution, play the cards that have been dealt. To this very day, many have decided to dismiss that message entirely.
All of that is history and market participants now face the challenges that the present equity market environment is throwing at them. As it exists today, anyone with a view out a few years or more, need not do anything other than the typical minor adjustments.
The short term view presents two scenarios. First, the possibility of a period of consolidation after the move off of the February lows. That works off any excess before moving higher and it seems the more plausible scene. Remember the market isn't interested in what more likely, it will frustrate the majority whenever it can.
This consolidation can morph into a pullback as the result of another "scare" due to one of the events out there that are present risks to the market. "Brexit" reared its ugly head on Friday, as an attempt to rally off the weak opening was snuffed out. A new poll released in the afternoon showed that more favor the "leave" option.
The month of June can be one of weakness. It has a history of being one of the weaker periods of the summer. But July is one of the summer's best months for equities. So unless any headline scare becomes really quite disruptive, I look for any pullback to be contained. This means that any short term weakness in June is likely a stepping stone for higher prices into July.
The second setting is one that just doesn't seem to fit now because of an overextended market, with more headline risk. A market that creeps up to make new highs before any setbacks. That would leave it extremely overbought and vulnerable to a larger pullback.
So, take your pick as far as a short term scenario. About the only thing I can be sure of whether new highs are made this time around or not, the top callers will step out of their dens to declare the bull market is over. Again!
The deciding vote as to whatever happens will be cast by corporate earnings. The earnings picture that I believe will unfold, adds to my confidence that any market weakness would be a chance to enter into select stocks that would benefit as the market then turns higher. Remembering that the earnings picture is the ONE issue that could be a game changer, it will be monitored closely.
In keeping with the opening quote, there are plenty of signs that have indicated the path of maximum frustration for the skeptics may be a continued grind higher for equities. Two of those signs: improving market internals and investors ignoring the bad news.
The message transmitted in my weekly updates has been the same for quite some time. That has been met with skepticism, plenty of "pushback" on the issues, and at times, anger. While the opposing view has debated and argued the issues, I have noticed they all have one thing in common. They aren't really arguing with me, they are arguing with the "market".
I found out the hard way during my career in the markets, using that approach isn't beneficial to the bottom line of any portfolio, and this time is no different.
Best of luck to all!
Disclosure: I/we have no positions in any stocks mentioned, but may initiate a long position in CMG over the next 72 hours.
I wrote this article myself, and it expresses my own opinions. I am not receiving compensation for it (other than from Seeking Alpha). I have no business relationship with any company whose stock is mentioned in this article.