Sandstorm Gold (NYSEMKT:SAND) Provides Corporate Update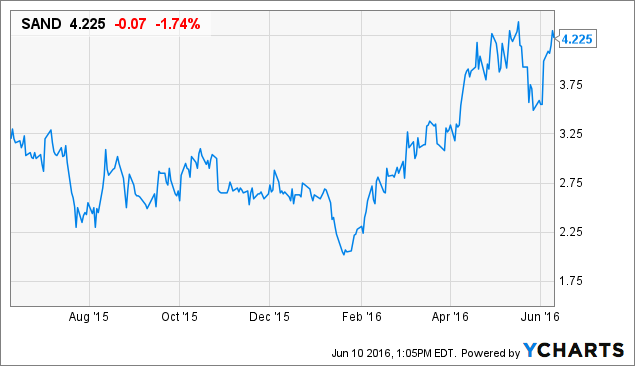 Sandstorm Gold, one of my favorite gold stocks to own for the long-term, recently provided a corporate update which I feel has positive long-term implications for shareholders.
Besides voting results from the annual general meeting, the company announced an amendment to its credit facility, and several positive updates on various projects underlying its streams and royalties. I'll discuss these developments in detail.
General Election Results
There were no major surprises here. At the election held on June 8,at which 68.84% of common shares were represented, shareholders voted in favor of all resolutions presented, voting for the re-election of all director nominees.
Credit Facility Extension
The company has amended its credit facility, extending the term to four years, so it now matures in July of 2020, in four years.
Readers will remember that Sandstorm originally drew down the full amount available on its credit facility to fund the acquisition of streams from Yamana Gold (NYSE:AUY) back in November of 2015, but then repaid a good amount of this following the sale of its investment in Aurico Metals (OTCPK:ARCTF) stock and an amendment to the Entree Gold (NYSEMKT:EGI) stream; at the end of the most recent quarter, the company has $77 million debt outstanding after repaying $6.55 million in the quarter.
Extending the facility to four years gives Sandstorm additional flexibility, as it has a longer timeframe to either repay its borrowings in full or refinance its debt before maturity, or the company has some more flexibility to use the facility to complete acquisitions (if it chooses to get a little aggressive), as it has $33 million available.
Luna Gold Exploration Agreement With AngloGold Ashanti
This is the biggest part of the update: Sandstorm's royalty partner Luna Gold (OTCPK:LGCUF) has entered into an exploration agreement with large-cap gold miner AngloGold Ashanti (NYSE:AU), a $6+ billion gold miner which is the third-largest gold miner in the world based on production volume, as it produced close to 4 million ounces of gold in 2015.
AngloGold will explore the greenfields mineral claims (1,702 square kilometers) surrounding Luna Gold's past-producing Aurizona gold mine in Northern Brazil.
Under the terms of the agreement, AngloGold has the ability to invest $14 million in exploration expenses over a four year period, including a minimum of $2 million in the first year; if it spends the full $14 million, it will earn a 70% interest in the minerals claims.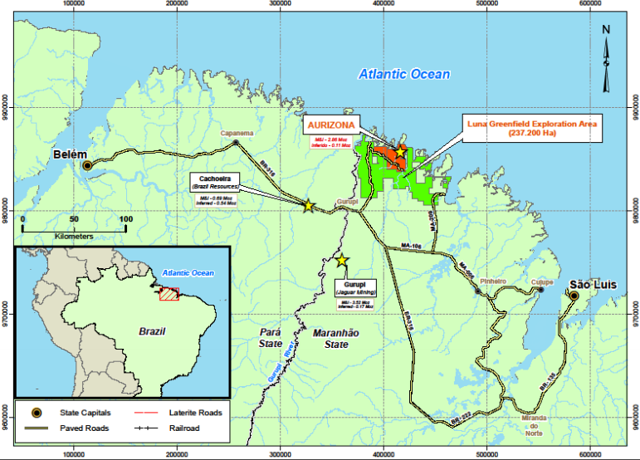 (A map of Luna Gold's Aurizona mine and exploration area surrounding Aurizona - it's a massive land package. Credit: Luna Gold presentation).
Following the earn-in, Luna will have to fund joint-venture expenditures on a pro-rated basis of 30/70. If Luna fails to do so, it will have to transfer its JV interest to AngloGold in exchange for a 1% royalty (which AngloGold can purchase for $8 million). If AngloGold chooses to sell its interest in the JV, Luna can purchase its interest for $10 per ounce, based on any gold resources identified in a future mineral resource estimate.
Now, this agreement is a pretty smart move by Luna for a few reasons. First, being a $6+ billion gold producer, AngloGold has much deeper pockets than Luna and can expedite exploration work on these grounds, plus the company has considerable exploration experience that it brings to the table.
The deal allows Luna to focus its time, effort and money on re-starting production at Aurizona (good for Sandstorm) while it can still maintain significant exploration upside to its nearby exploration grounds, as it will still own 30% if AngloGold completes its earn-in.
But, this is really huge news for Sandstorm Gold shareholders, as Sandstorm holds a 2% net smelter royalty on these mineral claims. To refresh readers memories, Sandstorm Gold also owns a 3% to 5% sliding scale royalty on the entire Aurizona project (sliding scale based on gold prices), and previously held a gold stream which was restructured into the royalty. So Sandstorm owns two royalties - the 3% to 5% sliding scale royalty and this 2% royalty on "greenfields" exploration ground.
Luna is currently working on re-commencing operations by late-2017, and recently landed a $5 million financing to help it do so. This deal basically improves the chances that Sandstorm will see some cash flow coming in from its 2% royalty on these minerals claims.
By the end of this decade, Sandstorm could be receiving cash flow from both its 3% to 5% sliding scale royalty, plus cash flow from its 2% royalty on these greenfields properties. And, Sandstorm also owns a $30 million convertible debenture on Luna Gold, as announced in the gold stream restructuring. Production at both Aurizona and from this greenfields exploration ground would be a huge bonus for shareholders.
Mariana Resources Announces High-Grade Drill Results
Sandstorm owns a 2% royalty on the Hot Maden project, owned and operated by Mariana Resources. This royalty was one of 56 royalties acquired in Sandstorm's $22 million deal with Teck Resources (TCK).
As I mentioned in that article, Hot Maden is arguably the most interesting asset acquired in Sandstorm's deal, due to its ultra high-grade resource base (967,000 gold indicated ounces at 29.2 g/t and 379,000 gold inferred ounces at 36.2 g/t).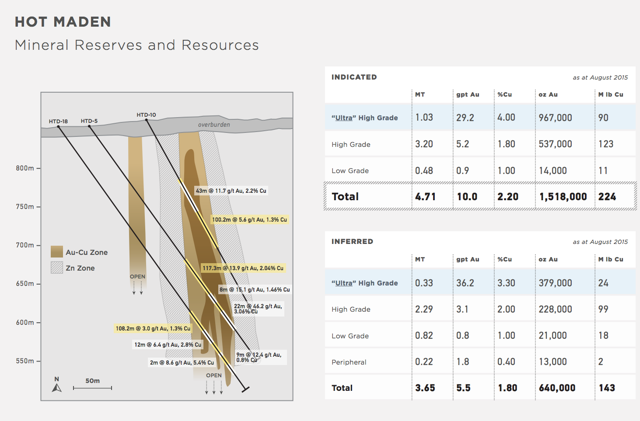 (Credit: Sandstorm corporate presentation)
However, there's clearly more exploration upside to this resource. Drilling by Mariana Resources has confirmed the extension of high-grade gold outside of the current resource estimate, according to Sandstorm's release. Here's a summary of the drill results:
- 31.5 meters @ 4.4 g/t gold and 0.77% copper from 262.0 meters downhole, and 18.5 meters @ 2.24 % copper and 0.4 g/t gold from 295.0 meters downhole.
- 36.5 meters @ 7.1% zinc, 1.8 g/t gold and 0.51% copper from 25.5 meters.
- 5.0 meters @ 5.0 g/t gold from 11.0 meters, 15.0 meters @ 3.2 g/t gold and 1.22% copper from 24.0 meters, and 5.0 meters @ 9.1 g/t gold and 1.4% copper from 46.0 meters.
- Perhaps most impressive, a new Southern Zone discovery, which confirms gold mineralization in an area 400 meters south of the current resource. Highlights included: 40.5 meters @ 8.8 grams per tonne (g/t) gold and 0.77% copper from 158.0 meters downhole, including 12.0 meters @ 22.2 g/t gold and 0.66% copper from 183.0 meters downhole.
An updated mineral resource estimate for Hot Maden will incorporate these drill holes and is expected to be released in June; meanwhile, Mariana continues to drill on the project, and additional results are pending. Sandstorm investors should keep an eye on future results and can do so by following the Mariana Resources website.
Columbus Gold Advances Feasibility Study on Montagne D'Or
Columbus Gold (CBGDF) has confirmed that a bankable feasibility study will be completed in the fourth quarter of this year on its Montagne D'Or property. Sandstorm holds a 1% royalty on the Paul Isnard gold project, which hosts the Montagne deposit.
The feasibility is being funded by Columbus Gold's JV partner, Nord Gold (the world's 13th largest gold producer at 950K annually), which will earn in a 55.01% interest on the project.
Columbus and NordGold have already done a lot of work on the property, increasing the resource base to 4.9 million ounces (3.8 million indicated, 1.1 million inferred).
This is another important royalty for Sandstorm. Even though Sandstorm paid just $5 million for this royalty, it has the potential to earn millions in cash flow for the company annually.
Sandstorm's Long-Term Potential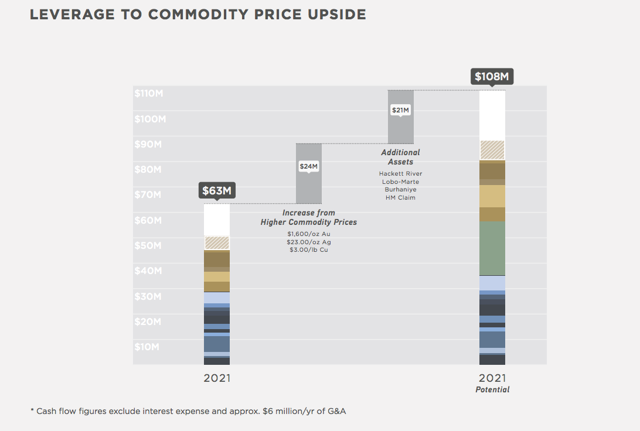 (Credit: Sandstorm corporate presentation)
Sandstorm remains a great long-term stock pick for gold bulls. The stock has huge leverage to higher gold prices - according to the most recent presentation, the company can earn close to $110 million in cash flow annually by 2021 (up from around $40 million this year) with gold prices at $1,600 an ounce, silver at $23 an ounce and copper at $3 per pound, assuming its development assets start producing as expected.
The stock has huge long-term upside in my view, and I'm planning on adding more shares on any future pullbacks.
Disclosure: I am/we are long SAND.
I wrote this article myself, and it expresses my own opinions. I am not receiving compensation for it (other than from Seeking Alpha). I have no business relationship with any company whose stock is mentioned in this article.
Editor's Note: This article covers one or more stocks trading at less than $1 per share and/or with less than a $100 million market cap. Please be aware of the risks associated with these stocks.