In a previous article I wrote I highlighted some of the mega-cap defense companies and determined that at the time Boeing (NYSE:BA) was the most attractive. The comments were great on that article and highlighted many companies to consider amongst the smaller defense players. Today I will cover two small-cap defense companies that may pique some interest amongst more adventurous investors.
National Presto Industries
First up is National Presto (NYSE:NPK) at a $640 million market cap. The company is a bit of an enigma and is far from a pure-play in defense and aerospace. If you think this is the company that makes pressure cookers and other house-hold appliances you are absolutely correct. Oh yeah, they also make adult incontinence products.
The defense aspect of the company, known as National Defense Corp, is the largest segment of NPK with over half of the sales figures in the last quarter. Defense brought in a total of just over $44.5 million out of $86.4 million in sales during that time. They manufacture mostly munitions for law enforcement and defense customers, specifically the 40mm grenade, but also provide cartridge casings and less than lethal munitions. This is a steady and stable business for NPK.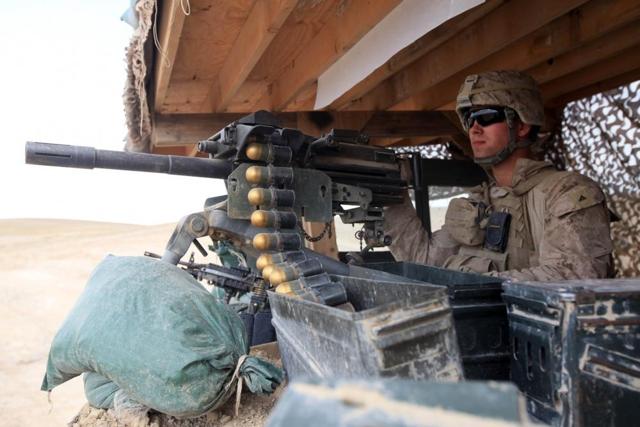 Yes, that's an automatic grenade launcher with HE 40mm rounds known as a MK19 and it is awesome. Picture courtesy of DVids.
Financially the company is solid. They have $66 million in cash on the balance sheet with no debt. The TTM EPS sits at $5.69 so with shares trading hands at $90.83 at the time of this writing they're going for just about 16 times earnings; not particularly expensive. Revenue has been healthy as well but a little lumpy over the years as kinetic engagements have slowed down and government orders have slowed slightly.
The company pays a dividend as well but their payment schedule is a bit unorthodox. They announce a $1.00 dividend around February for the year and then declare an additional dividend. This year the dividend totals $5.05 and has already been paid out. When the dividend was announced on February 12th shares were trading around $78.30 each making that a 6.4% yield, not bad at all but one that doesn't get reflected accurately by research sites such as Morningstar or Finviz. This likely creates an opportunity for investors who plan to hold for the long-term. With the yield showing just 1.08% now this likely falls off the radar of many investors.
The company has a lot of potential to grow and just recently acquired a $84.5 million contract with the US Army to manufacture 40mm grenades. They also recently won a contract with Chemring (OTCPK:CMGMF) valued at around $99 million for more 40mm munitions for a foreign customer that will carry through March of 2018. Should defense manufacturing not work out there is always adult diapers and pressure cookers to fall back on but the company appears to be doing great in the defense sector.
There are threats to the business of course. Their three main segments don't exactly have a wide moat. As for the defense segment there are multiple foreign manufacturers that can and do produce the same products as NPK. What likely keeps NPK in business with the US Government is their quality and reliability as well as the system in place to award government contracts which favors US owned businesses. The government will always require the products that NPK produces, especially 40mm, but the overall requirement will likely drop as we go longer without large scale kinetic engagements.
National Presto looks pretty good here. They provide a simple service that won't attract the attention of budget-minded legislators nor does it look appealing to possible competition. Bullets will always be getting fired through weapons so the defense side of NPK will do well for a while. On top of that the adult incontinence products will only grow in demand as baby-boomers age and who doesn't love a good pressure cooker?
TASER International
TASER International (NASDAQ:TASR) has a $1.23 billion market cap and I bet you can't guess what they make. If you guess tasers you're mostly right. The company also makes body cameras, dash cameras, and they dabble in evidence gathering and organization applications as well which actually provides a "sticky" business model to investors and a fully integrated portfolio of products for customers.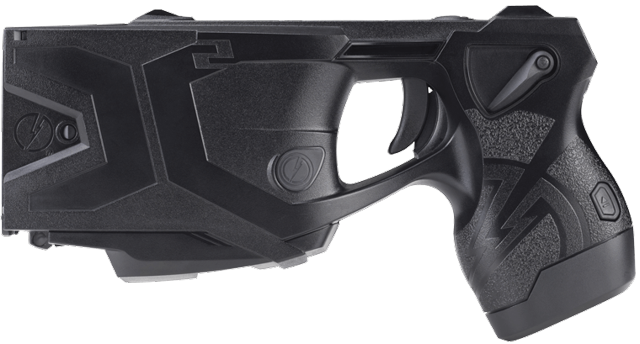 (Source: Taser.com)
Once again we have a solid balance sheet with no debt and $104 million in cash. The company generates a healthy amount of free cash flow with $33 million counted up in the TTM. The company does appear pretty expensive here no matter how you look at it. The TTM EPS comes in at $.30 so with shares at $22.76 that's almost 76 times earnings. Morningstar has forward P/E at nearly 67 times so the company has a lot of "growing" to do in order to justify the current valuation.
That growth potential is there and that is why the market has assigned a pretty generous premium. As fatal encounters with police attract more and more media attention the non-lethal means to subdue suspects is growing in demand. Paramount in this equation is the safety of the law-enforcement officers and safety is created by distance in many encounters, and distance is provided by the capabilities of the flagship taser products. In addition to non-lethal methods to subdue possibly violent suspects accountability of that officer is also becoming more important. The dash-cameras and body worn cameras available from Taser are cheap insurance for law enforcement agencies to guarantee their officers are not only protected on the street but their integrity is protected in the media or a court of law. Those cameras can be the difference between a multi-million dollar lawsuit or a violent offender being thrown in jail.
Most interesting is Taser's Evidence.com product that provides "out of the box" evidence management capabilities. This service is a one-stop-shop for agencies to gather, log, track, share, store and transfer evidence. It provides a cloud service to enable body and dash cameras to upload their footage providing a safe archive of information should it come necessary. The value in this product is the time it can save departments who are facing budget and personnel cuts. As many cities are facing budget issues it is becoming more difficult to keep a healthy supply of officers and troopers on the streets where they are needed most and a lot of time is spent doing paperwork and handling evidence. Taser is providing a solution to that problem.
If I may peer into my crystal ball for a moment I see the Internet of Things becoming a big aspect of Taser's business. Imagine entire departments completely connected and networked to themselves and other departments. In a scenario in my head I picture a suspect being brought down by a taser. The barb in the suspect also takes a blood sample and it is instantly run in the database to check for warrants and prior convictions. It comes up that the suspect is wanted across the country for a violent offense and is immediately apprehended. This is many years away possibly if it will ever come true at all, but Taser is establishing the foundation for this reality and at least the possibility exists inside the company.
The threats to TASR aren't hard to see. While actual Tasers seem to have a secure spot in the market due to their reputation the cameras are still relatively young and not necessarily hard to duplicate. Many investors wonder why GoPro (NASDAQ:GPRO) hasn't entered this space and I'd have to agree with them. Seeing how GoPro has been managed I'm not surprised they haven't entered this space and instead are venturing into drones but that is for another time. Just because they haven't yet doesn't mean they won't though, or that other companies don't begin to offer their own products. The cloud capabilities of Evidence.com are something I could see a company like Alphabet (NASDAQ:GOOG)(NASDAQ:GOOGL) or Amazon (NASDAQ:AMZN) trying to get involved in as they already have the infrastructure necessary. While most of this is speculation we have to remember that what Taser provides isn't necessarily hard to provide with available technology.
I really like that Evidence.com has the potential to tie all of their products together and once adopted by a department it is not likely to be replaced. As more departments adopt their system more departments will be more likely to adopt it. Should aggregate evidence storage become the norm it is not likely there will be many companies in this space and Taser will likely be the leader as they're very early to this.
Conclusion
I like NPK because it does something boring and necessary and doesn't get a lot of attention. I also like TASR because they are right in the beginning of what is likely to be a transformation of policing strategies and tactics across the nation. Both companies are financially healthy and I really like the fact that they have no debt but still continue to grow. In a "rising rate environment" that so far has only provided one 25 basis point raise, it is important to consider debt...even if it appears rates will never rise again and the FOMC is just playing games with us all.
I worry about TASR's valuation here though. At 67 times estimated forward earnings, pretty much everything has to go right for this stock not to get taken out to the tool shed and for that reason I think NPK is more attractive for risk-averse individuals such as myself. If things work out for TASR they'll probably work out in a big way and I think I'd have a good chance to catch it on the way up. NPK also has that beginning of the year hidden dividend that isn't accounted for in most places so that should be considered.
I plan to explore other smaller defense companies in the future as time allows. On my radar are Harris (NYSE:HRS), Huntington Ingalls (NYSE:HII), Kaman Corporation (NYSE:KAMN), Orbital ATK (NYSE:OA) and Aerojet Rocketdyne (NYSE:AJRD) to name a few. I'm always open to new ideas and companies so if you have them please leave me a comment and if you want to see what else I come up with please click the "follow" button next to my name up top. I appreciate your time and wish you all the best of luck.
Disclosure: I/we have no positions in any stocks mentioned, and no plans to initiate any positions within the next 72 hours.
I wrote this article myself, and it expresses my own opinions. I am not receiving compensation for it (other than from Seeking Alpha). I have no business relationship with any company whose stock is mentioned in this article.