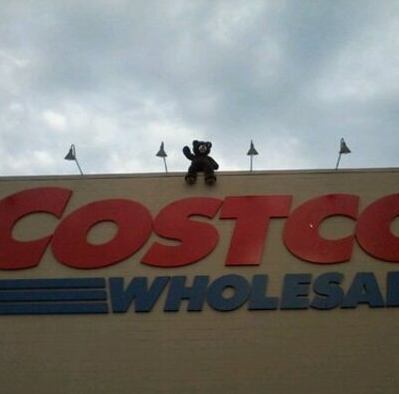 On May 25th, Costco (NASDAQ:COST) reported FQ3 earnings of $1.24 per share, beating by $0.02, with revenue of $26.77B (+2.6% Y/Y), missing slightly by $300M. The stock rallied in an environment where most retail stocks got hammered in May. Earnings were nothing special, but enough to keep the street believing that Costco remains one of the few retailers immune to the Amazon (NASDAQ:AMZN)-effect causing Goldman Sachs (NYSE:GS) to issue an upgrade. Essentially, Costco operates as an Amazon-proof retailer, and earnings helped keep that thinking in line.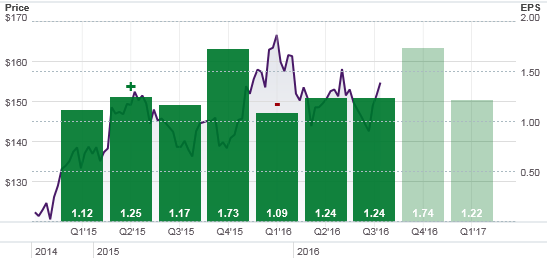 As illustrated above Costco is a consistent earner, but growth remains in the low single digits. Despite these numbers, Costco trades at a relatively high valuation compared to most retailers minus Amazon.
However, valuation numbers are at a historically high range, and any weakness in the second half of the year could spell trouble for the stock.
Historic Valuation Numbers for Costco
From 2015 (left) to 2006 (right)

Source: S&P Capital IQ
Costco: Current Numbers & Ratios
P/E: 29.27; F P/E: 25.77; PEG: 3.25; P/S: 0.58; P/B: 5.91; P/C: 11.27
Quick Ratio: 0.40; Current Ratio: 1.00; Debt/Eq.: 0.44; LT Debt/Eq.: 0.34
As illustrated, Costco's upside could prove limited as revenue growth and earnings potentially plateau in this consumer driven market. Dollar strength could also weaken the outlook as the Fed juggles the data amid negative rates around the world.
Costco = Best-of-Box
Last year, we dubbed Costco a Best-of-Box retailer. Nobody does what Costco does, and nothing on the horizon looks to change that prognosis. In fact, some bullish features have been added to the story since we last reported. An agreement with Visa (NYSE:V) and an increase in membership fees should help the company in the long term. Earnings, though flattening, are still strong on a relative basis. Costco relies upon a loyal customer base, a reliable supply chain, and strategic pricing. Management performs consistently, and Costco remains a viable brand that consumers have grown to love over the decades. How strong is the Costco brand? For starters, people pay a membership fee just to shop there. How many retailers can consistently expect, and raise, membership fees without alienating their customer base. The short answer is not too many, and perception of value elevates the brand.
As many readers know, Costco operates with mad volume, and shoppers fill up in bulk every time they visit. A Costco trip is usually a planned trip for most families, and that means receipts of at least three figures for just about everyone who goes through the line. Membership has its privileges, and Costco knows and targets its demographic with an ever-evolving product mix. The performance of management cannot be discounted, and when retail trends shift, Costco is there to shift with it, and knowing its customer is always the best place to start.
Waiting for Costco…
Sometimes things get toppy. The market, earnings, inventories, and the consumer is left with not much more to buy. Retail weakness this quarter suggests that, at the least, the consumer is taking a discretionary breather. A deflationary environment exists from overcapacity, and the argument could be made: there is simply too much physical retail space in the United States with today's shifting market dynamics. However, Costco is not your typical physical retailer, and expansion plans continue as the company looks to take more market share. Amazon-proof, however, does not signal recession or correction proof, and as illustrated below COST is at the top of the range.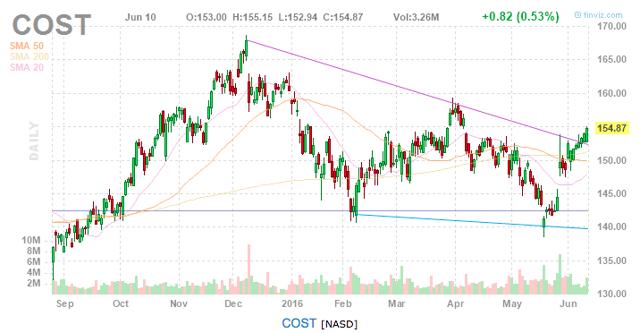 On a technical level, the stock moved above the relative moving averages in June, and perhaps the downtrend from last year is beginning to fade. New highs could be in the cards, especially if the S&P 500 (NYSEARCA:SPY) takes out new highs. However, with valuation levels at the top and flattening earnings, it looks like a good time to start taking some profits. Long-term investors might consider covered calls, if selling stocks is not your thing. The good news is that Costco recovered from the 'retail storm' back in May; the bad news is that the stock is overvalued and ripe for a drop back down to the bottom of the range, wherever that might be.
Disclosure: I/we have no positions in any stocks mentioned, and no plans to initiate any positions within the next 72 hours.
I wrote this article myself, and it expresses my own opinions. I am not receiving compensation for it (other than from Seeking Alpha). I have no business relationship with any company whose stock is mentioned in this article.
Additional disclosure: This article is intended for information, engagement & entertainment purposes only, and is not to be construed as investment advice or direction. Investors are strongly encouraged to perform due diligence and/or consult with their financial advisor.