In the latest Commitment of Traders report (COT), we saw a large increase in speculative longs while shorts dropped significantly. After a few weeks of speculative long drops, we had begun to feel a bit more comfortable with trader positioning in gold, but after this report, our reservations are returning. Of course, there are a number of outside events that are also clearly affecting the gold price - namely the Fed meeting next week and the possibility of "Brexit".
In this report, we will also take a look at the silver COT report, as silver has been getting a lot more attention as it has rocketed higher.
We will get a little more into some of these details, but before that let us give investors a quick overview into the COT report for those who are not familiar with it.
About the COT Report
The COT report is issued by the CFTC every Friday to provide market participants a breakdown of each Tuesday's open interest for markets in which 20 or more traders hold positions equal to or above the reporting levels established by the CFTC. In plain English, this is a report that shows what positions major traders are taking in a number of financial and commodity markets.
Though there is never one report or tool that can give you certainty about where prices are headed in the future, the COT report does allow the small investors a way to see what larger traders are doing and to possibly position themselves accordingly. For example, if there is a large managed money short interest in gold, that is often an indicator that a rally may be coming because the market is overly pessimistic and saturated with shorts - so you may want to take a long position.
The big disadvantage to the COT report is that it is issued on Friday but only contains Tuesday's data - so there is a three-day lag between the report and the actual positioning of traders. This is an eternity by short-term investing standards, and by the time the new report is issued, it has already missed a large amount of trading activity.
There are many different ways to read the COT report, and there are many analysts that focus specifically on this report (we are not one of them) so we won't claim to be the experts on it. What we focus on in this report is the "Managed Money" positions and total open interest as it gives us an idea of how much interest there is in the gold market and how the short-term players are positioned.
This Week's Gold COT Report
This week's report shows that once again speculative long positions are feeling much more comfortable in gold, while shorts head for the hills.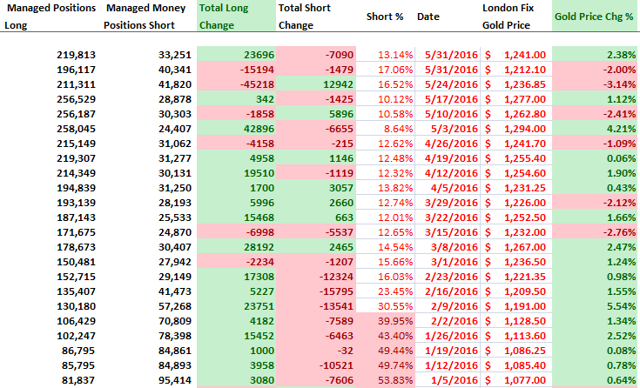 As is clear in the table above, speculative positioning significantly favors the long side as speculative longs now hold 219,813 contracts versus the speculative shorts at 33,251 contracts. After two weeks of declines, longs felt that now was the time to get back into gold, though to be fair, long positioning was still fairly large before that despite two weeks of declines. Also, investors need to remember that this report was based on Tuesday's closing gold price of $1,241 per ounce - with gold significantly higher, we expect our long and short positioning to closer to what we saw in early May.
The net position of all gold traders can be seen below: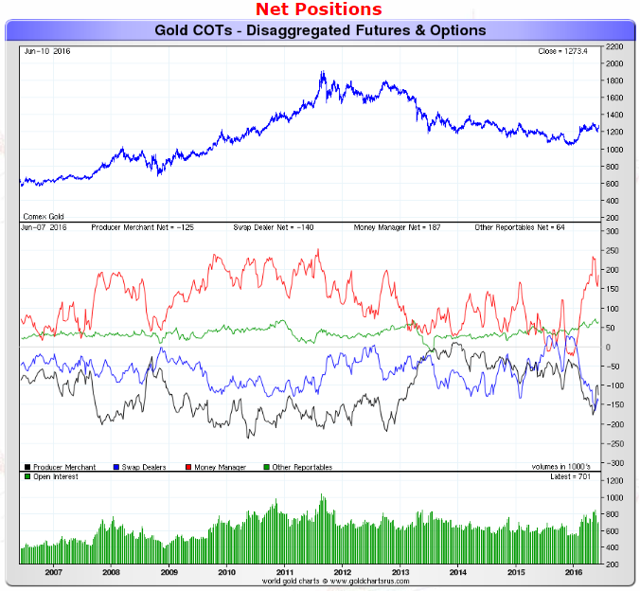 Source: Sharelynx Gold Charts
As is clear above, the speculative net position (money managers) has once again started climbing after its recent sharp drop, and based on the current price of gold versus the report's price, we are probably much closer to all-time highs in long positioning.
The COT silver positioning is below: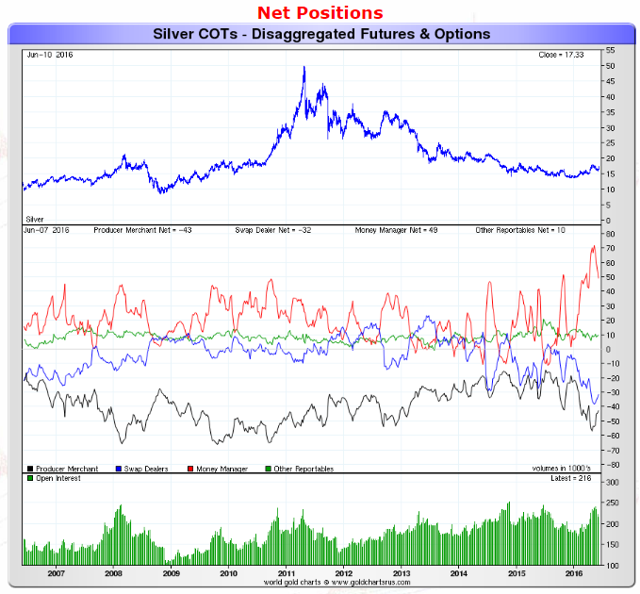 Source: Sharelynx Gold Charts
Strangely, this week we didn't see silver follow in gold's footsteps as speculative long traders cut their positions while shorts increased their own positions. We almost always see silver follow gold in terms of positioning so this is very unusual. At this point, we aren't sure why the divergence, but it is something to note and be aware of.
Our Take and What This Means For Investors
One thing that was really brought to our focus last week was an outside factor which we hadn't been putting much weight in, but we believe must be added to the short-term drivers of gold. As of this point, our short-term gold driver has mainly been the Fed and its upcoming meeting, and paired with the overwhelmingly bullish position in speculators, has caused us to be relatively bearish on gold in the short term.
This week the probability of a "Brexit" (a British exit from the EU) has grown significantly as some of the latest polls have shown British voters are favoring an exit from the EU in their June 23rd referendum. This is even causing Brits, who are notoriously repulsed by physical gold, to begin buying physical gold. The consequences of a Brexit are beyond the scope of this article (we hope to cover it in a future piece), but it seems to be a significant driver of the short-term gold narrative and those playing gold in the short term will need to be following the latest poll numbers in addition to Fed-speak.
While fears of Brexit have been pushing investors into gold over the last week, we're also seeking a lack of physical demand in both the Indian and Chinese gold markets:
In India, the second-biggest gold consumer, dealers were offering a discount of up to $46 an ounce to the global spot benchmark this week, the largest since February 26. Last week dealers were offering a discount of $14… Meanwhile, demand in top-consumer China continued to remain weak as higher gold prices and a holiday break for the Dragon Boat Festival kept Chinese buyers away. Premiums in China dipped to $1 per ounce this week versus $3 last week.

"I think a one dollar premium is not enough to cover the cost for banks to import gold into the domestic markets," said a gold trader in China.
That's not encouraging in the short term as we believe that a true run for gold needs to be accompanied by both physical and paper buyers, though we do acknowledge that paper buyers are certainly large and focused enough to move the gold price without physical demand.
All of this means we are extremely cautious in our gold positions as there is much uncertainty in the gold markets right now. Gold speculators are close to all-time highs in their bullish positioning (negative) while Brexit looms and could be the beginning of the end for the EU (positive). The Fed meets next week and the market is expecting no rate hike and a dovish tone (positive) while physical gold demand is very weak in the largest gold buyers in the world (negative).
So what do gold investors do?
Right now we still recommend investors deal with this investment environment by lowering risk and taking profits. Our reasoning is that we believe that the Fed will be more hawkish than markets think at next week's meeting because they still really want to raise rates and maintain credibility. In fact, we actually believe there is a good chance they raise interest rates as this meeting has a press conference associated with it and we doubt they will do it in July in a meeting without a press conference - they'd have to wait until September and that is too close to elections for a Fed trying to be as apolitical as possible.
While Brexit is causing concern for markets, we simply don't know enough about the UK population's desire to be confident in incorporating this information into our current position for gold. While polls do show people favoring an exit, men like George Soros do not believe it will really happen, especially considering the recent strengthening of the British pound - so maybe a bit more fear is being incorporated than is actually necessary here.
Thus, we are holding off on increasing gold positions in ETFs and miners such as the SPDR Gold Trust ETF (NYSEARCA:GLD), the iShares Silver Trust ETF (NYSEARCA:SLV), the ETFS Physical Swiss Gold Trust ETF (NYSEARCA:SGOL), Tahoe Resources (TAHO) and Randgold (GOLD). We think this strong upward move in gold may be a bit of a head-fake and we are waiting for a better entry point that we think will come over the next few months.
But we are certainly not out of the gold market and remain firm in our core gold and silver positions as we see a bright future for the precious metals moving forward.
Disclosure: I am/we are long SGOL.
I wrote this article myself, and it expresses my own opinions. I am not receiving compensation for it (other than from Seeking Alpha). I have no business relationship with any company whose stock is mentioned in this article.