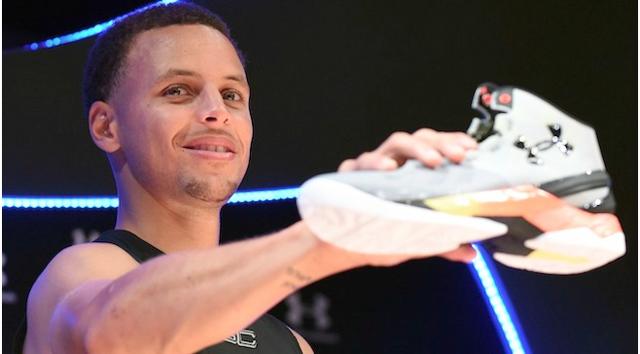 Stephen Curry and the Golden State Warriors won game four of the NBA finals on Friday night, and with that the inevitable grind to the championship. Curry's team was heavily favored to win it all, and we expected the series to last six games at best. We may only see five, as the Warriors, by all probabilities, will close out the series at home on Monday night. The NBA finals is not about sports, however, it's about money. Under Armour (NYSE:UA) benefited greatly from this championship run with the Curry shoe seeing record sales, and the company is starting to take a bite from the sneaker king, Nike (NYSE:NKE). The Curry versus LeBron competition will soon be settled on the court, but off the court the battle for market share continues. A championship for Curry, and the shoe-hype that follows, look to set up as a classic sell the news event for UA.
Weakness in retail stands out as one of the bigger themes this quarter, and UA was no exception. The company reported tremendous earnings on April 21st and the stock popped to the $45 range before precipitously dropping the following week. An apparent false breakout as UA remains stuck in bear territory - down 26% from its high of $52.94 back in September of 2015. May did not help matters as the stock went down with most the retail sector, including competitor Nike, another stock that cannot seem to gain any traction year-to-date. So what happened to the Athleisure trend? Lululemon (NASDAQ:LULU) rallied nearly 5% after reporting earnings this week, and despite a small miss, the street rejoiced over in line inventory levels, pricing, and positive results from promotional activities. These results helped sector sentiment, sending UA up over 3% for the same day. Year-to-date, LULU has handily outperformed since climbing out of deep bear territory from late last year, and short interest for LULU currently stands at 19.34%. LULU's story is quite different from UA's story, which is closer aligned with Nike as illustrated in the chart below.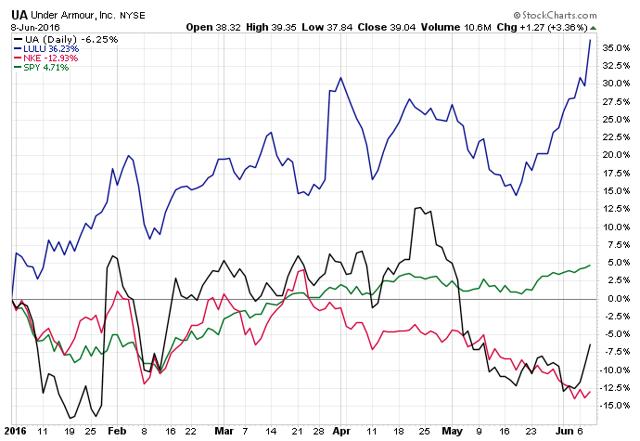 Earnings drive valuation, and looking forward, estimates for UA could be starting to wane, and some weakness over the next couple quarters might be starting to materialize. According to Thomson Reuters, current quarter estimates for UA have dropped considerably:
UA's current quarter consensus estimate has decreased notably over the past 90 days from $0.04 to $0.02, a loss of -47.7%. This trails the average Apparel & Accessories industry move of -16.0% during the same time period."
Now perhaps two cents is nothing to get too excited about, and revenue estimates carry much more weight. The busier back-to-school and the holiday season will be the true tell, but investors will not know those numbers anytime soon. Quarterly consensus revenue and EPS estimates courtesy of Thomson Reuters:
UA Estimates: Sales and Profit Figures in US Dollar (USD)
# Of Estimates

Mean

High

Low

1 Year Ago

SALES (in millions)

Quarter Ending Jun-16

30

1,001.02

1,016.70

945.93

936.71

Quarter Ending Sep-16

30

1,477.88

1,569.10

1,434.00

1,427.49

Year Ending Dec-16

35

4,963.23

5,142.40

4,922.40

4,692.47

Year Ending Dec-17

35

6,216.52

6,677.90

6,037.70

5,728.12

Earnings (per share)

Quarter Ending Jun-16

30

0.02

0.05

0.00

0.05

Quarter Ending Sep-16

30

0.26

0.29

0.22

0.30

Year Ending Dec-16

37

0.60

0.72

0.55

0.71

Year Ending Dec-17

37

0.80

0.88

0.73

0.90

LT Growth Rate (%)

6

24.27

26.10

19.50

23.37
So, if revenue estimates continue climbing, then what gives? Margins have come under pressure as the company pushes forward with growth initiatives, including mass spending on endorsements and exclusive collegiate and pro team deals. Many of these initiatives are deemed necessary and produce nice returns in the long run (think Curry), but some only become huge expenditures that eventually produce little or no profit (think fitness band). Fellow SA contributor Detroit Bear, in an article last week, nicely analyzed this aggressive spending. The growing popularity of live sports, and Athleisure, produces a continuous bidding war for the best athletes in the world, putting more financial pressure on smaller global players like UA to keep up with Nike and Adidas (OTCQX:ADDYY).
Despite great revenue growth, EPS growth lags, and profitability, margins, and a possible slowdown in consumer spending all spell uncertainty surrounding a stock like UA. The company has done a tremendous job growing its brand, and that should continue, but every great story takes a pause, a breather, and UA needs to get margins back on track as revenue and volume continue to increase. As illustrated below, profitability and returns on assets, investments, and equity are slowly moving in the wrong direction. All numbers courtesy of Thomson Reuters:
Company

Industry

Sector

Gross Margin (TTM)

47.75

40.08

24.83

Gross Margin - 5 Yr. Avg.

48.45

42.64

23.72

EBITD Margin

12.54

--

--

EBITD - 5 Yr. Avg.

13.41

15.20

14.48

Operating Margin

9.88

4.49

8.07

Operating Margin - 5 Yr. Avg.

11.03

12.65

10.29

Pre-Tax Margin

9.42

233.38

11.75

Pre-Tax Margin - 5 Yr. Avg.

10.64

12.53

13.35

Net Profit Margin

5.71

230.48

9.32

Net Profit Margin - 5 Yr. Avg.

6.53

9.12

10.53

Effective Tax Rate

39.41

21.51

23.84

Effective Tax Rate - 5 Yr. Avg.

38.63

25.33

22.40
Company

Industry

Sector

Return on Assets

8.33

-4.26

5.64

Return on Assets - 5 Yr. Avg.

11.02

13.55

9.28

Return on Investment

10.20

17.02

9.16

Return on Investment - 5 Yr. Avg.

13.99

22.20

15.20

Return on Equity

15.36

20.59

12.20

Return on Equity - 5 Yr. Avg.

16.76

23.34

19.55
The declines do not sound major alarms, but the street notices when a trend may be developing. Companies need investment, and Under Armour must spend consistently to grow global awareness for its brand. So far that strategy seems to be working, and the fact that the stock is muddling in bear territory can be disconcerting for investors. UA pays no dividend, but the good news this week is that Under Armour received an investment grade rating from Standard & Poor's. The rating of BBB- is one notch above junk status. Moody's also initiated a Baa2 rating for UA, two notches above junk status. Taking on debt is a cost sometimes associated with doing brisk business, and bulls can take solace in the street's stable outlook.
Seasonality works in favor of the bulls as UA has historically gained in June and July. However, the stock is now in bear territory, which has not happened before during this broad bull market. Another factor to consider is the heavy amount of recent insider selling. There has been a lot of chatter on the street about swapping C shares, etcetera. And there is no doubt that CEO Kevin Plank directed the company to greatness, and everyone with skin in the game needs to take some money off the table every now and then. But rather than speculate on why the insider selling has occurred, investors can decide for themselves what all of this means: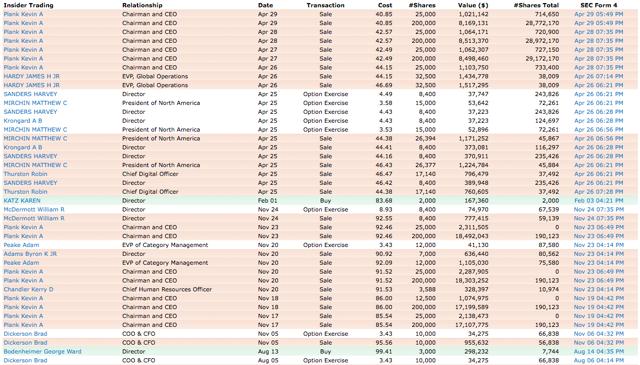 The Technical Picture: Sell the News!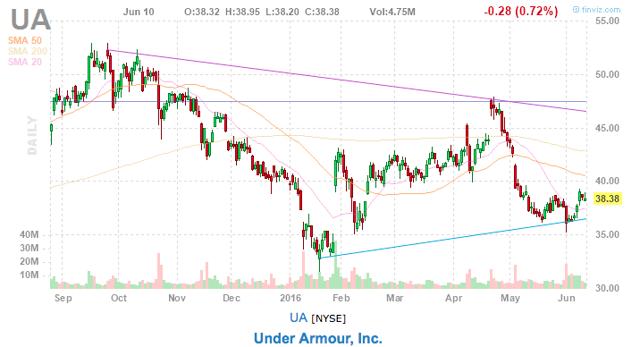 The technical condition for UA has strengthened considerably, but the stock looks like it wants to breakdown to new yearly lows. Valuation is concerning, as is the state of the market with Brexit, the Fed, and consumer confidence allegedly waning in an election year. None of these factors change Under Armour's business model, but international growth plans may take a little longer to truly materialize despite good numbers so far. Margins will continue to be scrutinized moving forward, and it may take a couple quarters to see how this plays out. Industry peer Lululemon experienced a nice pop after earnings, and there is heavy short interest in the stock. Nike, however, remains in a downtrend moving closer and closer to bear territory. There is no doubt about UA's massive growth rates, but with that comes massive valuation levels, debt, and unlike Nike, UA has no dividend coverage.
UA could easily pop to the $40-$42 range and attempt to take out the 50-day moving average, which is declining and below its 200-day moving average, a bearish condition. With an NBA Championship all but in the bag, there is a great chance that UA rallies to that 50-day moving average before hitting massive resistance. If only the stock market was as easy to predict as sports, but it all comes down to probabilities. At current valuation levels, and with retail sentiment and market sentiment mixed at best, it looks like a good time to fade this rally and check back later.
Disclosure: I/we have no positions in any stocks mentioned, but may initiate a short position in UA over the next 72 hours.
I wrote this article myself, and it expresses my own opinions. I am not receiving compensation for it (other than from Seeking Alpha). I have no business relationship with any company whose stock is mentioned in this article.
Additional disclosure: This article is intended for information, engagement & entertainment purposes only, and is not to be construed as investment advice or direction. Shorting stocks can be dark business. Investors are strongly encouraged to perform due diligence and/or consult with their financial advisor.