Back on May 5th, I offered readers and investors my reasoning for buying shares of J.C. Penney (NYSE:JCP), which had pulled back mightily since reporting another great quarter. Shares of JCP soared to $11.99 a share after reporting Q4 2015 results and offering strong guidance that showed a continuation of growth in 2016. But even with this guidance, shares of JCP fell precipitously from their $11.99 peak over the next 90-day period and offered what appeared to be an attractive entry point at $8.85 a share. Roughly $3 a share off the 52-week high… how could that not be viewed as a valuable opportunity and with the backdrop of a strong outlook for 2016 by management?
With that being said, it wasn't more than 24 hours after publishing "J.C. Penney: Buy The Dips And Sell The Rips" that shares were hit by a NY Post article that laid claims to troubles at the retailer. Shares of JCP fell on the news that the retailer might miss its revenue forecast due to operational actions at the retailer, which were highlighted in the NY Post article. While not all aspects of the article were found accurate, the sales picture opined in the article was found to be with merit.
It wasn't within me to watch my shares of JCP depreciate without taking action. As such, I managed to hedge half of my ownership at $8.49 on May 6th. That same day I was afforded the opportunity to cover that hedge for a quick profit at $8.09. As shares propped back up to $8.15, I found it opportunistic to place another hedge on my JCP position and maintained that hedge until $7.50 a share. My goal in hedging my shares of JCP was to reduce my overall cost average in JCP and possibly profit from this strategy should shares rebound over the following 90-day period. While I was willing to hold shares until the next corporate reporting cycle, I was fortunate in that shares of JCP marched higher since the middle of May and after reporting a negative same-store sales report for Q1 2016.
J.C. Penney's Q1 2016 results left something to be desired in the way of same-store sales and even gross margin guidance, which was curtailed a few basis points for FY16. But even so, with the overall market rallying since May and the S&P 500 recapturing 2,100 recently, shares of JCP found themselves in rally mode. Warranted or not, I took the opportunity found in the JCP share price appreciation since its Q1 2016 reporting and sold my long JCP position at $8.78 a share on Thursday. Having previously made a roughly 7.5% profit on my hedges, and with the share price nearly returning to my entry price previously articulated, I was afforded the opportunity to sell my ownership in JCP with a total 7.2% profit on the total capital allocated to shares of JCP since early May. And why did I decide to unload my ownership of JCP instead of maintaining a position you might ask?
JCP is my ideal retail investment/trade in that the valuation, while somewhat misunderstood or difficult to appreciate for many investors, is still reasonable given its nearly 3-year track record of improving sales and profitability. J.C. Penney has been one of the very few retailers that has consistently shown metric improvement over such a lengthy period. Having said that, the retail landscape has found most retailers underwater with their Q1 2016 sales results and investors have punished the retailers for poor sales performance. While many authors are found pounding the table regarding the opportunity for retailers to buy back shares or offer attractive dividends, JCP doesn't offer such potential for investors. Additionally, those aforementioned aspects of financial engineering by retailers have not found to be worthy of investment over the last 12 months or so. Regardless of retailers increasing their dividends and share repurchase programs, investors are asking for increasing sales and profits for their all-important capital investment. And while JCP has maintained its sales outlook for 2016 for many reasons, investors will likely desire to see execution on this outlook before deploying greater capital. It's why I believe shares of JCP will be found drifting until Q2 2016 results are presented to investors. I articulate this belief in a more detailed manner in my article, "J.C. Penney Shares Fall Back Into 'Show Me' Status".
The shifting habits in consumer spending make investing in traditional brick-and-mortar retailers like J.C. Penney difficult presently. As consumers proliferate increasing e-commerce purchases, brick-and-mortar retailers continue to invest in omni-channel opportunities but still lag the likes of Amazon.com (NASDAQ:AMZN) and by a wide margin. Coupled with the lower margins garnered through the e-commerce channel, traditional retailers are faced with obstacles inside and outside of the channel. It seems like a no-win situation for traditional retail operations, but even so the brick-and-mortar way of shopping still constitutes greater than 90% of total retail sales.
J.C. Penney has outlined a strategy moving forward that aims to address variables that have affected brick-and-mortar retailers of late. Whether it is employing Empire flooring and Sephora shopping experiences in stores and online or adding Michael Strahan's athleisure line to its assortment of menswear, the retailer has an action plan in place to continue its growth trajectory. As such, I would still be of the opinion that JCP remains a more attractive investment or trading opportunity than most retailers in the space. Timing may prove critical for any capital deployment in JCP, specifically in this retail environment. I feel fortunate to have made a profit in my recent participation with JCP and offer many of my trades in real time through my Twitter feed.
Moreover, when I look at the trend in the monthly retail sales reports, it seems as if the latest results for brick-and-mortar retailers was consistent with what the monthly reports have shown over time. The most recently reported April retail sales report proved to be one that favored the bullish move in the stock market, but as one digs into the numbers a little deeper, one comes to find a disappointing picture from department store retailers. Retail sales jumped mightily in April and by 1.3%. The 1.3% jump in retail sales for April was the 3rd largest since 2010 in fact. But take a look at the chart from the Census Bureau that breaks down the April retail sales because this is where it becomes less optimistic for department store sellers like J.C. Penney: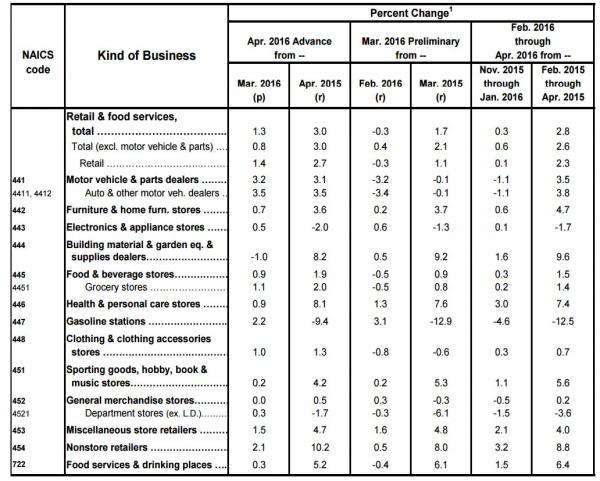 Based on the breakdown above, the greatest portion of the sales increase month-to-month came from autos and gasoline and not department stores. In fact, department store sales only grew .3% from March 2016 to April 2016. If we look at the YOY department retail sales metric, we come to find a pretty significant decline occurred during the month of April. This is hardly a bullish signal for department store retailers and probably more indicative of the struggles such retailers accounted for in their Q1 2016 results. So what does this all mean as it pertains to investing in retailers or more specifically investing in shares of JCP?
After a rather weak Nonfarm Payroll Report for the month of May and a two-day market selloff to end the week, next week investors will get a look at May's retail sales report. On Tuesday, the Census Bureau will release the May retail sales results, and I believe this will give investors greater detailed insights into the strength of the consumer and where consumption is occurring in the economy. As such, and with greater information at hand, investors will likely use that information to help guide investment decisions in the retail sector, JCP included.
Disclosure: I am/we are long TWTR.
I wrote this article myself, and it expresses my own opinions. I am not receiving compensation for it (other than from Seeking Alpha). I have no business relationship with any company whose stock is mentioned in this article.