Introduction
Schlumberger (NYSE:SLB) is the world's leading provider of technology for reservoir characterization, drilling, production, and processing to the oil and gas industry. The company is the world's largest oilfield services company operating in 85 countries worldwide and employing approximately 95,000 people. Its market cap of $110 billion blows its peers out of the water: Halliburton (NYSE:HAL) which has a $38 billion market cap and Baker Hughes (BHI) with a $20 billion market cap.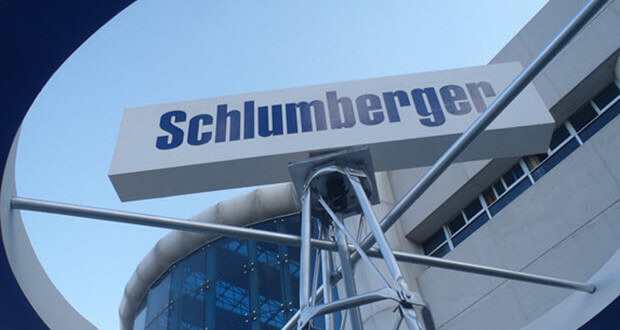 Schlumberger Logo - Oil and Gas People
Like all other drilling service companies, Schlumberger has had an incredibly difficult time recently. However, unlike the majors Exxon Mobil (NYSE:XOM) and Chevron (NYSE:CVX), the company remains near oil crash lows despite the fact that oil prices have almost doubled in the past six months. The company remains almost 35% below its pre-crash price compared to just over 10% for Exxon Mobil and just under 25% for Chevron.
However, despite the company's stock difficulties, it currently offers a dividend yield of just over 2.5% and remains within 25% of its 52-week lows set at the time of the oil prices lows in January of this year. More so, while the capex of oil majors remains low and is likely to continue that way for some time, Schlumberger remains at the head of its field technologically, and through its recent acquisition of Cameron International Corporation, it will enhance its ability to find difficult oil as the easy onshore oil fields run out.
Industry Transformation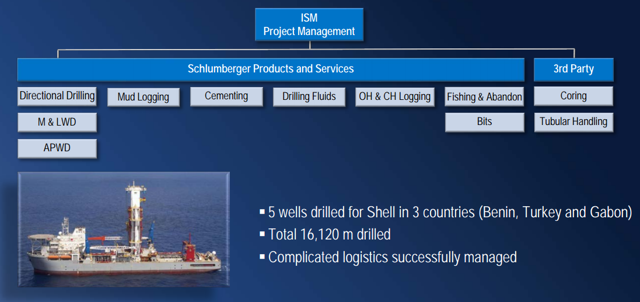 Schlumberger Industry Transformation / Consolidation - Schlumberger Investor Presentation
The above image shows how Schlumberger is taking control of all aspects of well drilling through its integrated service management (ISM) drilling model. The company has drilled a number of wells recently, including 5 wells for Royal Dutch Shell (NYSE:RDS.A) (NYSE:RDS.B) across three different countries. In these wells, the company effectively managed the entire project with the except of coring and tubular handling.
The company's $14.1 billion merger of Cameron International Corporation combined the two technology portfolios providing Schlumberger with Cameron's wellhead and surface equipment, flow control, and processing technology. By acquiring these new technologies, Schlumberger will be able to provide the industry's first complete drilling and production systems.
By operating under one entity, Schlumberger will be able to minimize the costs of offering such systems. More importantly, it will make things easier for customers such as Royal Dutch Shell which hope to work with only one company in drilling and producing these wells. Schlumberger, by integrating all of these services, can make itself this one company increasing its market share and strength.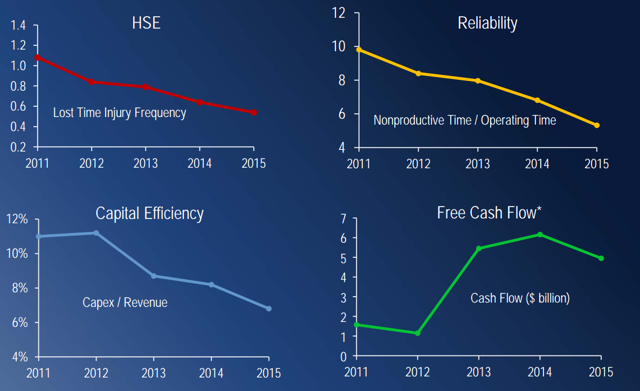 Schlumberger Increasing Performance - Schlumberger Investor Presentation
Schlumberger's integration of all of these services under a single roof will continue to bring results such as those seen above. The company's lost time due to industries has almost halved in the past five year while the company's reliability has doubled during the same time. In fast moving industries, such as the one that existed during the high price oil period from 2010-2014, companies often rush to improve reliability and speed at the cost of injuries. Schlumberger has managed to avoid this.
At the same time, the company has also made impressive financial strides in the intermediate time period. The company's free cash flow has improved drastically from $1.5 billion in the 2011 to 2012 time period to more than $5 billion in the recent quarter. That produces a market cap/free cash flow ratio of around 22 at the company's present market cap. This compares to the S&P 500's present P/E of 24. More importantly, this relatively lofty ratio is occurring at a time of cycle lows, when companies traditionally have a higher P/E ratio.
Part of what has helped the company's earnings is the company's rapidly improving capital efficiency. The company's capex/revenue ratio that is the amount of its revenue that the company needs to spend on capex has almost doubled from 11% in the 2011 to 2012 to 7% in the 2015 year. As the cost of improvements in an industry competing for business goes down, I expect that Schlumberger will see this ratio continue to improve. It is uncertain, however, if the company's capex will improve faster than the company's revenue will fall as a result of the oil crash.
Financial Performance

Schlumberger Depreciation v. Capex - Schlumberger Investor Presentation
The following image shows how the company's depreciation and capex ratios have improved, but the significant hit that the company's revenue has taken. From 2014 to 2015, the company saw its revenue drop by approximately 30% or a staggering $15 billion. Unless oil prices improve significantly for the remainder of 2016, after the difficult Q1 2016, I find it likely that the company's 2016 revenue will be significantly lower.
At the same time, while the company has managed to significantly drop its capex since the start of the oil crash, the company's depreciation costs have remained constant. The company's capex has dropped from almost $4 billion in 2014 to just over $2 billion in 2015. Since I expect the company's depreciation costs to remain constant, this places an effectively lower limit on the company's ability to cut its total depreciation + capex costs.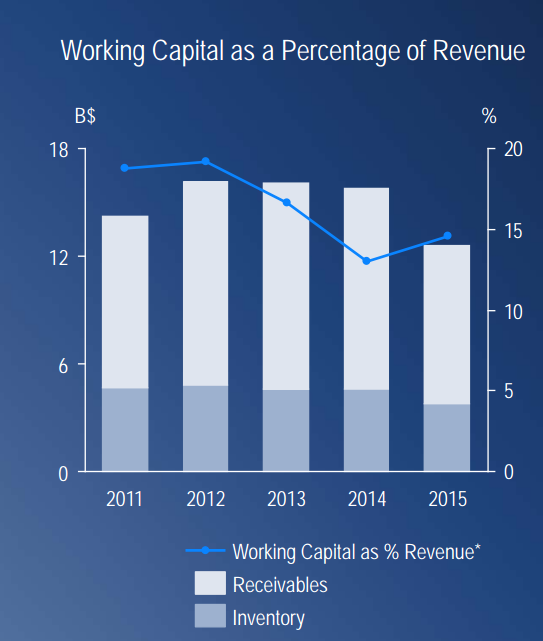 Schlumberger Working Capital as a Percentage of Revenue - Schlumberger Investor Presentation
At the same time, the company is decreasing its working capital as a % of revenue. This improvement in working capital means that the company's costs are going down. At the same time, the company is decreasing its receivables significantly while keeping its capex fairly constant. The company's receivables + working capital have dropped approximately $3 billion from the 2014 time period, the majority of which was a drop in receivables.
Assuming that Schlumberger, which currently has approximately $8 billion in receivables, continues to rapidly decrease this number, that means that the company is either collecting on receivables already owned or decreasing the rate at which it is gaining new receivables. Either way, this shows the company holding those companies that owe it money to a higher standard and increasing its immediate revenue. While I don't expect the company to make another acquisition after its acquisition of Cameron International Corporation, maintaining financial strength is important.
Oil Markets
So far, we have discussed how Schlumberger is both transforming the industry by providing integrated high-end technological products and improving its financial performance. The company's acquisition of Cameron International Corporation shows its interest in providing more integrated service offerings as evidenced by its offering of the industry's first drilling and productive systems. Such offerings make the company more appealing to customers like Royal Dutch Shell looking for a single corporation to carry out all of their technological needs.
Now that we have fully discussed the company's technological preparedness and financial strength, it is now time to discuss how the oil markets are becoming more technological and Schlumberger's essential role in this. In this analysis, we will find additional ways that the Cameron International Corporation acquisition benefits the company.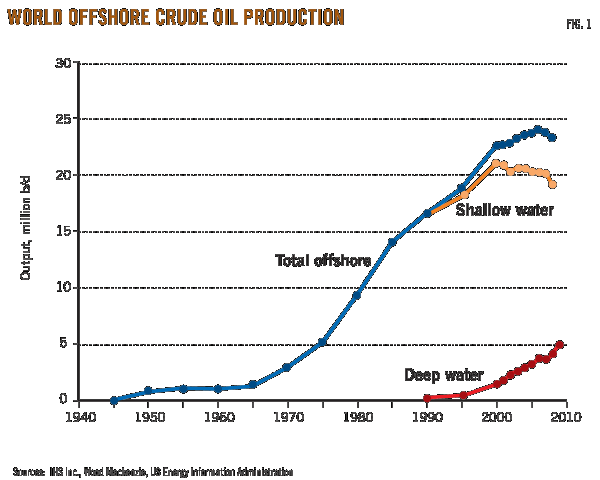 World Offshore Crude Oil Production - OGJ
The above image provides an overview of how the world's total offshore production has rapidly grown from the mid-1940s and how it is expected to continue growing, expected in the deepwater region, into the coming years. Cameron International Corporation is a major offshore oil service provider and its integration into Schlumberger shows significant growth in offshore services.
However, it is important to understand the risks of offshore field servicing. Cameron International Corporation manufactured the blowout preventer on the Deepwater Horizon oil well that failed in 2010. Had the blowout preventer not failed, it would have managed to close the wellhead preventing the devastating oil spill that occurred. Instead it failed and Cameron International Corporation had to pay BP (NYSE:BP) $250 million. While this amount is noticeably less than the amount BP was liable for, it still placed a large dent in Cameron's check book.
And as Schlumberger moves towards providing integrated oil field services and field management, the company is also assuming all of the risk that comes from failure in these services. Since Schlumberger has significantly more financial prowess than Cameron International Corporation, that means in the event of another disaster the suing company might try and get noticeably more money from Schlumberger. Such an event would be devastating to Schlumberger.
Despite this, Schlumberger's foray into being an overall oil field supplier in the growing offshore space shows impressive potential for the company's long-term revenue stream.
However, it is not just the offshore oil that will lead to increased demand for Schlumberger's services. The Ghawar Field in Saudi Arabia is the largest oil field in the world and provides more than 5% of the world's oil. The entire daily oil supply surplus that led to the present oil crash is equal to half of the Ghawar Field's daily production. The contested peak year of the field was in 2005, but the field currently has an estimated 71 billion years of oil.
Assuming the field has 71 billion barrels of oil, at its present production rate, that points towards 35 years of production remaining. Other outlooks with the field originally having 100 billion barrels of oil and having produced 65 billion barrels of oil so far means that the field has less than two decades of oil remaining. Either way, the field, responsible for half of Saudi Arabia's production is in decline.
Schlumberger is already working with Saudi Arabia on its oil fields. The company is collaborating with Saudi Arabia on artificial lift systems that will be instrumental in doubling oil production from Saudi Arabia's Abu Sa'fah field. The field currently produces 150 thousand barrels of oil per day and the plan is to double this offshore production to 300 thousand barrels per day. Since another 150 thousand barrels per day in oil would bring almost $3 billion a year in revenue for Saudi Arabia, it is to be expected that Schlumberger will have a big role to play in this.
The last major opportunity for Schlumberger after the growth in offshore production along with declining major onshore fields comes from Iran. While the U.S. still has a number of sanctions in place on financial transactions with Iran, the U.S. has been slowly lifting these sanctions as the country curbs its nuclear program. The lifting of these sanctions is expected to bring almost $100 billion to Iran and the country has stated an interest in rapidly increasing its production by almost another million barrels per day ($18 billion annual oil revenue increase). Iran is looking to immediately get foreign companies investing in its oil industry, particularly major companies with strong financial backing. As a result, it would not be a surprise to see the company actively court Schlumberger's entry into its market.
However, due to the long-term nature of the sanctions and how the government has been ignoring its oil infrastructure along with Iran's desire to increase production, the country now needs an estimated $200 billion to in foreign investment to revamp its crude industry. Part of this revamp will include a significant increase in the level of technology used as companies like Schlumberger have extraction technology that is many years ahead of Iran's. While the numbers will be unknown for several years, should Schlumberger manage to take advantage of this opportunity, it is not unlikely for the company to receive billions or even tens of billions in additional annual revenue in exchange with helping Iran with its oil extraction.
In its most recent earnings announcement, the company had $2 billion in quarterly Middle East revenue ($8 billion annually). Since Iran makes up roughly 15% of the region's production, it wouldn't be unreasonable to see the company's commencement of operations in Iran bringing in an additional $1 billion or more of annual revenue immediately not counting the country's need to catch up to its peers in technology.
Conclusion
Schlumberger has had a harder time than many of its peers since the start of the oil crash, partly as a result of rapidly declining capex, and because unlike the majors, the company doesn't have any downstream or upstream production to fall back on, it operates in services which is correlated to capex.
However, despite this drop, the company has continued to rapidly increase its own performance and technology. Past this, in the long term, a large number of opportunities remain as oil production, especially from the offshore regions, becomes increasingly technological. Coupling this overall trend with the company's recent Cameron International Corporation acquisition, along with the slow opening of Iran to American companies, should all help Schlumberger's long-term growth.
Disclosure: I am/we are long SLB, CVX, XOM, RDS.A.
I wrote this article myself, and it expresses my own opinions. I am not receiving compensation for it (other than from Seeking Alpha). I have no business relationship with any company whose stock is mentioned in this article.