After a seven-year bull run, stock market valuation reached its highest level since 2000, with the S&P 500 (NYSEARCA:SPY) operating P/E ratio above 21. Corporate earnings began to decline in 2015 as I described earlier, and U.S. economic fundamentals deteriorated this year. Under these conditions, we would normally expect a stock market correction, or worse. Yet, stocks continue to tick higher, with the S&P 500 approaching its all-time high levels in the past few days.
Why? Because central banks have turned investment fundamentals on their head. In the latest twist of "bad news is good news" logic, the weakest job growth in six years, at 38,000, minimized the market's expectation of the chance of the Fed's rate hike this summer.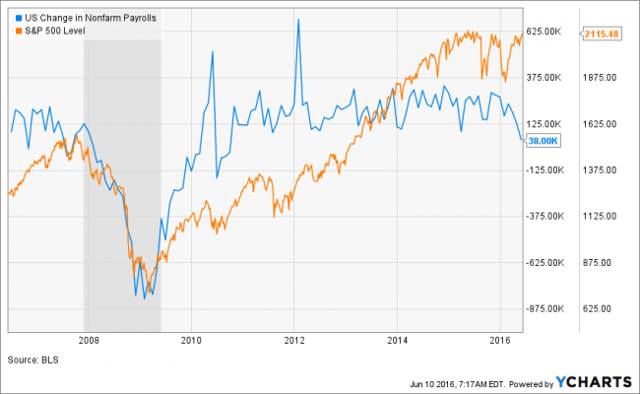 After the carnage in manufacturing in 2015 (YoY % change is shown by the green line on the graph), other economic fundamentals followed late last year and into this year. The March-April rebound in ISM Services (the blue line) proved to be short-lived. Consistent with the dismal payroll growth number, the Fed's own Labor Market Conditions index dropped by -4.8 in May, a pre-recessionary level.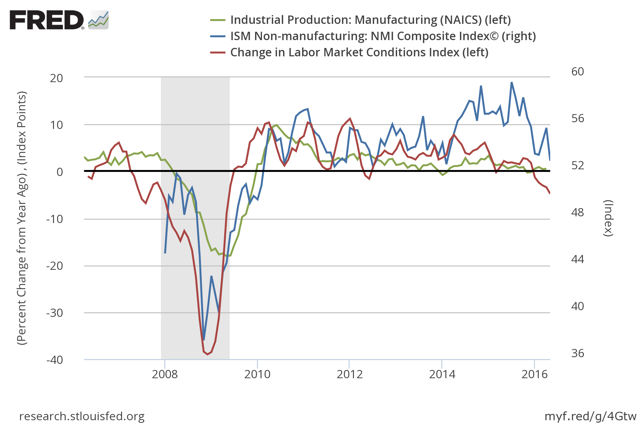 Fundamentals ultimately drive markets. US stocks were undervalued in 2012 which led to the 2013 rally. In 2H-2014 until early in 2015, economic fundamentals strengthened and offset negative effect of high valuation. The market decoupled from fundamentals in the past 2-3 months - such short-term deviations happen, but the market ultimately does revert to fundamentals.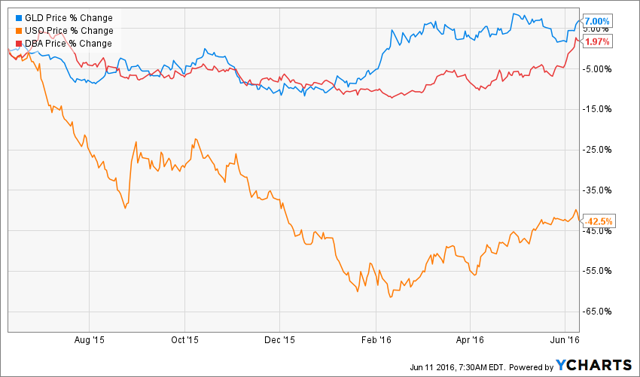 What may trigger the reversal this time? Inflation has been low lately - total CPI inflation at 1.1%, and core inflation at 2.1% - but as I described here, there's a strong possibility that it will pick up in the next few months. Commodities already rebounded strongly this year including crude (OIL, USO), gold (NYSEARCA:GLD) and agricultural (NYSEARCA:DBA). The CRB Commodity Index is back at mid-2015 level, which means no deflationary drag from food and energy, and total inflation (1.1%) should start converging to core (2.1%) in the next few months. When inflation returns, it will force the Fed to act to keep it close to their 2% target. The Fed will find itself behind the inflation curve and will be forced to act - not from a position of strength (strong growth accompanied by inflation), but from a position of weakness.
Disclosure: I/we have no positions in any stocks mentioned, and no plans to initiate any positions within the next 72 hours.
I wrote this article myself, and it expresses my own opinions. I am not receiving compensation for it. I have no business relationship with any company whose stock is mentioned in this article.