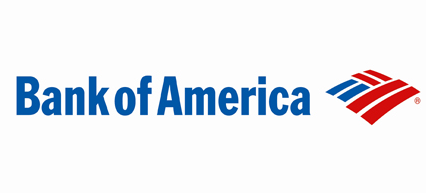 Fear has returned to the stock market, and investors better be prepared for yet another dip in stock prices in the weeks ahead. Why? Because investors will have to digest some (economic) news in the coming weeks that could be quite disruptive. For one thing, a possible Brexit, a term coined for Britain leaving the European Union, has been weighing on stocks last Friday, and may weigh on global stocks until the referendum. Brits will vote this month on whether Britain will cut ties with the EU (a decision feared by many EU proponents), or remain an integral part of the economic union. A referendum will be held on June 23, 2016, and support has built for Britain's exit, according to The Independent.
But a potential Brexit is not the only thing weighing down investor sentiment at the moment: Lower crude oil prices contributed to a market sell-off on Friday, and anxiety over a potential U.S. recession has been building after the U.S. Labor Department reported only soft job growth for the month of May at the beginning of June. If you haven't read the report, the U.S. economy created ~38k jobs last month which compared against expectations of ~164k.
Buying The Sell-Off...If It Happens
With stocks potentially going off the rails in the weeks ahead, it makes sense to look at a few companies that would make compelling 'Buys' when markets correct. One company I think is worth keeping a close eye on in the next couple of weeks is Bank of America (NYSE:BAC), which is already quite cheap, but might get even cheaper if stocks slide on a potential Brexit 'Yes' vote, or a Federal Reserve decision to keep interest rates where they are now.
Bank of America is in the bargain bin, and has been so for a while: The bank's shares are selling for 60 cents on the dollar, a big discount to Bank of America's Q1-16 accounting book value, or ABV, of $23.12/share. If Bank of America gets even cheaper, the better.
Well Positioned For Higher Interest Rates
My recurring meme in my Bank of America articles has been that the bank is well positioned to grow its Net Interest Income IF the Federal Reserve moves and hikes interest rates. Should the Federal Reserve decide to take the implied rate hike in June off the table due to concerns over the strength of the U.S. labor market, Bank of America's shares might drop over concerns on delayed Net Interest Income tailwinds. In any case, Bank of America's reward-to-risk ratio is very compelling already, and only getting better if markets correct.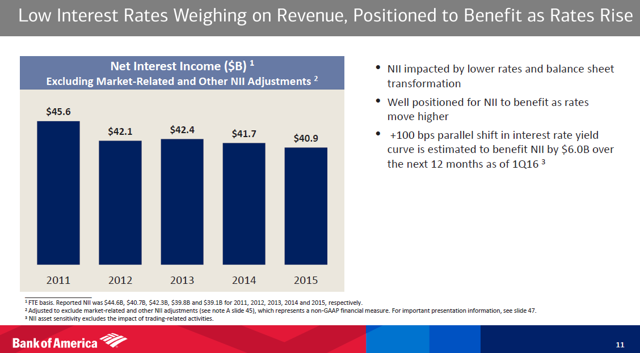 Your Takeaway
Any drop in Bank of America's share price, either due to a Federal Reserve decision to maintain the current federal funds rate target range or due to any other reason, might be an opportunity to gobble up a cheap bank for an even lower price. Bank of America is everything but expensive, and the bank's market valuation already reflects a wide margin of safety. Today, Bank of America's shares change hands for 60 cents on the dollar...and I wouldn't mind at all picking up a couple more shares at a lower price in the weeks ahead.
Disclosure: I am/we are long BAC.
I wrote this article myself, and it expresses my own opinions. I am not receiving compensation for it (other than from Seeking Alpha). I have no business relationship with any company whose stock is mentioned in this article.