I've been a longtime fan of Lufthansa (OTCQX:DLAKY), personally as well as professionally. I've successfully covered the German flag-carrier on Seeking Alpha, with the latest publication focusing on potential overvaluation. This overvaluation was based on the Q1 2016 results which were worrying due to a variety of external factors: cargo sector under pressure, fewer bookings in advance and costly deals with unions.
"Simone Menne - CFO Lufthansa"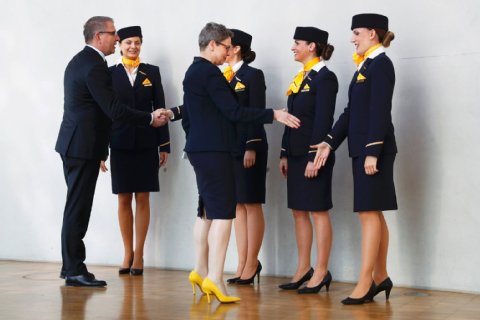 Now, nearly a month later the stock plummeted on news of the CFO, Simone Menne, leaving the airline unexpectedly for biopharma firm Boehringer in August of 2016.
This unforeseen news caused the share price to plummet like a rock: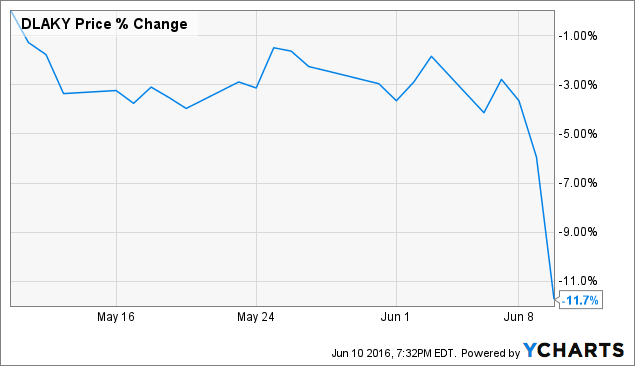 Expanding the window shows that the overall return is already a 20% year to date loss:
With the overall maximum loss reaching nearly 30% (highest point in the year minus the lowest) it shows that the stock has been incredible volatile. As I've pointed out in earlier articles, the majority of these swings are fueled by external factors such as the terror threats, poor business results and strikes.
Lufthansa: Why did the stock drop and why is this good news?
It's widely published in the financial media that Menne's departure could be a potential halt to cost cutting strategies and therefore investors could be dumping the stock. The fears of terror threats, Zika and others issues in Europe for the upcoming summer are not helping either.
Due to the departure of the CFO, people are worried that cost cutting strategies might be impacted but I find any impact on the change of cost cutting strategies highly unlikely. This is because cost-cutting has been the main strategy for Lufthansa for years, and is also backed by the current CEO.
Furthermore, the firm simply doesn't have the budget to stop cost-cutting (as discussed in the latest conference call) and is still losing money on strikes (the latest just a few weeks back). The firm has no option other than to continue with cost-cutting strategies.
A Lufthansa's board member, and CEO of Eurowings, was interviewed by Bloomberg news, indicating that the board hopes for a quick turnaround in finding a new CFO. This is another worrisome point, as the last appointment for CEO took 5 months and investors might want to see a quicker turnaround.
Coincidentally, as the main news for Lufthansa was the CFO leaving Lufthansa, other news got snowed under. Lufthansa announced further job cuts (of 20%) in Lufthansa Cargo. Lufthansa Cargo is a loss making segment of Lufthansa and a segment which is in severe need of transitioning as I've discussed in my last article. It is important to try to incorporate all the current news in the share price, not just the CFO leaving.
Lufthansa: profit margin will always remain an issue
Investors often neglect stocks which struggle with profitability and the airline industry is one of the worst performing industries when it comes to profitability. Based on research of the IATA, the airline industry overall generated just a 0.1 percent profit margin from 1970 to 2010. This indicates that investors shouldn't look for profits as main drivers of airline stocks. This brings the story to revenue control and cost control.
Valuation: Enterprise Value / Revenue
I believe this drop in share price creates some room for potential. I have covered in an earlier article the largest competitor of Lufthansa in Germany, Air Berlin (OTCPK:AIBEF). And it's clear that problems at Lufthansa could be much more severe as Air Berlin is in a much more worrying financial state.
One way to value a firm is to look at enterprise value over sales. Currently Lufthansa has the same EV/S as Air Berlin, yet the Lufthansa has a much better profile financially as Air Berlin. At both have a EV/S of 0.20 they can be considered relatively cheap. Looking at competitors, such as American Airlines (NASDAQ:AAL) (for long haul flights), EasyJet (budget airline competitor in Europe) and other competitors, EV/S differs from mid zeros to higher single digit numbers.
At a WACC of around 3.5%, and using the single low and high EV/S numbers, a potential valuation shows that if Lufthansa offers some upwards potential:

Source: Finbox.io
That's especially considering that I believe the 0.20 EV/S for Lufthansa is considered too low for a firm of the size of Lufthansa, regardless of all the hurdles (restructuring, strikes) coming its way.
One other way to point out that Lufthansa is positioned better financially than Air Berlin, for example, is to look at another financial measure of security: the Altman-Z ratio, for instance, which is a measurement to calculate the financial health of a firm. Air Berlin has a negative ratio while Lufthansa has a ratio of 1.21 very much alike to that of American Airlines for example. Airlines which perform above average, such as Ryanair and EasyJet have, as expected, much higher ratios.
Conclusion
I've looked at Lufthansa from a revenue and financial measurement perspective. It's not the best airline out there but is priced as its one of the worst. This tells me that there is a potential price discrepancy.
The stock did not deserve to crash 5% at Menne's leaving nor will the firm take a different direction by appointing a new CFO. The significant dump in share price does tell the investor that the stock is acting very volatile on financial news. This is an advantage, as it tells that there is potential for significant capital growth as it's a typical trading stock.
I've indicated many times that P/E doesn't work for airlines, as many airlines are significantly valued under P/E's of 10, and even 5 in the case of Lufthansa. For this article, I specifically used EV/R for comparison reasons as revenue is significantly under pressure with airlines and it's an interesting metric to see how investors compare airlines based on revenue. A high EV/R can indicate that investors are anticipating significant further sales growth (for example Ryanair).
One should realize that Lufthansa is not considered the best among airlines, yet it's not the worst either, even though its price is similar to that of Air Berlin based on fears of investors. And as Warren Buffet said: "Be greedy when others are fearful and be fearful when others are greedy".
Disclaimer: This article provides opinions and information, but does not contain recommendations or personal investment advice to any specific person for any particular purpose. Do your own research or obtain suitable personal advice. You are responsible for your own investment decisions from beginning to end. This information is not a recommendation or solicitation to buy or sell securities, nor am I a registered investment advisor. I have no business relationship with any company whose stock is mentioned in this article.
Disclosure: I/we have no positions in any stocks mentioned, and no plans to initiate any positions within the next 72 hours.
I wrote this article myself, and it expresses my own opinions. I am not receiving compensation for it (other than from Seeking Alpha). I have no business relationship with any company whose stock is mentioned in this article.
Editor's Note: This article covers one or more stocks trading at less than $1 per share and/or with less than a $100 million market cap. Please be aware of the risks associated with these stocks.